More kids are spending their time with the Boys and Girls Clubs of Yellowstone County, and that increased number is bringing the clubs' attendance closer to capacity.
Through the first three weeks of September the club saw visits from 1,157 members, compared to September 2016 totals of 1,111.
"We figure on a day-in, day-out basis when we're fully staffed we can serve about 845 kids," said CEO and president Brian Dennis. "We're running 790, so there's not a whole lot more kids we can take."
To address the growing need for space, the Bair Family Clubhouse is expanding. The $500,000 project began in August and is expected to be completed by the end of October. It will add bathrooms, showers for teens, a new sprinkler system and increase office space to the clubhouse on Orchard Avenue. 
The local nonprofit also opened a new clubhouse last August at McKinley Elementary and moved into Medicine Crow Middle School.
With all of those projects completed, the next move is to wait and see where the community's next greatest need is, vice president Karrie Owen said.
"And so we want a couple of years to get our footing with those two big pieces (Medicine Crow and McKinley) coming online and then looking to see what else we can serve," she said.
With about 17,000 kids in Billings Public Schools alone, Dennis said he knows his organization isn't close to reaching all the kids they can or believe they should. Currently 36 percent of club members come from households below the poverty line, Dennis said. The club has provided youth with 460,446 hours of supervision and 131,127 snacks and meals so far in 2017, according to statistics provided by the Boys and Girls Clubs of Yellowstone County. 
The demand for after-school programs like the Boys and Girls Club doesn't seem to be diminishing, Owen said. Last year, the organization bused students from Washington Elementary to a nearby clubhouse as an attempt to reach more kids. They weren't the only ones, Owen said; the YMCA, Friendship House and others also bused children to their after-school programs.
Despite the show of support from programs, "There's still kids at that one school that needed a place to go," Owen said.
Dennis said he's also interested in ways the club might improve its outreach to teens, who make up just 10 percent of the club's 2,532 registered members.
The decision to include showers and bathrooms for teens at the Bair Family Clubhouse was partially based off of feedback from teenage club members, Dennis said.
It was also based on the need for improvements to the 32-year-old building that had only two bathroom stalls for girls. 
Another area Dennis listed the clubs could expand services is by providing more mental health resources. The nonprofit is in the early stages of looking at partnering or with other organizations to provide more resources to the children, he said.
In the meantime, the club remains an exceptional organization, said Jim Clark, CEO and president of the Boys and Girls Clubs of America.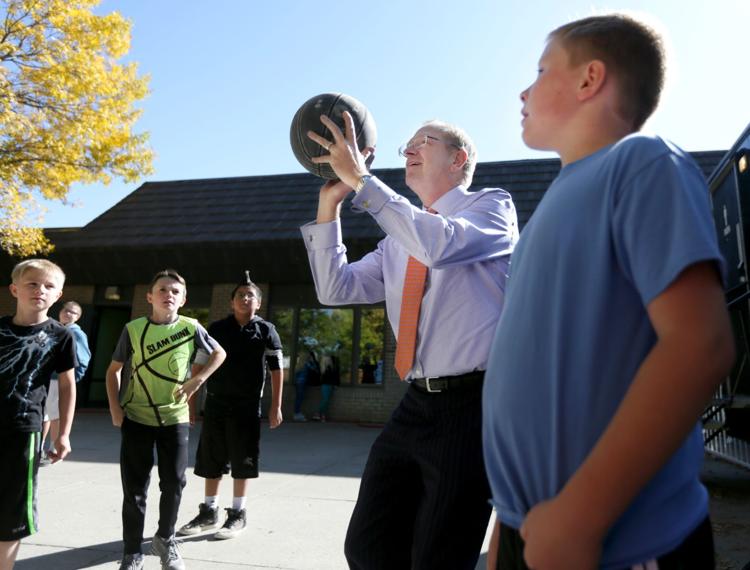 Clark, who made his first trip to Montana this week to tour the Boys and Girls Clubs of Yellowstone County's facilities and deliver a "State of the Youth" talk to local youth programs, noted the large number of kids who spend several days at local clubhouses. 
"The frequency of kids that come twice or three times a week is really high — much better than the national averages," Clark said. It's one indication that the Boys and Girls Clubs of Yellowstone County is a "top-tier" organization, he said.
Club statistics show 919 kids attended at least two times a week through the first three weeks of September.
Clark said in clubhouses across the world technology and STEM education opportunities are becoming increasingly important to attracting club members. Those opportunities can provide kids with opportunities that can help them start careers in adulthood, he said.
"It's things like coding, customer service skills, basic stuff, technology, robotics," that will help, Clark said. 
Part of the recent construction at the Bair Family Clubhouse includes a coffee shop-style space that Owen said could help engage teens in entrepreneurial and tech-oriented programming. 
"We've always remained relevant and contemporary in the lives of youth, especially those who need us most," Clark said. "I would say we're not on the bleeding edge of anything, but we always get there."