HELENA — Broadwater County Sheriff Wynn Meehan received a call from dispatch around 3 a.m. Tuesday informing him one of his deputies was in a pursuit near Three Forks.
"They called a couple minutes later to say they couldn't reach him," Meehan said.
The sheriff was about halfway between Townsend and the scene when he heard another call. This one requested a coroner.
Broadwater County deputy Mason Moore was found dead outside Three Forks. The two men suspected of playing a role in his death are in custody in Missoula.
Moore, who had been in law enforcement 15 years, signed on with the department based in Townsend three years ago.
"I lost a good hand," Meehan said. "It's going to be very difficult to try and replace him.
"Our deputy died protecting the citizens of our county and displayed remarkable courage until the very end. His actions will never be forgotten."
Moore, a husband and father of three, including twin teenage boys, moved to Montana from South Carolina, where he served as an investigator in major crimes. Prior to serving as a sheriff's deputy, he worked a couple years as an officer with the Department of Transportation's Motor Carrier Services Division in Rocker.
By Tuesday afternoon, Meehan was spent. He, alongside the bulk of his 12-person operation, escorted Moore's body to Billings, where an autopsy was to be performed.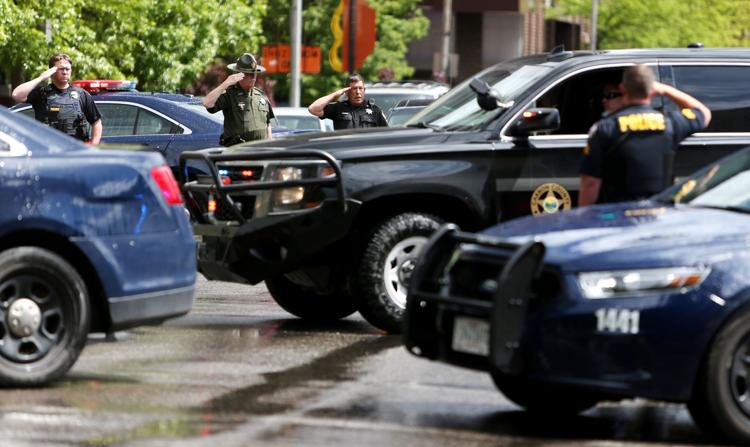 "I don't even know what the stop was for," Meehan said in a phone interview. He said it started as a traffic stop and the vehicle drove off.
"It feels like three weeks have gone by, and it's only been 14 hours," he added.
Through his devastation and exhaustion, Meehan also felt thankful for the outpouring of support Moore and his department received throughout the day. On the drive from Three Forks to Billings, a 170-mile trek, the 40 law enforcement vehicles in the procession guiding Moore's body were met with salutes and other displays.
"Every town we came through had fire trucks and flags hanging down," he said. "It was remarkable."
The law enforcement community has stepped up in an awesome way as well, Meehan said. From covering patrols to offering detention officers for the jail to sending in dispatchers, Meehan said he was amazed by the rallying displayed.
"So many have offered to give us a hand," he said. "We need to lean on each other and take care of each other."
Lewis and Clark County Sheriff Leo Dutton, who responded to the scene early Tuesday morning and later joined the procession, said in difficult times like these the extended law enforcement family is vital.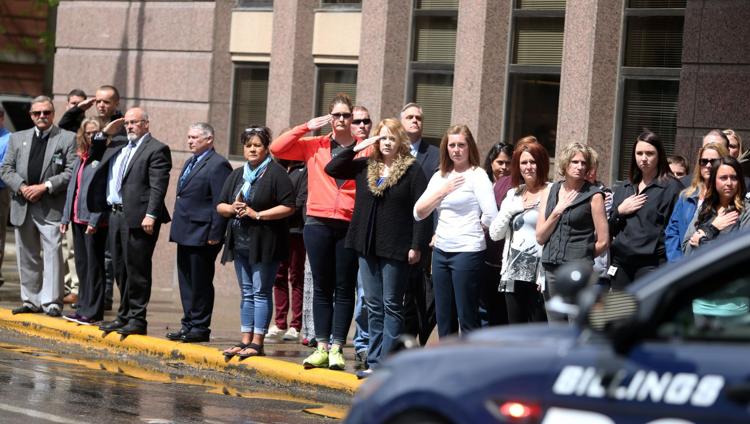 "We have been working to take care of them and cover their county, along with Gallatin County," Dutton said.
"Montana is not that big of a state, and we all feel the loss," he added.
State Attorney General Tim Fox noted the timing of the shooting.
"It's cruel irony that a law enforcement officer was shot and killed the day after Peace Officers Memorial Day. Tragic incidents like this should serve as a reminder to all of us to be thankful every day for those in uniform who serve and protect our communities," Fox said in a statement.
The suspects also fired at officers during a subsequent chase after the shooting.
"We are saddened by deputy Moore's death, but we are also relieved that no other law enforcement officers were killed in the apprehension of the suspects," Dutton said.
Back in Townsend, a local therapist worked with county employees grieving the loss of Moore, who is remembered as a quiet yet intensely funny man. When asked to describe Moore, many county workers responded, "he was a good guy."
Moore didn't say much, but when he did, it was worth the wait, Meehan said.
"He had an interesting sense of humor," he added.
Laura Obert, county commissioner, said Moore will be remembered as a smart and compassionate man.
"He had a quiet confidence about him," Obert said. "He truly cared about people and what they thought.
"He was just one of those genuine souls."
Debbie Kelley, accounting manager for the county, said she found Moore impressive as an officer. On his off time, he served with the Three Forks Volunteer Fire Department.
"I think the biggest thing is to help the family," Kelley said. "That's the hard part."
Kelley said Moore was well-liked and a good match for the sheriff's office.
"It's been kind of quiet here today," she said. "It's too close to home for things like this. It does make it personal."
Officials said a vigil or service will be held to remember Moore. Details will be announced later.
"Even though he's gone, he will always be a part of us," Obert said.
Montana law enforcement agencies have voiced their condolences on social media:
Our deepest condolences to our friends at the Broadwater Cty SO. You are in our thoughts and prayers as is the family of your LODD officer.

— MT DNRC FIRE (@MTDNRCFIRE) May 16, 2017
Our condolences to the family of the Broadwater Co. sheriff's deputy who was shot and killed early this morning. We are all grieving today.

— LCSO Helena MT (@LCSOHelenaMT) May 16, 2017