Fire and smoke were the Groundhog Day-style watchwords Monday around western Montana, with a windy Canadian cold front pushing fires ever larger and shoving choking clouds of smoke into the valleys.
Monday's updates from Inciweb on fire after fire painted a dire picture of the high winds and low humidity that left a Red Flag Warning in effect until 9 p.m., making it another tough day for firefighters.
"Normally, at this time of year, we're looking at the weather (forecast) and seeing some kind of season-ending event in sight, but right now, we don't have one," Jennifer Jones, spokeswoman for the National Interagency Fire Center in Boise, said Monday.
Of the 77 large wildfires burning around the nation, Montana has 26, more than any other state. Some 26,500 people are fighting those fires, directed by 42 incident management teams, Jones said. "We're pretty highly committed right now," she said.
The 7.6 million acres of federal, state and private land consumed by wildlife so far this summer is more than 2 million acres above the 10-year average, according to NIFC statistics. This time last year, wildfires had burned about 4.7 million acres.
"We're seeing some pretty extreme fire growth on a lot of fires in Montana ... with a lot making really big runs," Jones said Monday.
One was the Rice Ridge fire east of Seeley Lake, which exploded over the weekend, and doubled down overnight Sunday, growing from 55,000 acres to 101,424 acres Monday morning. New evacuation orders issued Sunday in Powell County remained in effect Monday (see list below). 
Two Type 1 and a Type 3 helicopter were assigned for water drops and aerial observation. Structure protection continued Monday along the Highway 83 corridor, and at Kozy Korner, Double Arrow Subdivision, the Big Sky Lake area, the Monture Guard Station and the Upper Blackfoot Ranch community.
John Thompson's Central Montana Type II Incident Management Team will transition to Greg Poncin's Northern Rockies Type 1 Incident Management Team at 6 a.m. on Tuesday.
On the Caribou fire, the Lincoln County Sheriff's Office continued the unenviable task Monday of contacting property owners affected by the fire that burned some structures over the weekend. The number of structures lost was still being verified Monday, with an update expected Tuesday morning, according to fire officials.
Heavy equipment connected with fireline construction in Canada and extended fireline to Lake Koocanusa along the U.S./Canada border. Night operations worked to contain a 3-acre spot fire Sunday night.
Some Ravalli County homeowners got a welcome, albeit short, reprieve from evacuation orders on the Lolo Peak fire Monday morning when the sheriff announced they'd be able to go back to their homes for 15 minutes at a time between 9 a.m. and noon to retrieve essential items.
"Fire managers are concerned with the upcoming weather and dry fuel conditions in the area," was Monday's laconic report from the Sunrise fire in Mineral County, where fire officials issued an evacuation warning Sunday night.
"Critical fire weather expected today could cause significant fire growth and has potential to see active to extreme fire behavior," the report continued. "Due to the limited number of resources assigned to this fire, containment of spot fires and the main fire could be hampered.
After a Sunday-night cold front that saw winds gusting to 43 mph over a four-hour period, the Sprague fire burning in Glacier National Park, which forced evacuations from the Lake McDonald Lodge area Sunday, "slowed down a little Monday," said fire information officer Katie Liming.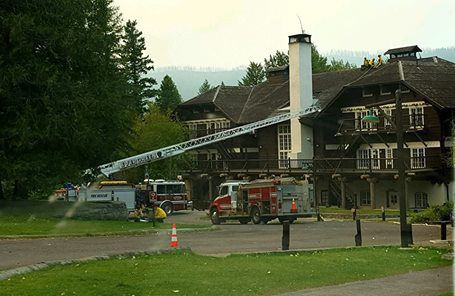 The Fort Apache Hot Shots, along with structure protection engines, staged overnight Sunday in the Lake McDonald area, and a night shift patrolled the area. Structure protection was completed Sunday in the Lake McDonald area, and on Monday, structure protection hose lays and sprinkler deployments were set to begin in the Avalanche Creek Campground.
Monday evening's update listed the main weather concern through Tuesday evening as a persistent easterly wind pushing the fire closer to Lake McDonald. Monday, the fire crept over Mount Brown and down the west face of the slope "a little bit," said Katie Liming, Sprague fire public information officer.
Mop-up continued also Monday around the historic Sperry Chalet, which burned last week. And, as if things weren't tough enough already on the west side of Glacier, a Sunday-afternoon update warned that "concern is for smoke concentrations to increase within the Lake McDonald and West Glacier areas."
Speaking of smoke: Monday morning, the Missoula City-County Health Department listed air quality as Very Unhealthy in Rainy Lake and Arlee on Monday afternoon, with Arlee was trending toward Hazardous air quality. 
Air quality was Unhealthy for Sensitive Groups in Clearwater, Rock Creek and the Potomac; and Unhealthy in Missoula, Frenchtown, Seeley Lake, Florence and Lolo.
The following evacuation orders issued over the weekend remained in effect Monday:
Caribou fire: Everyone in the West Kootenai area.
Highway 200 Complex: From the end of River Road West to Arnold Road, at the corner of Section 11.
Little Hogback fire: Both sides of Upper Rock Creek Road and adjacent roads/neighborhoods, beginning from and including Wild Rose Loop South to Stony Creek.
Lolo Peak fire: All residents west of Highway 93 on the north side of Bass Creek Road north to residents on the south side of Hannaford Avenue and west of Florence Carlton Loop — approximately 200 homes. Due to expected extreme fire behavior and the pending weather forecast, there is no access into the evacuation order area, the Ravalli County Sheriff's Office announced Sunday afternoon. The sheriff's office and Unified Command will evaluate fire danger Monday morning with a goal of escorted access.
The evacuation warning is lifted in the Highway 12 corridor from mile marker 24 (near and including Arena Drive) to the Highway 93 junction in Lolo. The evacuation warning was also lifted for residents in the Highway 93 corridor from the Highway 12 junction to mile marker 79 (near and including the Gravel Pit off of Old Highway 93 and the McClain Creek Road).
Rice Ridge fire: All of Coopers Lake area in Powell County. The warning area is everything else north of Highway 200 with the west and east boundaries being Missoula and Lewis and Clark County.
Sprague fire: All residents and visitors from the south end of Lake McDonald to Logan Pass. This includes the Lake McDonald Lodge, concession housing, Kelly Camp Area, and the Avalanche and Sprague Creek campgrounds. Logan Pass is still accessible from the east side of the park. Glacier Park Boat Company tours and Swan Mountain Outfitters horseback rides from the Lake McDonald lodge are canceled. Apgar is open.
West Fork fire: Residents in the 17 Mile Community Area of Pipe Creek Road and Upper Bobtail, including Hutton Drive. Pipe Creek Road is closed from the 12 Mile Marker to the summit.