The DJ stood at the microphone, facing his script. Gray foam walls surrounded him. Shawn Jackson, best known as local radio personality DJ Nyke, donned his headphones. Lance Madzey grinned and turned back to his computer monitor. He pulled his own headphones over his ears, preparing to record another take of his radio play.
"Are you guys ready?" he asked. "OK, rolling."
Madzey spent a recent Saturday morning in his home recording studio creating the latest episode of his radio play series, "Beyond Radio." Every month, he writes a script, casts local and nationally known actors and records them in his home studio.
This month's episode, "End Game," airs Feb. 14 on Madzey's Beyond Radio YouTube channel. The episode begins with two young men — one white, one black — playing basketball when another man pulls up in an SUV flying a Confederate flag and asks to join.
The conversation about racism and state's rights doesn't go well, and the man in the SUV is left on his own.
"What happens afterwards," Madzey said, "You could say he had it coming."
The shows are an outlet for his thoughts and feelings about what he sees going on in the country and community. The plays speak for themselves, he said, and this one is based on Madzey's observations since the election of President Donald Trump. After the election, Madzey started seeing the Confederate flag flying around Casper and even at Natrona County High School, where he teaches film classes.
"I'll let the art tell it," Madzey said.
Creative outlet
Madzey explained to his cast that "End Game" is about clichés and stereotypes. The radio play includes lines from Trump's news appearances and from comments on local news stories, he told them two Saturdays ago before recording.
"Logan is a walking Southern stereotype straight out of Mission, Texas," local actor Trevor Trujillo narrated. "Now he's walking straight towards Trevon and David like a gunslinger. He's sporting a wife beater even though it's cold out. Several tattoos adorn his arms, which he seems to be flexing as he walks to make himself appear larger."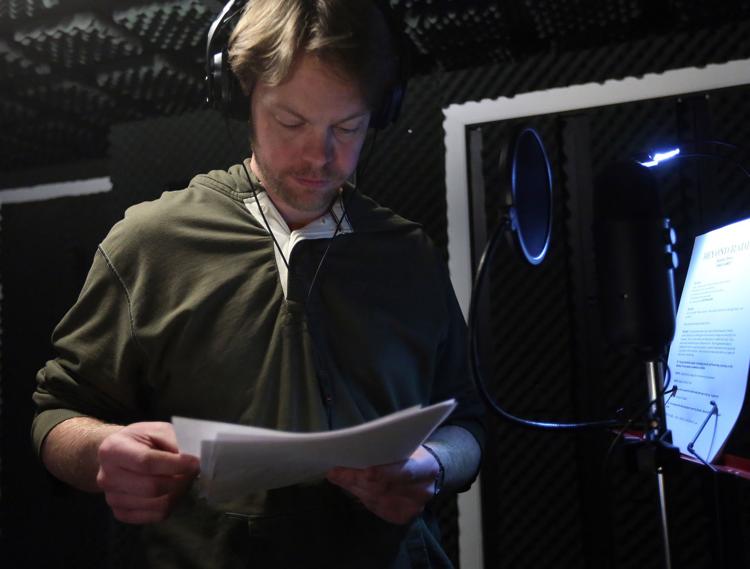 Logan asks to join the game, but the two young men hesitate. They let him play until he uses a racial epithet toward the character of Trevon, who is black. The play also addresses harmful stereotypes about women, based on comments on news articles about the Women's March held in January.
"End Game" was his first idea for the radio plays, he said.
"Thematically I always steer toward films that talk about either tribalism or technology because I truly believe that will be the end of us, either one of those two or a combination of both," Madzey said. "There's so much tribalism going on right now."
"I think we're tempted as humans to hide underneath our desks and wait for those things to go away," he said. "But that's one thing that artists can do really well is we challenge ideas and beliefs. And there are some pretty spooky beliefs out there right now."
The need of the soul
Madzey's students produce radio plays in class. He believes in "practicing what you preach," so he can have better conversations with them and share his work with them, he said.
He allows them the freedom to be creative and grow excited about their work, which in turn fuels inspiration for his own shows.
"I just love being creative," Madzey said. "It's the need of my soul."
He enjoyed the radio play process while writing music for "Dead of Night Radio" by his friend Dick Grunert, who's written for "Adventure Time" on Cartoon Network and directed an episode of "Samurai Jack."
Madzey released his first radio play on Halloween on K2 Radio and the second on Christmas. He plans to stick with a holiday schedule for the rest.
The first play, "Just in Case," focused on psychiatry and anxiety medication with a character in a state of constant fear who braves a cemetery to face his biggest fear, Madzey said. He packs along a medication his psychiatrist asked him to take, just in case. He takes it when he falls into a grave. Then things get really interesting.
The second episode, "In the Bones," is about "the assault on the truth," Madzey said. The script deals with topics including the attack on the press after the election and is set in church made of human bones in Czechoslovakia.
The second radio play starred actress Maria Olsen, known for her roles in "Percy Jackson & the Olympians," "The Lightning Thief," "Paranormal Activity 3" and "American Horror Story."
She offered to record remotely after finding Madzey's Casper Filmmaking Collective group on Facebook.
"I think that even though there are monsters in most of these scripts that I've been writing, there's still a lot of truth," Madzey said. "That doesn't mean that they're not fun, because they're still mostly fantasy and horror. But I think the best horror is grounded in reality."
Working together
Madzey learned something new while recording last week with his student Rhiannon McLean — also a frequent community theater actress — and Michael Champion, a local boxing coach whose film credits include "Total Recall," "Beverly Hills Cop" and "History of the World Part 2."
"The audience should feel like they're seeing something that they're not supposed to," Champion told them during the recording session.
The plays also feature past students, like Trujillo, and colleagues including Natrona County High School art teacher Caitlyn Urhammer, who creates a cover artwork for each radio play. Local musicians also have contributed, including Jackson, who created a rap song with local musician Eric Hanson for a basketball montage in "End Game."
Laughter punctuated the Saturday recording session as Madzey stopped the voice actors to tweak their character's voices or expressions, or to breath harder while running.
Finally, the director asked for one more take, just for fun. The group repeated the basketball scene one last time.
"That's it, awesome job," he said. He thanked them for their work.
"That was fun," Madzey said. "This is so much fun."