Address
383 E Alkali Creek Rd
Billings, MT 59105
Last Updated: August 15, 2014
About Big Sky Bible Church
BIG SKY BIBLE CHURCH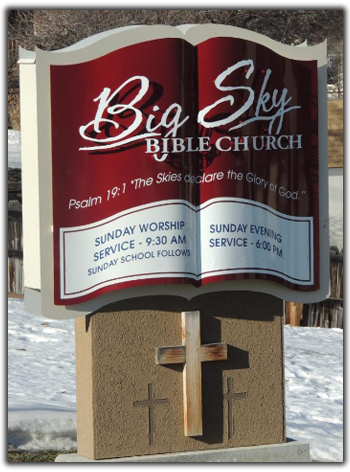 OUR PURPOSE:

The Glorifying of God

Big Sky is a small congregation of people from Billings and the surrounding areas. We come from various walks of life but are bound together by certain biblical truths which give us our purpose in meeting together and direct our lives as individuals:

1 Peter 4:11 - "If anyone speaks, let him speak as the oracles of God. If anyone ministers, let him do it as with the ability which God supplies, that in all things God may be glorified through Jesus Christ, to whom belong the glory and the dominion forever and ever. Amen."

As we assemble we seek to glorify God and worship Him in spirit and in truth:

John 4:23-24 - "But the hour is coming, and now is, when the true worshipers will worship the Father in spirit and truth; for the Father is seeking such to worship Him. 24 God is Spirit, and those who worship Him must worship in spirit and truth."

In spirit: the unseen spiritual realities of heavenly things as revealed in Jesus Christ and recorded in the word of God.

In truth: Jesus Christ is the truth (unveiled reality) and is clearly presented as such in the scripture. He is the only vehicle of true spiritual worship where by man can correctly worship God the Father.

John 14:6-7 - "Jesus said to him, "I am the way, the truth, and the life. No one comes to the Father except through Me. 7 "If you had known Me, you would have known My Father also; and from now on you know Him and have seen Him."



OUR CORE; OUR BELIEFS:

The Inspired Word of God: Believing the bible is the inspired word (the writers wrote exactly what God intended):

2 Timothy 3:16-17 - "All Scripture is given by inspiration of God, and is profitable for doctrine, for reproof, for correction, for instruction in righteousness, 17 that the man of God may be complete, thoroughly equipped for every good work."

Our Authority: We willingly accept the authority of the scriptures in all things pertaining to life and godliness.

Our Sufficiency: We believe that the scripture is sufficient and complete and we need no other writings of men to know God and live a life pleasing to Him.

The Preeminence and Centrality of Christ: We believe the mind will and purposes of God are eternally centered in Christ and God has determined that in all things Jesus Christ should have first place.

Colossians 1:16-20 - "For by Him all things were created that are in heaven and that are on earth, visible and invisible, whether thrones or dominions or principalities or powers. All things were created through Him and for Him. 17 And He is before all things, and in Him all things consist. 18 And He is the head of the body, the church, who is the beginning, the firstborn from the dead, that in all things He may have the preeminence. 19 For it pleased the Father that in Him all the fullness should dwell, 20 and by Him to reconcile all things to Himself, by Him, whether things on earth or things in heaven, having made peace through the blood of His cross."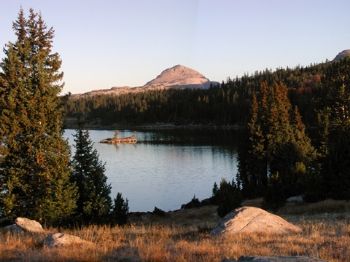 OUR RESPONSIBILITIES:

Our command: Preach and teach the word of God:

2 Timothy 4:1-3 - "I charge you therefore before God and the Lord Jesus Christ, who will judge the living and the dead at His appearing and His kingdom: 2 Preach the word! Be ready in season and out of season. Convince, rebuke, exhort, with all longsuffering and teaching."

Our concern: The hearts and souls of men:

2 Tim 4:4,5 - "For the time will come when they will not endure sound doctrine, but according to their own desires, because they have itching ears, they will heap up for themselves teachers; 4 and they will turn their ears away from the truth, and be turned aside to fables. 5 But you be watchful in all things, endure afflictions, do the work of an evangelist, fulfill your ministry."

1 Tim 4:1-2 - "Now the Spirit expressly says that in latter times some will depart from the faith, giving heed to deceiving spirits and doctrines of demons, 2 speaking lies in hypocrisy, having their own conscience seared with a hot iron."

2 Tim 3:1-5 - "But know this, that in the last days perilous times will come: 2 For men will be lovers of themselves, lovers of money, boasters, proud, blasphemers, disobedient to parents, unthankful, unholy, 3 unloving, unforgiving, slanderers, without self-control, brutal, despisers of good, 4 traitors, headstrong, haughty, lovers of pleasure rather than lovers of God, 5 having a form of godliness but denying its power."

Our compassion: We speak the truth in love (seeking the highest good of the person by speaking the truth.)

Ephesians 4:14-15 - "That we should no longer be children, tossed to and fro and carried about with every wind of doctrine, by the trickery of men, in the cunning craftiness of deceitful plotting, 15 but, speaking the truth in love, may grow up in all things into Him who is the head--Christ--."

OUR DESIRE:

For people to come to a true saving knowledge of Jesus Christ and then grow in the grace and knowledge of Him.

2 Peter 3:9 - "The Lord is not slack concerning His promise, as some count slackness, but is longsuffering toward us, not willing that any should perish but that all should come to repentance."

2 Peter 3:18 - "But grow in the grace and knowledge of our Lord and Savior Jesus Christ. To Him be the glory both now and forever. Amen."

OUR WELCOME/OUR CALL:

As Christ welcomed all those who recognized their spiritual need to come to Him to find forgiveness, cleansing, newness of life in Him, and rest for their souls, so we welcome all who desire to know Him and those who desire to grow in their relationship with him. Come!

Matthew 11:28-30 - "Come to Me, all you who labor and are heavy laden, and I will give you rest. 29 Take My yoke upon you and learn from Me, for I am gentle and lowly in heart, and you will find rest for your souls. 30 For My yoke is easy and My burden is light."

OUR DIFFERENCE:

We are not promoting an organization, a movement, or an activity, but seeking to represent and declare to all, the most important person man can know and to declare to all that there is no life except in Him. The religious as well as the secular world has lost its way and embraced and accepted error unsurpassed in previous days. The answer to mans deepest need is set forth in:

1 Corinthians 2:1-2 - "And I, brethren, when I came to you, did not come with excellence of speech or of wisdom declaring to you the testimony of God. 2 For I determined not to know anything among you except Jesus Christ and Him crucified."

John 12:32 - "And I, if I am lifted up from the earth, will draw all peoples to Myself."

OUR THANKS:

We are glad you have taken the time to read this. If you would desire to know more about us feel free to contact us by calling 406-252-3886 or meet us at the church building at 383 E. Alkali Creek Rd., Billings, MT

Our services: Sunday morning worship at 9:30am
Sunday School /Bible study @11:00am all ages
Sunday Evenings in homes or @ Hardees guest room on 24th and Central Street @ 5:00pm

Thanks again,

Pastor Dave Trimble on behalf of the congregation at Big Sky Bible Church
Tags: big sky bible church, church, big sky, religious, billings, montana, billings, mt, bible, jesus, god, word
Big Sky Bible Church Special Offers & Events
Big Sky Bible Church Offers & Events
Big Sky Bible Church Videos
Big Sky is a small congregation of people from Billings and the surrounding areas. We come from various walks of life but are bound together by certain biblical truths which give us our purpose in meeting together and direct our lives as individuals:
Read more: http://billingsgazette.com/places/big-sky-bible-church/business_4000013401.html#ixzz2ruiewyuR
Email Big Sky Bible Church