Address
1432 Main Street
Billings, MT 59105
Last Updated: December 15, 2014
Hours
| | |
| --- | --- |
| Sunday | 7:00 am - 12:00 am |
| Monday | 6:00 am - 12:00 am |
| Tuesday | 6:00 am - 12:00 am |
| Wednesday | 6:00 am - 2:00 am |
| Thursday | 6:00 am - 2:00 am |
| Friday | 6:00 am - 2:00 am |
| Saturday | 7:00 am - 2:00 am |
About Play Inn
Play Inn has proudly served the Billings community since the 1960s by establishing itself as a premier bar, casino, and steakhouse in the area. Family owned and operated by Bobbie and Michael Hunter, Play Inn is conveniently located at 1432 Main Street in Billings.

For more information, you can contact us at (406) 252-9034. You also can view our full menu by visiting our website at www.playinnrestaurant.com, and don't forget to like us on Facebook at www.facebook.com/ThePlayInn.
Play Inn has entertainment for all. Here at our bar, we offer a wide variety of services outside of a traditional bar or restaurant. We do catering, have a game room, 20+ TV's, NFL Ticket, pool tables, arcade games, casino machines and more.
If you need great food for your next event, call Play Inn today because we now offer catering for all events. Contact us about hosting your special events.
If you enjoy karaoke, come join us at Play Inn for karaoke night! Every Wednesday through Saturday night, we offer karaoke from 9:00 P.M. until 2:00 A.M. We also have drink specials.
We are open Monday and Tuesday, from 6:00 A.M. until 12:00 A.M. We are available on Wednesday, Thursday and Friday, from 6:00 A.M. until 2:00 A.M. We are open Saturday, from 7:00 A.M. until 2:00 A.M., and Sunday, from 7:00 A.M. until 12:00 A.M.


Karaoke
Come sing your heart out at Play Inn Restaurant and Casino. We have Karaoke starting at 9 p.m. and going all the way until 2 a.m. Wednesday through Saturday. Be sure to ask about our drink specials.


Great Food
Not only do we have karaoke and a casino, we also have great food available. We offer catering services, as well. Call for more information. We offer breakfast, lunch and dinner specials.
Some of our favorite specials include:
* Prime Rib (Friday & Saturday night)
* Made-from-scratch soup (daily)
* $6.75 weekly lunch specials
* 2 pcs. chicken, mashed potatoes and green beans (Wednesday)
* Chicken fried steak, mashed potatoes and a veggie (Friday)
* Fish and chips with coleslaw (Friday)
* Nightly dinner specials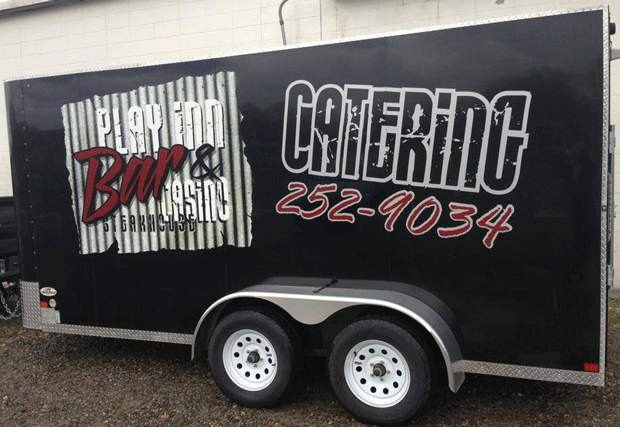 Casino

Come check out our full casino. We have 20 machines, Rewards Players Club and cash giveaways. Come win some money! Win BIG, Today!
Here at Play Inn Restaurant and Casino, we are known for the best roasted chicken in town, fresh ground hamburgers, casino and karaoke. But that's not all! We also have dinner, lunch and drink specials, 20+ TVs to watch all your favorite teams and a game room.
Stop by the Play Inn when you are looking for a fun family night. You can watch the game with your closest friends or just to get out for a drink and a good meal. Even if you are looking for a caterer for your event or block party, Play Inn can get you the food you love.
Come on in and see why we are the best spot in Billings to play, eat and relax all in one place!
Accepts:

American Express

Cash

Discover

MasterCard

Visa
Tags: play inn, bar, casino, steakhouse, restaurant, karaoke, catering, roasted chicken, hamburgers, dinner specials, lunch specials, drink specials, nfl ticket
Play Inn Special Offers & Events