Address
925 South 27th Street
Billings, MT 59101
Last Updated: November 20, 2014
Hours
| | |
| --- | --- |
| Sunday | Open 24 Hours |
| Monday | Open 24 Hours |
| Tuesday | Open 24 Hours |
| Wednesday | Open 24 Hours |
| Thursday | Open 24 Hours |
| Friday | Open 24 Hours |
| Saturday | Open 24 Hours |
About Smith Funeral Chapels
Serving our community since 1986. Funeral arrangements, pre-planning assistance, cemetery arrangements, crematory and funeral services are offered. We all are experienced, educated and knowledgeable.
Accepts:

American Express

Discover

MasterCard

Visa
Tags: casket, cemetery available, chapel service, church service, cremation, death, funeral home, funeral, funeral planning, graveside service, hospitality service, prearrangement, urn, funeral hoems
Smith Funeral Chapels Special Offers & Events
Business Overview
Smith Funeral Chapels has served the Billings, Montana area since 1896. Chapels are located in Billings, Laurel, Columbus and Red Lodge. Funeral arrangements, pre-planning assistance, cemetery arrangements, crematory and funeral services are offered. All funeral directors and staff at Smith Funeral Chapels are experienced, educated and knowledgeable. They will provide you and your family with the care, service and respect you deserve.
They are on call 24 hours a day, 7 days a week.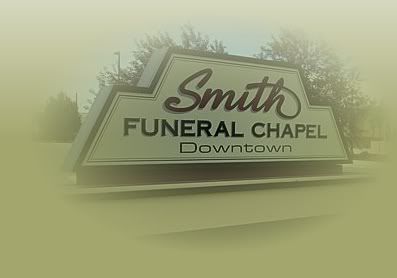 More About Smith Funeral Chapels

Funeral Options
Pre-Planning
There are more advantages to pre-planning than there are disadvantages. The most important reason for making pre-arrangements for funeral and burial services is family. By pre-planning and leaving detailed information, making funeral arrangements during a time of loss is substantially eased for the remaining family members.
Smith Funeral Chapels offers two free booklets titled, "When Funeral Planning, what should I expect…" and "Personal Information Portfolio," to assist in funeral planning. You may record your requests down to the last detail, if desired, outlining the services you wish. Even music and memorial folder verses, clothing and other details may be specified. We provide you with a copy and we retain one for our files. You will want to give copies to your immediate family members, attorney and any others who will need to know your wishes and plans. There is no charge for this service.
When pre-planning, you may want to check the advantages of the Montana Funeral Trust. At the time of death, the attending funeral chapel presents proof of services rendered and death certification to the bank for payment. This account is interest-bearing to handle inflationary costs. The trust may be revocable or irrevocable for Medicaid requirements. Another method of pre-funding is through insurance.
Cemetery Arrangements
Smith West Funeral Chapel is located adjacent to Terrace Gardens Cemetery. Terrace Gardens is a perpetual care cemetery serving all faiths, veterans and fraternal organizations; complete with ground burial, lawn crypts, columbarium niches, memorial niche, mausoleum and funeral chapel. Please request cemetery information and pricing from any one of our Smith Funeral Chapels.
Our Locations
•
Billings West
: 304 24th Street West, Billings MT 59102 (406-245-6427)
•
Laurel
: 315 East 3rd Street, Laurel MT 59044 (406-628-6858)
•
Columbus
: 35 North Diamond, Columbus MT 59019 (406-628-6858)
•
Red Lodge
: 201 North Broadway, Red Lodge MT 59068 (406-444-1121)
Smith Funeral Chapels Offers & Events
Email Smith Funeral Chapels