Address
402 N 32nd St
Billings, MT 59101
Last Updated: December 17, 2014
Hours
| | |
| --- | --- |
| Sunday | 10:00 am - 5:00 pm |
| Monday | 5:00 am - 9:00 pm |
| Tuesday | 5:00 am - 9:00 pm |
| Wednesday | 5:00 am - 9:00 pm |
| Thursday | 5:00 am - 9:00 pm |
| Friday | 5:00 am - 9:00 pm |
| Saturday | 6:30 am - 5:00 pm |
Special hours: CHILD WATCH HOURS: M–Thur. 8:30am–1:30pm, 4pm–7:30pm Fri. 8:30am–1:30pm, 4:30pm–6:30pm Sat. 8am–12pm
About Billings YMCA

The Billings Family YMCA is much more than just another fitness club. We are a philanthropic organization dedicated to serving and giving back to our community. We believe that every person should have the opportunity to participate in the complete approach to health, of "spirit, mind and body." Each year the YMCA provides financial aid to members of the community who may not have the resources necessary to take advantage of our programs or memberships.


Tags: exercise, fitness, preschool, daycare, aquatics, rock wall, summer camp, youth sports, family exercise, nutrition services, dietician services, wellness programs, pickleball, basketball league, racquetball, swimming, ymca, gym, fitness center
Billings YMCA Special Offers & Events
Our History
There are currently 11,500 YMCA members in Yellowstone County, nearly one in ten residents belongs to the YMCA and many more participate in YMCA programs. We offer programs for a variety of ages ranging from 6 months old to seniors. The YMCA provides opportunities for individuals and families to grow in spirit, mind and body at every life stage. The community is part of the Billings Family YMCA for different reasons; some come for the quick workout, to learn to swim, play in a basketball league, or bring their children to sports programs, preschool or daycare.

The Billings Family YMCA was established as a 501(c)(3) not-for-profit charitable organization in 1905. The first building location was on the southwest corner of North 29th Street, currently the Wendy's building. The Billings Family YMCA moved into its current location, 402 North 32nd Street and Fourth Ave North in 1953.

The nation's 2,685 YMCAs are the largest not–for–profit community service organization in America. We are always striving to meet the health and human service needs of 20.2 million men, women and children in 10,000 communities in the United States. YMCA's have always been at the heart of community life across the country: 42 million families and 72 million households are located within three miles of a YMCA.

Billings YMCA Offers & Events
For 9th –12th grade. Dec. 12, 2014 - Feb. 27, 2015
Get your 5 x 5 team together! Call 294-1630 for info.
Billings YMCA
402 N 32nd St, Billings, MT 59101
406-294-2390
Visit our website
Like us on Facebook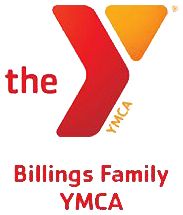 Billings YMCA Ads