Address
2100 S Shiloh Rd
Billings, MT 59106
Last Updated: January 27, 2015
Hours
| | |
| --- | --- |
| Sunday | 10:00 am - 2:00 pm |
| Monday | 10:00 am - 2:00 pm |
| Tuesday | 10:00 am - 2:00 pm |
| Wednesday | 10:00 am - 2:00 pm |
| Thursday | 10:00 am - 2:00 pm |
| Friday | 10:00 am - 2:00 pm |
| Saturday | 10:00 am - 2:00 pm |
Special hours: **Grounds are open until 3:00pm

Summer Hours: May-September
10:00am - 4:00pm - Monday-Sunday
Grounds are open until 5:00pm
About Zoo Montana
ZooMontana is located on a 70+ acre site on Shiloh Road at the west end of Billings, Montana. We house over 50 species of animals and hundreds of plant species on grounds.
With 80,000+ annual visitors who come to enjoy the attractive landscaped grounds and natural habitat exhibits, we also want to invite you to an exciting day at our zoo.

Our mission at ZooMT is to create for our visitors an enjoyable, recreational and educational experience while providing quality care for the animal and plant collections and appropriate propagation programs for species that are needed.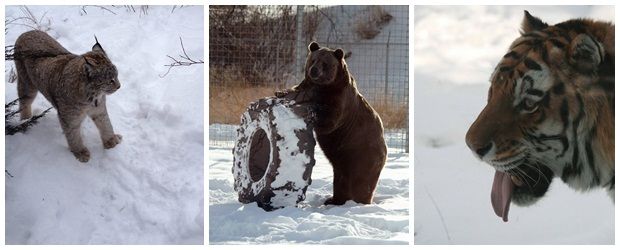 ZooMontana's vision is to become one of the nation's outstanding small zoological and botanical institutions, specializing in northern latitude or temperature zone species, as well as to provide our community and region with environmentally focused, cultural, educational, and recreational experiences.

We strive to attain innovation and excellence. The primary goals of ZooMontana include the construction of a small but high-quality zoological/botanical garden with respect to the quality of the habitats and animal managememnt programs, the development of a comprehensive educational program, and the development of a sound conservation biology program.




ZooMontana is a nonprofit 501(c)(3) educational organization committed to the very best in animal care, conservation and education. The Zoo and Botanical Park is dedicated to the preservation, conservation and education of wildlife and their habitats.

If you would like to donate to ZooMontana, visit www.zoomontana.org and click on the Donate button.
Tags: zoo, zoomt, zoo tours, field trips, ummer camps, school outings, birthday parties, weddings, events, corprate events, zoo rental, membership, volunteer, non-profit educational organization, educational, education, educational organization, wild animals, zoo animals, zoomontana, exotic animals
Zoo Montana Special Offers & Events
Zoo Montana Offers & Events
Let your students experience all that ZooMontana has to offer during a class visit!
Whether you come for a self guided class tour, add on an EdZOOcate Animal Program, or experience a ZooTour, the Zoo is a fun and educational place to visit with your class!
When:  Anytime during the school year
Time:  During regular Zoo hours
Cost:  A reduced admission rate is available for school groups of 12 or more. This group rate is $2.50 per person, including teachers and chaperones.
How:  Call 406-652-8100 to register.  Advance registration is appreciated.  (Last minute groups will not have access to add-on opportunities such as EdZOOcate programs.)
ADD AN EdZOOcate ANIMAL PROGRAM TO YOUR ZOO VISIT:
We will provide an engaging 30-45 minute presentation (with time after for question and answer) with 3-4 animal ambassadors in our amphitheater!  Each program can accomodate approximately 150 students.  
What:  Amphitheater animal program for school field trip groups
When: AMPHITHEATER PROGRAMS ARE ONLY AVAILABLE TUES-FRI.
Who:  School groups of up to 150 participants per program
Cost:  $75.00 per program
How:  Email our EdZOOcate department at education@zoomontana.org  2 week advance registration required.
Montana's only Zoological and Botanical Park!
ZooMT
2100 S Shiloh Rd, Billings, MT 59106
406-652-8100
Zoo Montana Ads