Emma's Baking Co. And Deli

Apple pie is considered as American as hot dogs and baseball on the Fourth of July.

LAUREL — Fat Jack's Tap Room and Emma's Baking Co. and Deli are hosting Ken and Linda Petro on Friday, July 27. The event will take place at Fat Jack's patio, 317 E. Main St.

Elizabeth Decker's career in the kitchen brought her back to Laurel, her home town.
Deals & Offers

If you're just starting a new business in Billings, look no fa…

Apex Personal Training & Fitness Center is a highly effect…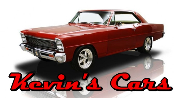 Kevin's Cars offers good, clean used cars at an affordable price.