Pepsi-cola Bottling Co

Less than a day after a fire destroyed part of his family's Pepsi bottling plant, Mike Dimich said the damage isn't what matters.
Mike Dimich of the Pepsi-Cola Bottling Co. shows the damage to some of his family's antique vehicles caused by the fire at the plant.
Deals & Offers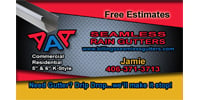 If you're looking for an experienced rain gutter contractor, y…

Let us help you put a fresh coat of paint to that new investment!

If you're renovating your basement or turning your lowest leve…