Popo Agie Wilderness
The Shoshone National Forest has temporarily closed Trail 723 on the eastern side of Atlantic Lake in the Popo Agie Wilderness on the Washakie Ranger District.

POPO AGIE WILDERNESS, Wyo. — Someday, perhaps when Brittany McRae is a successful physical therapist, she will find a friend or family member and convince him or her to lug a backpack deep into this part of the Wind River Mountains.
Deals & Offers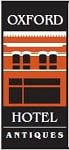 Stop by & look for the red slash items - 50% off!