State All-class Wrestling Tournament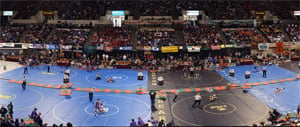 This panorama was taken during the 2013 State All-Class Wrestling Tournament. The panorama was taken during the first round of the tournament. It is a digitally stitched panorama composed of 70 hi-resolution images. LLOYD BLUNK/Gazette Staff

Darlene Hammons wasn't going to let a little thing like a painful pulled Achilles tendon keep her from attending the state wrestling tournament this weekend.
Jamie Eldridge used to be able to predict when the flood of customers from the state wrestling tournament would begin arriving at Applebee's.
Deals & Offers

Located in Billings since 1985, Shepherd Huntley Animal Care i…

As tanners themselves, VersaTan's owners were frustrated with …

We are a husband and wife team, and truly love what we do.