Travis Armajo
CASPER, Wyo. — A 24-year-old Lander man convicted of shooting his cousin to death and of sexually assaulting his cousin's fiancee has been sentenced to 50 years to life in prison.
CASPER, Wyo. — Despite a number of high-profile tragedies, Wyoming homicides in 2012 fell back to average after a disturbing spike was reported in 2011.
LANDER, Wyo. — A 24-year-old man accused of shooting and killing his cousin and of sexually assaulting a woman in September has pleaded not guilty.
Deals & Offers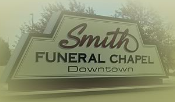 SMITH FUNERAL CHAPELS has 6 locations to better serve your family:

If you want the real TexMex taste then come over to Torres Café!
This month we have a special.