Yellowstone County Disaster Action Team

Last summer as fire swallowed dozens of homes in a wide swath across southern Montana, Billings Red Cross volunteer Jill Washburn spent 91 days in the field.
Deals & Offers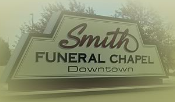 SMITH FUNERAL CHAPELS has 6 locations to better serve your family:

If you want the real TexMex taste then come over to Torres Café!
This month we have a special.