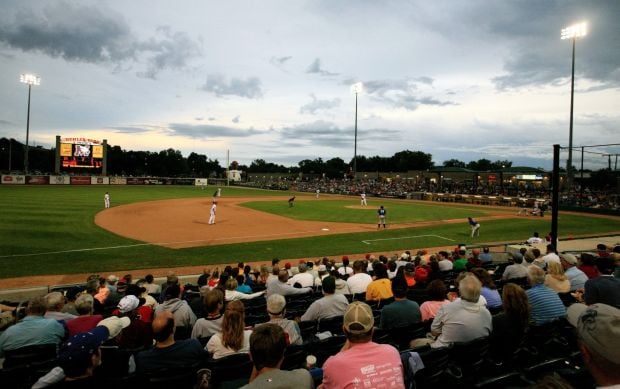 This week's profile on Centene Stadium in Great Falls concluded my series on the four ballparks in the Pioneer League North. I'll start by saying touring around Montana to take in baseball games is not the worst way to spend a work week.
I would be lying, though, if I didn't say the series turned out to be more of a challenge than I was expecting. The actual day at the ballpark is easy and fun. But getting back to the office and having to grade the different parks on the facility, food, entertainment and atmosphere? That proved to be challenging, especially when you set the bar that Dehler Park in Billings only earned a triple for its more-or-less state-of-the-art minor league facility.
If I had to do it over again, maybe I would have given Dehler Park a home run, as it's the best in the Pioneer League North. I have no reservations when I say that, even though it's not quite perfect. As I noted, the baseline seats directed towards the outfield instead of the infield are a big problem for me. Other than that, though, Dehler is awesome.
So if we're ranking the four Montana parks in order, we're going Dehler, Ogren Park at Allegiance Field in Missoula, Centene Stadium in Great Falls and then Helena's Kindrick Legion Field.
If we're ranking them on the food – I love ballpark food – Dehler Park's Stang Burger tops the list as the best food I ate on my tour. Missoula's Bats & Balls ranks as the worst. (On a side note, I can't believe I ate Rocky Mountain Oysters for the first time on this trip. I've lived in Montana all my life, grew up on a ranch, have been to dozens of brandings, and my first dining experience of the Big Sky delicacy was at a baseball game!?) I won't be eating those again.
Follow The Billings Gazette
Contributors
Sportswriter for The Billings Gazette covering Montana and Montana State athletics in addition to various high school sports.
Online sports editor for The Billings Gazette.