A pair of first-year reserves propelled the Montana women's basketball team to a pivotal road win Thursday.
True freshman Sophia Stiles of Malta scored a career-high 26 points and Caitlin Lonergan just missed a double-double in rallying the Lady Griz past Southern Utah, 74-65, in front of a sparse crowd in Cedar City, Utah.
Lonergan, a sophomore who has played in just seven games since becoming eligible, piled up 18 points and nine rebounds. Both totals were career highs for the former Montana State volleyball standout from Bozeman. 
With the win, the Lady Griz took over sole possession of first in the Big Sky Conference standings at 6-2. Montana is 10-9 overall.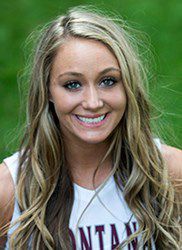 Stiles has elevated her game over the past six days. After narrowly missing a double-double with 11 points and nine rebounds in Saturday's loss at Montana State, she followed up with 8-for-11 shooting, including 3 for 5 from behind the arc, to go along with six rebounds and four assists Thursday.
"I just felt like I had good energy coming into the game," Stiles said. "We got down early so I tried to make a difference when I got in there. We played a lot of transition, which is more my style."
Lady Griz coach Shannon Schweyen was impressed with her team's ability to maintain its poise. The Thunderbirds (2-6, 3-16) raced to an 18-4 lead and their physical brand of defense was a thorn in Montana's side most of the night. 
"It was a rough one," Schweyen told KMPT radio. "We had to fight, claw, work our way back.
"They're always tough at home. We didn't get off to the best start but I'm so proud of the way the girls defended in the second half."
It didn't look good for the Lady Griz after the T-birds' 6-foot-2 center Whitney Johnson hit her first three buckets down low. Her team connected on 8 of its first 10 shots in building a 14-point bulge in the first six-plus minutes.
Bolstered by the play of its reserves, Montana closed out the first period with a 9-3 run. The Lady Griz trailed 38-31 at halftime, with Stiles and Lonergan combining for 18 points.
"Boy oh boy (Stiles) put on a show tonight," Schweyen said. "She makes the right plays, takes her time. Now that she's making threes she's even more complete as a player."
Key to Montana's comeback was Lonergan's effort on both ends. After Johnson's fast start — she had 11 points on 5-for-5 shooting in the first half — the SUU senior was held to four points in the second half thanks in part to Lonergan's defense.
"Caitlin was just a little bigger body on her down low there," Schweyen noted.
Lonergan hit a layup to give her team a 66-65 lead with 2:33 left. Stiles added a pair of free throws to stretch Montana's lead to 68-65 with 56 seconds remaining.
Lonergan and Stiles both followed up with clutch rebounds. Then Stiles and Taylor Goligoski each hit a pair of free throws in the final 32 seconds to seal the win.
"Transition was our best friend tonight," Schweyen said. "We got out on the break. Sophia and Kenzie (Johnston) had some beautiful passes. And our big kids ran the floor the whole time. I was pleased with the way we were pushing it tonight."
With the win Montana improved to 2-4 in away games. The Lady Griz will try to put together their first road win streak under Schweyen on Saturday when they play at Northern Arizona.