MISSOULA — The University of Montana students are losing their best seats at Washington-Grizzly Stadium. 
Kent Haslam, Montana's athletic director, announced the plan at a January meeting with the UM student government — the Associated Students of the University of Montana (ASUM). 
"We're not reducing the number of seats," Haslam said in a phone call with 406mtsports.com. "... We're just simply rotating them down one and going to take (section) 121 and use it as another Grizzly Scholarship Association section."
Haslam said the reasoning behind the change is two-fold. First, Haslam said the athletic department is trying to find more ways to generate revenue. Secondly, Haslam said student attendance in section 121 has been subpar. 
Braden Fitzgerald, the ASUM president, told 406mtsports.com that Haslam asked for Fitzgerald's, and then other ASUM leadership members' initial thoughts on the change.
Fitzgerald said he felt respected by Haslam's choice to talk the change over with ASUM before making a final decision. At the student senate meeting where Haslam announced the change, students had split opinions. 
"At the end of the day, the overall consensus was that it wasn't going to be a totally black and white thing," Fitzgerald said. "I don't know if we came to a support or not support, but it was moreso a ... recognition of there's multiple sides to this and there's no ill intentions from the athletic department."
Fitzgerald said students who feel strongly about the shift in seats should contact him and the athletic department. 
"I want to hear the concerns," Fitzgerald said. "We want to represent them. ... That issue of communication is so pivotal for our university right now. We have to be able to get feedback when we're making decisions like this."
Last season's student section spanned from section 116 — where the band sits — to section 121 — the bleachered section just north of the area without bleachers. All six of those sections are nestled in the southeast corner of the stadium. 
The new seats shift one section south from section 115 to section 120. Section 115 is directly under the Griz Vision screen, while section 121 is in between the 20- and 30-yard lines. 
Fitzgerald said he was unaware that the student section was that large. 
"I always thought that the student section was just the areas that didn't have bleachers and that corner. That was my understanding," Fitzgerald said.
"I did some surveying. I asked some students in our office, a lot of students who attend football games and I kinda got that consensus as well," Fitzgerald said. "They didn't really understand that 121 was an option. They thought the non-bleachered sections were the student section."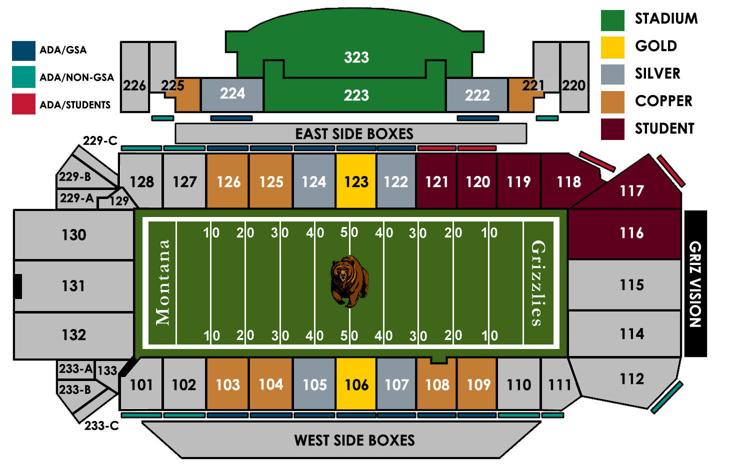 Starting this season, section 121 will be a copper-level GSA section. Copper-level members pay a $120 per seat donation to the scholarship association on top of the $235 season ticket cost.  
"If we sold everything, the GSA memberships will bring in about $60,000," Haslam said. 
As far as revenue goes, if the section sells out with all new season ticket holders, Haslam estimates the ceiling for that new revenue would be between $160,000 and $170,000. Realistically, Haslam said initially new section 121-related revenue is estimated to be around $60,000 to $70,000.
Overall attendance was at a 10-year low this season and student attendance reflected the drop as well. 
Four-thousand tickets are allocated to students for each home game, but, according to data 406mtsports.com received from a public records request, an average of 1,520 wristbands were scanned per game this year.
The game with the lowest student attendance was the Northern Colorado game, with 859 wristbands scanned. The game with the highest student attendance was against Eastern Washington. Two thousand fifty-six wristbands were scanned for Montana's lone home loss of the 2017 season. None of those above figures count the 130 members of the band. 
Haslam said the plan as of now is to keep the band in section 116, but moving them over to 115 is, "something that might be worth talking about," in the future. 
Historically, Haslam said tickets sold for section 115 has been sporadic and depends on the game. 
"Certainly you've got North Dakota or the Griz-Cat game and it's packed," Haslam said. "We hope the students fill it up."