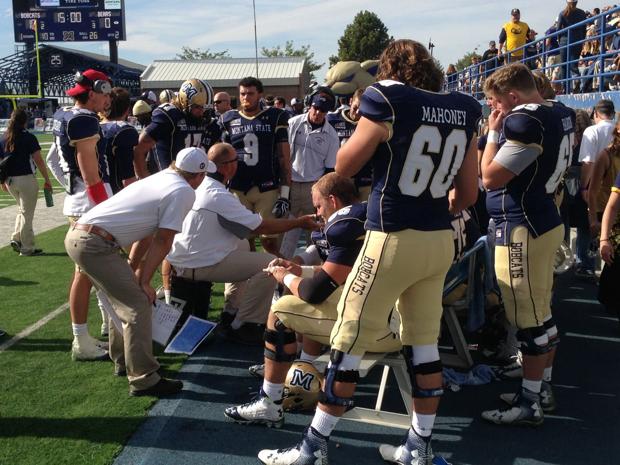 What a fiasco. Central Arkansas made a huge comeback in the fourth quarter against the Bobcats, but MSU held on for a 43-33 victory. The game was well in hand for MSU early, and that became dangerous as the Bears fought back.
Here is a quick recap of the game, which pushed MSU's record to 2-1 with Eastern Washington coming into Bozeman next week:
• KEY MOMENT: Inside Bobcat territory on a third-and-2 play early in the second quarter, Central Arkansas had its sights on a touchdown to pare an early 10-point deficit. MSU cornerback Deonte Flowers was 1-on-1 in coverage with wideout Dezmin Lewis. Quarterback Taylor Reed threw a perfect pass that would have been caught for a TD had Flowers, who was beaten initially, not recovered and made sure Lewis couldn't hold on to the ball. That led to a missed 33-yard field goal by Jace Denker and the Cats preserved their two-possession advantage.
• IT WAS OVER WHEN ... Bobcats running back Anthony Knight scored his second consecutive touchdown in the third quarter, this time a 5-yarder with 56 seconds on the clock to make the score 37-13. Knight scored from 10 yards out on the previous drive, and a key defense stop on UCA's ensuing series -- highlighted by Taylor Sheridan batting down a third-down pass at the line of scrimmage -- put Montana State in command. It was a crucial turning point after Central Arkansas had driven 98 yards for a TD to pull within 10 points earlier in the quarter. The Bobcats nearly blew it in the fourth quarter, but Knight's second TD was the perfect insurance. He finished with three red-zone touchdowns.
• TOP OFFENSIVE PLAYER: Brian Flotkoetter. The senior wideout made several key plays, none bigger than a spectacular 46-yard touchdown catch over the top that put the Bobcats ahead 16-0 in the second quarter. Flotkoetter had gotten open behind two defenders, but was then interfered with by desperate Bears defensive back Artez Williams. Nevertheless, with Williams draped all over him, Flotkoetter hauled in the pass in over the shoulder and put MSU ahead by three scores. His final numbers: A career-high 9 catches for 132 yards and a TD.
The Cat-Griz Insider blog is the one-stop spot on the Web for all the news and opinions pertaining to Montana Grizzly and Montana State Bobcat athletics. Comments are open!
Contributors
Sportswriter for The Billings Gazette covering Montana and Montana State athletics in addition to various high school sports.
Online sports editor for The Billings Gazette.