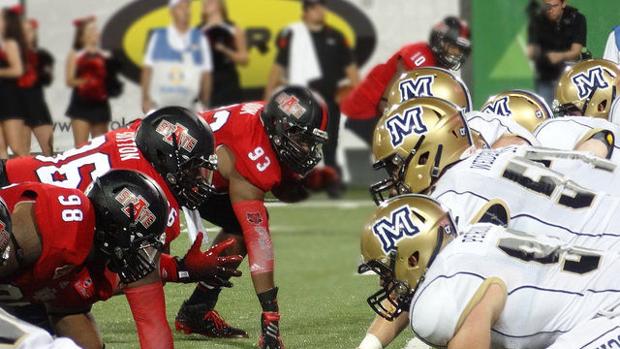 NOTE: The following is Phil Sites' account of the Montana State/Arkansas State game from Centennial Bank Stadium in Jonesboro, Ark. Sites is a former Gazette sports staffer. Be sure to check out Phil's awesome photo gallery from the game.
JONESBORO, Ark. -- It's Labor Day weekend and Americans all over this great nation celebrate with family barbecues, road trips and planting themselves in front of the TV to watch some tiny FCS school play to a packed FBS stadium.
Yes, it's that time of year where college football fans country-wide explain the complexities of the subdivisions to the uninitiated, fielding questions like, "Who is App State?", "What is a Chanticleer?", and "They have football in New Hampshire?"
Essentially, the haves of NCAA's more prestigious and rich bowl subdivision pay off the have-nots for the honor of taking them to task. The result is, well, that we end up with games like Montana State vs. Arkansas State.
So off we ship our Montana boys to a spot just southeast of the Ozarks, tucked away deep in catfish country (or shall I say catfish-and-a-beer country, a meal personally recommended to me by Charlie Welch, Sr., the father of the Arkansas State University president).
The Cat-Griz Insider blog is the one-stop spot on the Web for all the news and opinions pertaining to Montana Grizzly and Montana State Bobcat athletics. Comments are open!
Contributors
Sportswriter for The Billings Gazette covering Montana and Montana State athletics in addition to various high school sports.
Online sports editor for The Billings Gazette.