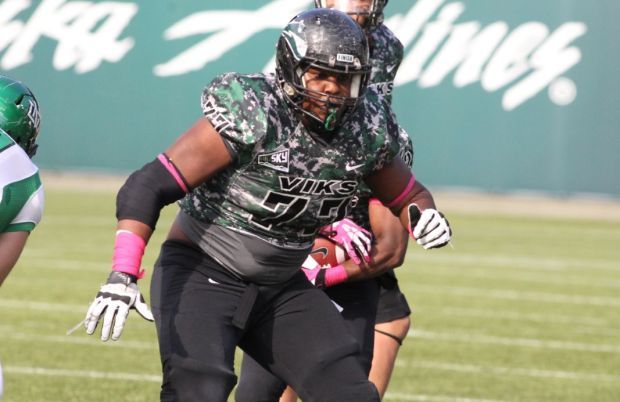 NOTE: This is the fifth installment of a summer-long series projecting the Top 10 players at each position for the 2014 Big Sky Conference football season.
Cal Poly led the nation in rushing last season and Portland State ranked third. Individually, PSU's D.J. Adams and Northern Arizona's Zach Bauman both ranked in the top 10 nationally in ground yards, while five others eclipsed the 1,000 mark. And quarterbacks had big seasons also. Yes, the Big Sky sure got its money's worth out of its offensive linemen last season. 
But many of the big names are gone, including the entire group that was named first-team all-conference last season. A new year calls for a new crew to take over as the best in the league. Here are 10 to watch:
TOP 10 OFFENSIVE LINEMEN
1. CORNELIUS EDISON, G, SR., PORTLAND STATE 2013: 12 starts, third-team All-Big Sky. THE BUZZ FOR 2014: This will be Edison's third year as a starter, and so far he's been a major reason why the Vikings have become one of the very best rushing teams in the FCS. Last year PSU averaged nearly 278 rushing yards per game -- third-most in the nation -- and averaged a league-best 6.0 yards per carry. The Vikings do lose D.J. Adams, who was one of the best backs in the league the past couple years, but with the 6-3, 295-pound Edison helping to create holes they should have no trouble finding ways to churn out yards and production again this year.