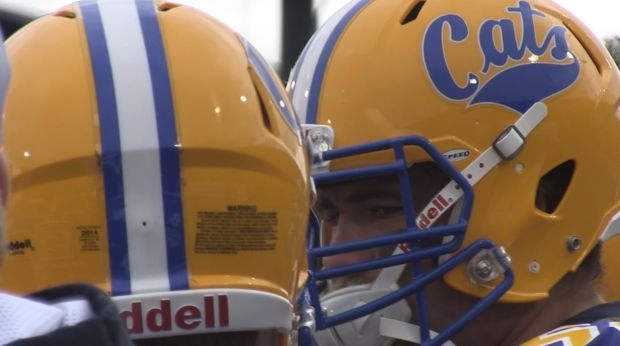 Wearing throwback uniforms to honor the 30th anniversary of its 1984 national championship, Montana State did what it had to do to get a 29-18 victory over North Dakota on Saturday in the Big Sky Conference opener for both teams. 
Making up for last week's 52-51 loss to Eastern Washington, the Bobcats did it with defense, much like their 1984 counterparts would have done. UND rallied to make things interesting in the fourth quarter, but it wasn't enough. Here's a quick recap from a windy and cold Bobcat Stadium:
KEY MOMENT: The day's first touchdown came from Montana State's defense. On a third down play early in the second quarter, freshman safety Khari Garcia jumped in front of a Joe Mollberg pass and raced 45 yards to the end zone to put the Cats ahead 10-0. It was a tough sequence for North Dakota, which forced the Bobcats to a pair of three-and-outs in the first quarter and held them to just three points.
IT WAS OVER WHEN ... Mitchell Herbert caught his first career touchdown. Though a 16-yard TD run by Shawn Johnson earlier in the second quarter put the Bobcats ahead 16-0, a 21-yard scoop-and-score by North Dakota LB Will Ratelle got North Dakota back in the game. But not for long. MSU answered Ratelle's touchdown with a key drive that ended on a 26-yard TD throw from Dakota Prukop to Herbert, a freshman from Eugene, Ore. That put the Cats ahead 23-7 with less than 3:00 left before halftime. Thus, UND's late rally wasn't enough.
TOP OFFENSIVE PLAYER: Neither offense was spectacular. North Dakota's certainly wasn't, and Montana State's was completely pedestrian compared to last week against Eastern Washington. Do not take anything away from UND's defense: It lived up to its early-season performances. For the Bobcats, Prukop was again solid at quarterback. The sophomore fell short of his per-game offensive average output, and for the first time this year a team held him to negative rushing yards. MSU's entire ground game was pretty much locked down. But Prukop still threw for 269 yards and a touchdown.
The Cat-Griz Insider blog is the one-stop spot on the Web for all the news and opinions pertaining to Montana Grizzly and Montana State Bobcat athletics. Comments are open!
Contributors
Sportswriter for The Billings Gazette covering Montana and Montana State athletics in addition to various high school sports.
Online sports editor for The Billings Gazette.
Get weekly ads via e-mail
Deals & Offers

Many people forget about their septic and sewer systems. That …

One hour massage, aromatherapy bodywrap with Vibrosaun sauna, …
Featured Businesses