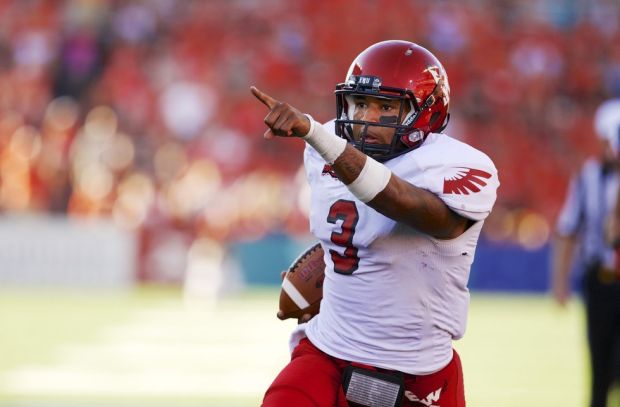 NOTE: This is the ninth (and final) installment of a summer-long series projecting the Top 10 players at each position for the 2014 Big Sky Conference football season.
The Big Sky Conference is a league of quarterbacks. And one man stands above the rest: Eastern Washington's Vernon Adams. Adams (who they call "Big Play V.A.") was the runner-up for the Walter Payton Award last year, and is probably the favorite to win it in 2014.
As coach Beau Baldwin said about Adams last season, "This guy's got the guts to go win games." How far will Adams take the No. 1-ranked Eagles this season? Maybe all the way. But there are a bunch of other top QBs in the conference (there's nine others listed below) who may have something to say about it. Check out our final Top 10 list, and enjoy the season.
TOP 10 QUARTERBACKS
1. VERNON ADAMS, JR., EASTERN WASHINGTON 2013: 65.6%, 4,994 yds, 55 TD, 15 INT, 183.1 efficiency; 605 rush yds, 4 TD. THE BUZZ FOR 2014: Adams had the greatest statistical season of any quarterback in Big Sky history. The only thing missing was a national title (the Eagles lost to Towson in the semis). Adams won't necessarily be counted on to match last year's totals -- they're too mind-boggling. But he will be expected to make the same big plays, score lots of points and, if he can, lead EWU to Frisco and the national championship game. Expectations have never been higher. With Adams pulling the strings, you have to love their chances.
The Cat-Griz Insider blog is the one-stop spot on the Web for all the news and opinions pertaining to Montana Grizzly and Montana State Bobcat athletics. Comments are open!
Contributors
Sportswriter for The Billings Gazette covering Montana and Montana State athletics in addition to various high school sports.
Online sports editor for The Billings Gazette.