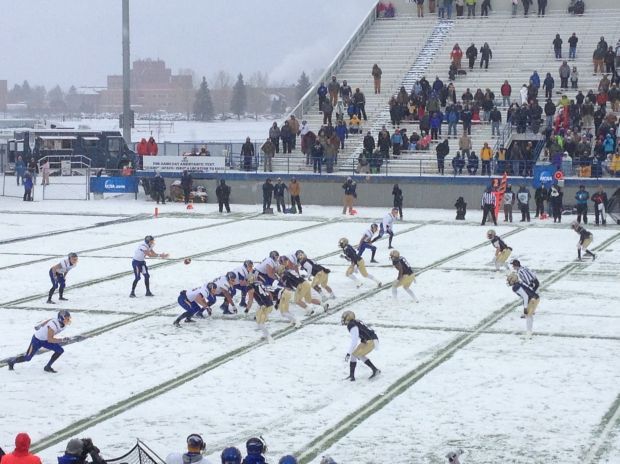 BOZEMAN — Quarterback Dakota Prukop returned to Montana State's lineup after missing the previous two games with a knee injury for a first-round playoff game against South Dakota State at Bobcat Stadium.
The teams played through near blizzard conditions, especially as the flakes really started coming down in the second half. In the end, a hobbled Prukop wasn't enough to rescue the Cats from another inconsistent defensive effort, and SDSU, behind the running of Zach Zenner, won 47-40.
Here is a quick look at some of the highlights:
KEY MOMENT: The Bobcats had just taken a 26-24 lead after a methodical touchdown drive to open the third quarter. But Zenner made it short lived. On the ensuing possession, the All-American running back burst through a hole and sped down the sideline for a 60-yard touchdown run to put the Jackrabbits back in the lead. Zenner outran MSU safety Khari Garcia, who by no means is slow. It was Zenner's third touchdown of the day, which made the score 31-26. The Bobcats then turned the ball over on downs, and the Jacks were in control.
IT WAS OVER WHEN ... South Dakota State QB Austin Sumner hit Connor Landberg at the back pylon of the end zone from 10 yards out with 10:04 remaining. Sumner, who was solid all day, made a big-time throw to Jason Schneider for 21 yards on third down two plays earlier to keep the drive going. The Jackrabbits went for two points and failed, but their lead was up to 37-26, and the Bobcats were in a big hole.
The Cat-Griz Insider blog is the one-stop spot on the Web for all the news and opinions pertaining to Montana Grizzly and Montana State Bobcat athletics. Comments are open!
Contributors

Sportswriter for The Billings Gazette covering Montana and Montana State athletics in addition to various high school sports.

Online sports editor for The Billings Gazette.