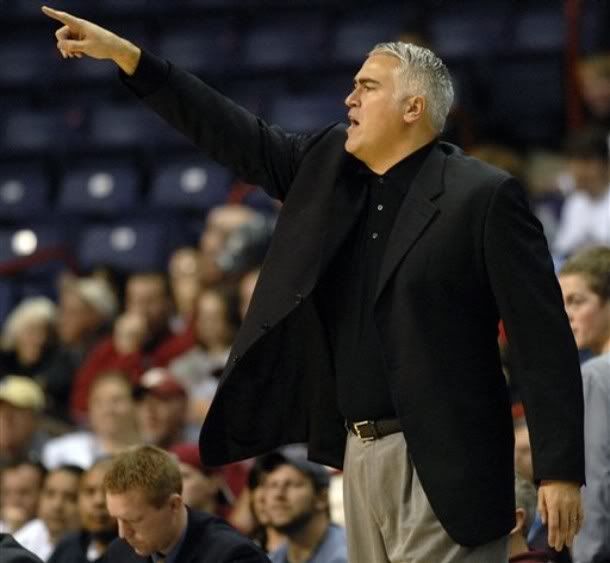 The 14 vs. 3 matchup in the NCAA basketball tournament hasn't produced too many first-round upsets recently. Certainly not as many as the iconic 12 vs. 5 matchup has.
But 14th-seeded Montana Grizzlies (coached by Wayne Tinkle, pictured at right), who face No. 3 New Mexico in the opening round on Thursday, can look to recent history for at least a little encouragement.
To wit:
A 14 seed has beaten a No. 3 15 times since since 1986. It's happened twice since 2000 -- Bucknell upset Kansas 65-64 in 2005 and Northwestern State stunned Iowa in 2006. On top of that, a Big Sky Conference team has even pulled it off. Weber State shocked North Carolina 76-74 in 1999.
A 14 vs. 3 upset occured eight times in the 1990s, but only twice since then. So it can be argued that we're due for one this year. Sam Houston State, Oakland and Ohio join Montana in the upset pursuit this time around.
Also, this will be the first time a Big Sky team has played a team from the Mountain West Conference in the tournament. The Big Sky is 11-44 all-time in the tourney. The MWC is 8-22.
When it comes to the matchup between Montana and New Mexico, the one thing I'll say -- before Phil dissects the game for you below -- is that Montana better come out a lot harder than it did in the Big Sky Conference championship game against Weber State last weekend. If the Griz don't, it will be lights out in a hurry.
PHIL'S MONTANA-NEW MEXICO ANALYSIS
I have a strange system when it comes to filling out my brackets. I actually like to pick a 13- and 14-seed winner every year, even though those upsets aren't likely to happen. Why?

Because when it happens, you gain instant credibility. When it doesn't, well, you just shut your mouth and nobody is the wiser.

Since the tournament expanded in 1985 to include 64 teams, 40 wins have been posted by the 13, 14 and 15 seeds. That's 1.6 a year, so three out of every five years we get two wins by those seeds. We're all smart enough to know it happens, but nobody seems to be able to figure out when and where it will happen. I mean seriously, have you ever seen an ESPN or CBS talking head go out on a limb and pick one of those teams? Yet, it happens. It's up to us to get ballsy with the brackets and go with our gut when it comes to, say, picking the Griz to beat New Mexico on Thursday night.

I won't lie. I picked the Griz to win -- just as I did against Nevada in 2006. Here's why:

Anthony Johnson's 42-point effort did more than get the Grizzlies into the tournament. It also made him a focal point -- something New Mexico will likely try to key on. Weber State allowed Johnson to score at will, something the Lobos probably won't. This could free up guys inside like Brian Qvale or Derek Selvig -- who should have plenty of opportunties on both ends of the floor to rack up shots and blocks, considering their size advantage over the Lobos.

Johnson's natural ability to find scoring chances will work in his favor, and double-team or not, he's sure to get to the line plenty of times where he's a cinch to convert most of his free throws.

With the size advantage for Montana, a modified man-to-man defense with zone would likely be most effective as the Grizzlies will need to cut off the easy 3 and zone in on guys like Roman Martinez, who will kill you from the outside if you leave them alone.

New Mexico runs its offense through Darington Hobson, who leads the team in points, rebounds and assists. Hobson's numbers are more of a flukey result of a well-balanced team with multiple threats. His numbers in each category aren't necessarily mind-blowing. Keying in on Hobson is important, but if the Griz can win the battle inside and neutralize the outside jumper, they'll be able to hang tight with the Lobos.

A few key numbers to focus in on New Mexico: Yes, they are 29-4, but they only played four non-conference games on the road. They were 3-1 in those contests with an eyesore loss to Oral Roberts by 9. They beat a bad San Diego team by 4 and beat New Mexico State and Hawaii by 10 and 12. Remember, the Lobos play at "The Pit," one of the biggest home court advantages in the NCAA. It'll be interesting to see how they fare in a neutral environment that is likely to be filled with plenty of fans cheering for an upset.

Lastly, New Mexico also struggled at times with Wyoming and Air Force (as recently as the first round of the MWC tournament), two teams that Montana could have presumably dispatched with ease.

Montana certainly isn't without its weak performances to look back on, but if the Grizzlies play to their capabilities and hold the Lobos to under 70 they should be able to give Steve Alford's bunch fits.

THE PICK: Montana 71, New Mexico 67