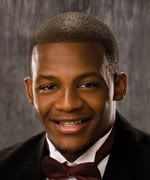 Admit it. You have never seen anything quite like THAT before. Anyone want to protest Damian Lillard's selection as the Big Sky Conference MVP?
The Grizzlies were down, out and done. A 22-point second-half deficit was too much to overcome. They would have been better off to throw in the towel and begin regrouping for next season.
But Anthony Johnson had other ideas. In what was perhaps the greatest performance in Griz hoops history, Johnson put Montana on his back, scoring a championship record 42 points -- including a whopping 34 in the second half -- to will UM past Weber State by one point in the league title game and into the NCAA tournament.
A.J. scored Montana's last 21 points. Think about that for a minute. Weber State's Lillard, by the way, was a non-factor in the second half.
The Griz have nobody else to thank but Johnson. The team came out totally flat in the first half and was being run right out of Dee Events Center. They clearly weren't prepared to play, and that was coach Wayne Tinkle's fault. The victory does not excuse that fact. But Johnson would not be stopped in the second half.
Griz fans are already comparing this to Montana's huge football comeback against South Dakota State in the first round of the FCS playoffs last fall, and it ranks right up there.
Regardless of what happens to Montana from here on out -- regardless of its tournament seed or who it plays in the first round -- the Griz are going dancing and have to feel great about themselves because they have perhaps the best Mid-Major player in the nation in Anthony Johnson.