Pardon the Brien brothers if they won't know whether they're coming or going this week during the state's six high school basketball tournaments.
When some are coming, others might be going.
Kenneth, Curtis, Eric and Dan Brien might even find themselves waving to each other on Interstate 90 as they potentially move back and forth between the Class A boys in Butte, Class B boys in Billings and Class C boys in Bozeman.
Here's why: As the four grandfathers from the Crow Tribe discovered to their delight just a couple nights ago, all four have grandsons playing this week — for four different teams.
"I don't know how I'm going to do it," said eldest brother Kenneth Brien Jr., 62, a coal industry retiree whose grandson David James is a senior at Hardin. "But this old man is going to do some traveling."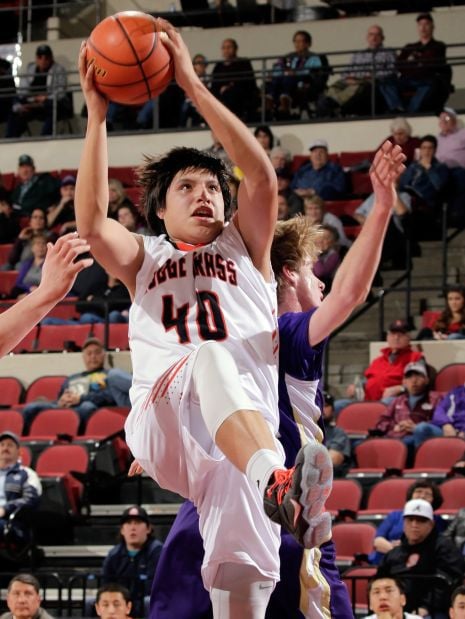 After all, he also wants to support senior Jericho Big Left Hand of Lodge Grass (Curtis' grandson) in Billings, senior Ivory Brien of Arlee (Eric's grandson) in Bozeman and sophomore Miles Brien of Plenty Coups (Dan's grandson) also in Bozeman. Adding emotional complexity: Arlee and Plenty Coups square off in an opening-round game at 12:30 p.m. Thursday at Montana State.
So Eric, 57, who oversees the maintenance department for the Crow Housing Authority, will most likely be in Bozeman, though he's plotting how he can also hit Butte. Curtis, 59, the principal at Lodge Grass High School, is committed to Billings but might beg to slip away if, perish the thought, the Indians falter early. And Dan, 56, who moved to New Town, North Dakota, in 2012 to toil in the Bakken oilfields before going to work in the maintenance department for the affiliated tribes there, is hoping to make the long drive to one or all three locations to witness what he's certain is Montana history.
"I don't think it's ever happened before," Dan said of four grandsons from four brothers playing for four teams on the same weekend. "It's like all of a sudden it's a news flash, a bulletin."
This rare harmonic convergence might've gone unrecognized were it not for a conversation between three women in the family, among them Eric's daughter Luella Brien, who works at St. Labre in Ashland.
"We were talking about all the boys we've got to cheer for and realized they're all in a tournament," Luella said.
One of the women posted it on Facebook. It didn't take long to go viral in the wide-ranging Brien family.
"I took a look at it, and then it really sunk in what was going on," said Curtis, also the athletic director at Lodge Grass. "I thought it was pretty awesome."
As the Brien family grapevine spread the news, the startling realization was fraught with dilemma all the way to North Dakota.
"At first I thought, 'If I go, how am I doing to do this?" Dan said. "How am I going to cheer?"
Sure, his grandson is at Plenty Coups. But in the Crow culture, cousins are all sisters/brothers, and nephews and nieces are every aunt and uncle's kids.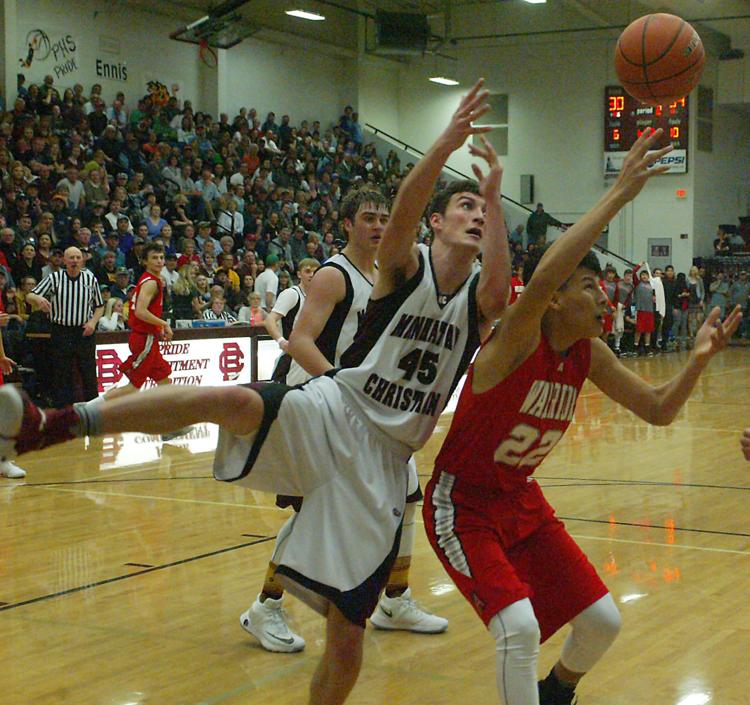 And one brother's grandson is every brother's grandson.
"That's just the Native way," Dan added. "I love them both (Miles and Ivory). I'll cheer them both. I'm just going to have to sit in a neutral zone."
Rooting interests get even more complicated because Eric's sister Sherri Brien-Don't Mix has a son, Mike "Beads" Don't Mix, who coaches at Hardin. And Dan's wife, Teresa, has a nephew, Virgil McCormick, playing at Hardin.
"Pretty cool," said Eric, noting with irony that among the four siblings only Kenneth played high school basketball.
Not surprisingly, athletic genes run deep in the Brien — "rhymes with 'win'," Luella says — family.
The brothers' grandfather, Alex LaForge, played for the Crow All-Americans. Their father, Kenneth Brien Sr., born and raised in Wyola, was a boxer during a 20-year Army career that included World War II and Korean War deployments.
All four boys were raised early in Wyola but were moved to Missoula as part of an Indian relocation program. Daniel and Eric eventually went to boarding school in Brigham City, Utah, and Curtis was at Fort Sill in Lawton, Oklahoma. Only Kenneth returned home for high school, to help at the family property and play for Hardin.
Their kids played sports, too, and Dan's sons, Dan Jr. and Jordan, competed at state for the Busby Eagles in 1999. One of Eric's sons, Aaron, attended Salish-Kootenai Community College in Pablo, married a Blackfeet woman and now teaches at SKCC and trains horses outside of Arlee. 
The grandfathers don't see each other much, but when they do, "We like to laugh and tell jokes and tell stories on each other," Kenneth said. "The stories get bigger every year.
"The biggest thing we do as brothers is give our grandkids support. We let them know we're behind them and proud of them that they're in sports rather than taking drugs and being hoodlums. We're trying to encourage them, and they seem to do quite well."
Now the family is about to write another story, one rarely — if ever — told in Montana high school basketball. Curtis envisions a gathering of brothers when it's all over, to "sit down and have a dinner and talk about what happened."
If only they could all be there for each chapter this week.
"We all kind of feel bad because we can't make it to all of them," Luella said of the three tournaments.
With a few good shots and fortuitous bounces, though, perhaps at least one will make it to a championship game. Eric says Arlee "has the horses for it this go-round", Kenneth likes Hardin's chances and Curtis, naturally, believes in Lodge Grass.
If so, the Briens could be coming or going to either Butte, Bozeman or Billings.
"I don't know who's going to have bragging rights," Curtis said, "but one will get it I'm sure."
And if two are in a championship?
"I'm going to flip a coin," Kenneth said.