Each August, as the machinery of Billings Central's girls soccer dynasty resets for another run, new players step forward and new leaders emerge.
It's a natural progression that hasn't failed: The Rams have captured the past six Class A state titles and have won 89 of their previous 90 games.
Central graduated five indispensable seniors from the team that beat Whitefish 4-1 for the championship last November, so now is the time for 2013's supporting cast to take the lead and carve their own legacy.
Within that group is junior Mariah Wittman, who is bursting with potential to be next in a line of great Central playmakers — and its foremost guide.
"The last couple years I kind of just did my job and tried to do the best I could," said Wittman, who was the Rams' second-leading scorer as a sophomore. "But this year I feel like just going out onto the field and playing my best isn't enough. I have to make sure I don't lead the other girls astray. That's my new role this year, to make sure everybody is into what we're doing."
Among those the Rams lost were forward Allie Lucas and midfielder Kelsi Nusbaum, two top offensive players who carried much of the scoring load. Lucas led the state with an astounding 33 goals. Wittman will be asked to make up for much of that production as she steps into an even bigger attacking role.
But Wittman has experience putting up points — and scoring goals at important times. She had 10 goals and 17 assists last year, including three goals and a pair of assists in the playoffs. Her goal in the semifinals against Hamilton helped the Rams gut out a 2-1 victory on the road.
Opponents can expect more of the same this season.
"She's just a mean speed demon. She's an incredible athlete," said second-year coach Sara Campbell. "When you pair that with the tenacity and the skill level she has, and her understanding of the game, she's just a strong player."
"I feel like I learned so much from (Lucas) and the other seniors," said Wittman, who has been named a team captain. "I feel like they prepared me really well for being in that role."
Wittman will be joined in the leadership category by junior defender/midfielder Michaela Stock, who has also been selected as a captain. Additionally, junior goalkeeper Natalie Ruegsegger is coming off a fine season.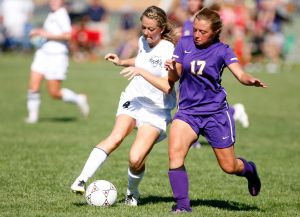 Defensively the team is reorganizing after losing mainstays like Amy Mueller (who earned the game ball after the title game last year), Becca Shipp and Maya Arce.
"We're trying to focus less on what we lost and more on what we have to gain with the talent that we have," Wittman said. "I think a lot of teams are going to see a lot faces and hear a lot of names that they haven't heard before. But they are really big strengths, and people might be surprised by what depth we actually have."
Championships haven't grown on trees at Central in the past. They've been earned. Campbell said she thinks this season — and the title push that will accompany it — will be as challenging a year as the program has seen. The fact that the team has no seniors is a reason for that.
But the Rams will do what they've always done. And if it turns out to be another championship season — their seventh in a row — it will be a huge payoff.
"We don't ever think of ourselves as a state championship team," Wittman said. "We just come out here and work as hard as we can and hold ourselves to a really high standard. The championships just seem to come to us, because we practice like that's what we want. That's our ultimate goal, but we keep it game-by-game and practice-by-practice."