Taylor Mims is accustomed to standing out. It's been that way for a while, ever since she remembers shooting up in height in sixth grade, back when she and Lizzy King would frequently measure to see who was taller.
So when the 6-foot-3 Mims posed for a photo earlier this summer with three other recruits of the Washington State University volleyball team — where she'll play starting next fall — she couldn't help but think, 'Finally.'
Not only was Mims not the tallest member of the group, she wasn't even the second-tallest. Only one of the four future teammates was shorter, and when you throw in a 2017 WSU recruit who's already taller than Mims, well, that's even better.
"I loved it," Mims said with true conviction in her voice. "I told them it feels so normal to look you guys eye to eye and not have to look down. Even when I have to look up it feels good.
"I told them I felt normal, and they're like, 'Aren't you normal?' and I was, 'No, I'm the tallest girl in the state, I'm pretty sure.' At least that's how I feel."
Those feelings of 'normal' will have to wait a bit longer, however. Mims still has her final year at Billings Senior, where she'll likely get plenty of attention again.
By complementing her size with an agility and explosiveness not usually found in a 6-3 frame, she's been an important part of the Broncs' two straight Class AA state volleyball championships. She'll likely be a big factor on the basketball team, which placed third at state last winter. And she's already won two state high jump titles.
Last season Mims, a middle blocker, led Class AA in attack efficiency (.310) and kills per set (4.53), was fourth in blocks per set (1.11), and she plays the back row at a high enough level where she doesn't have to be subbed out.
"Taylor Mims, she's a superstar," said King, a 5-6 outside hitter for the Broncs who was left behind in the height department all those years ago. "It's really fun (to play with her). And it's fun to practice with her. We went to the (WSU) camp this summer and to see where she's going to be at is so amazing. That level, she's ready for it. It's fun to know that she's that good. She's just great."
Jeff Carroll isn't afraid to take King's final adjective a bit further. The longtime coach — he's entering his 29th season as the Broncs head coach — has seen just about every Montana player come and go. When you consider that Mims will be only the third Montana girl to play volleyball in the Pac-12, it's easy to see where Carroll is headed.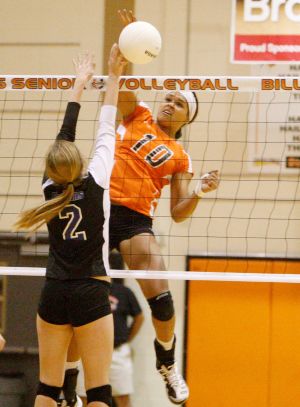 "When she's on her game she is just a player that we haven't seen in the state of Montana," said Carroll, who has won 11 Class AA titles at Senior. "Not only is she arguably the best all-around player to come out of the state, she's even more humble than she is a good player. Sometimes I almost have to remind her that it's OK to have swagger, that it's a good thing. There's no reason you shouldn't have confidence in your ability."
Mims does have the confidence, though her almost-shy, certainly reserved, demeanor on the court might say otherwise. But keeping that swagger under wraps is just maybe an attempt to lessen the attention she gets. After all, she already stands out, in more ways than one.
"That's just me," Mims said of her reserved on-court nature. "I get excited for my team, and sometimes for myself. But I don't know, during a game, I'm in my head, I don't want to break loose or have anything distract me. I'm just bottled up and I try to stay that way. I feel like it's a job. I'm out here to do something that I'm good at and I just want to stick with it. I do have fun, but in a controlled way."