With a winter storm approaching, Montana schools are making sure their wrestlers get a chance to hit the mat at the state wrestling tournament.
Lewistown usually leaves on Thursday morning for the Montana High School Association tournament, which starts on Friday at the Rimrock Auto Arena at MetraPark.
"We made a real quick decision this morning and our wrestlers got on the bus to leave at 2 p.m.," said Lewistown Athletic Director Jim Daniels on Wednesday. "We weren't going to take the chance of putting them out there tomorrow."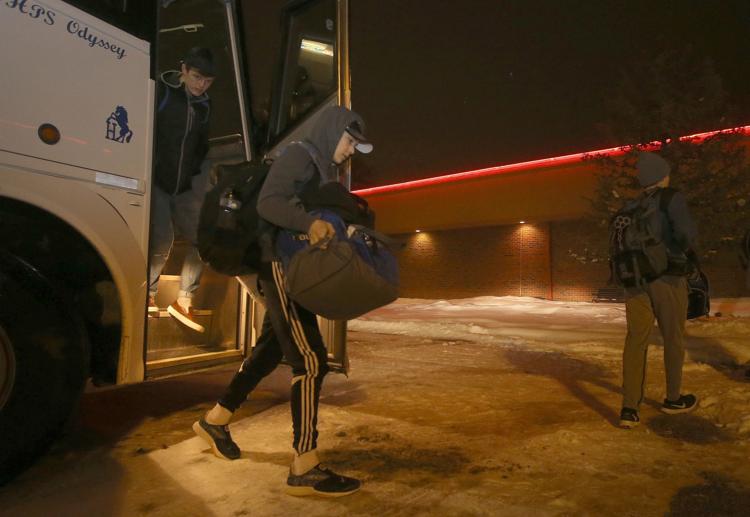 The National Weather Service forecast warned of possible freezing rain Wednesday night stretching from Broadus to Harlowton, followed by up to a foot of snow across much of Eastern Montana.
The weather might have changed plans, but coaches didn't expect the new schedule to be a distraction.
"It's not that big a deal," said Havre wrestling coach Scott Filius.
His team was rumbling past Harlem as he spoke, bound for a hotel on Billings' West End. Neither Havre nor Lewistown said they had any problems finding rooms to extend their stay.
Lewistown put bus drivers on alert Tuesday night. School officials pulled the trigger on leaving early Wednesday morning, sending wrestlers home at noon to pack up before leaving a couple hours later.
"It can be pretty nasty between here and Billings," Daniels said.
Economic impact
What kind of effect the storm has on widespread travel plans — and any economic boost Billings gets from the state tournament — is still up in the air, according to Alex Tyson of Visit Billings.
Some teams typically cancel room reservations they make well in advance if they don't end up qualifying, but Tyson said she'd heard from some hoteliers that there were both weather related cancellations and teams getting in early. 
One hotel reported parents coming in early to beat the storm. 
"I think it's going to be interesting to see how it shakes out," Tyson said.