Volborg's Jess Lockwood trying to balance youth, bullriding stardom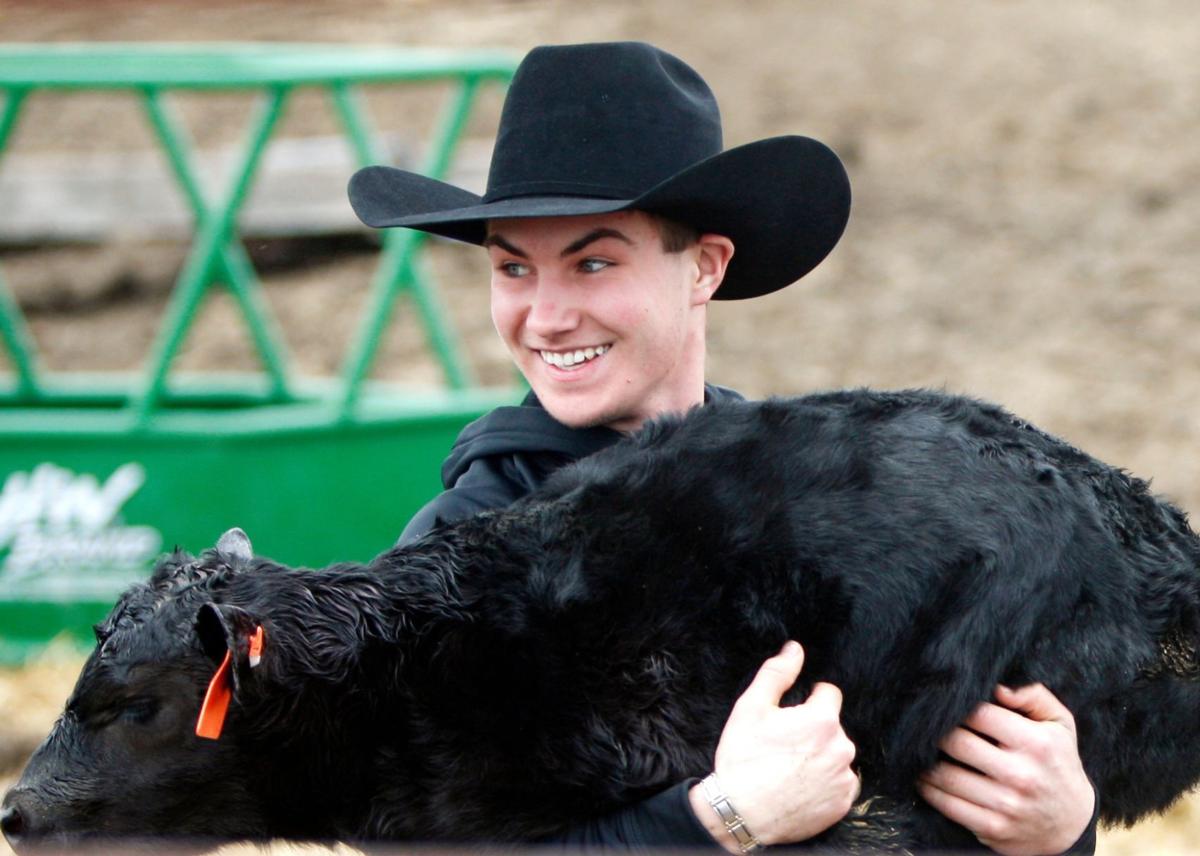 VOLBORG — Jess Lockwood is tired.
He didn't get home until 12:30 a.m., that morning, driving all the way from Sioux Falls, South Dakota, to the family home in eastern Montana.
And before his weekend in Sioux Falls — which marked his return to Professional Bull Riders competition — Lockwood had been working the midnight and 2 a.m. shifts during calving season.
"You just make sure heifers are not in trouble," he explained of young cows giving birth for the first time.
After lunch, Lockwood takes visitors around the family's 10,000-acre ranch on an ATV. He checks on a herd of older cows that stand protectively over their young. Lockwood is at ease among the edgy bovines.
At another part of the property, a heifer bellows for her lost calf, born that morning. The new mother nervously runs back and forth along the fence, looking for her newborn. Lockwood enters an arena, finds the calf and carries the animal to a clearing.
The heifer spots her calf and charges toward Lockwood. The cow bulldozes her own trying to horn the rescuer. The 19-year-old nimbly moves to the side and climbs up the fence out of danger.
"Nah," Lockwood replies with teen-age confidence.
The heifer and calf belong to Lockwood. He purchased 15 heifers from a neighbor after the PBR World Finals last fall as an investment and to take a dent out of his taxes after earning $177,778 his first season.
They are just a small part of the responsibilities he's accrued while becoming one of the world's best bull riders in the world.
A little more than a year ago, Lockwood was a teen-age cowboy chasing a dream.
"I feel like I'm growing up," he said. "But it's still fun to me."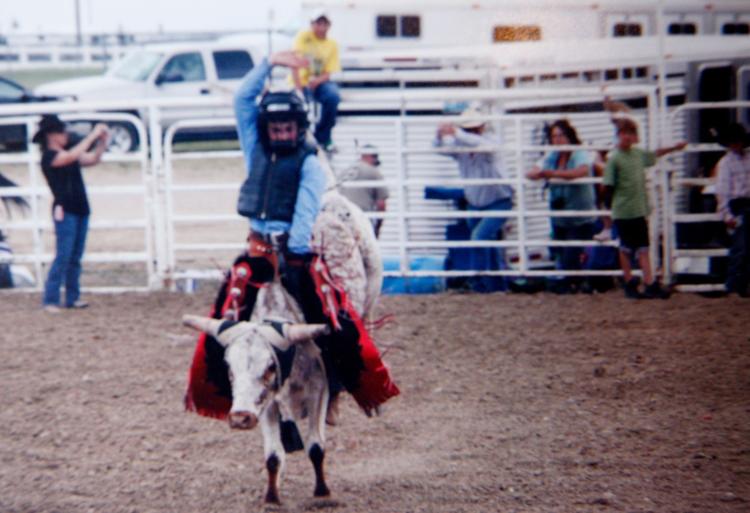 Where it started
Lockwood, who joined the PBR the day he turned 18 in the fall 2015, returns to Billings this week to defend his title at the Stanley Performance in Action Invitational at Rimrock Auto Arena.
Since that moment when he rode the bull Modified Clyde for 90.5 points for his first Built Ford Tough Series event buckle, Lockwood has been thrust into the PBR spotlight.
"I remember it all," he said of his break-through weekend in Billings. "There was a lot of energy in the Metra. It's my favorite event of the year, for sure.
"It was my first Built Ford Tough Series win and in my home state. It can't get much better than that."
He would go on to be the 2016 PBR Rookie of the Year, experience an excruciating PBR World Finals, win the PBR 2017 season opener in New York City and add another victory at Sacramento, California.
"Thrilling," Lockwood said of his year. "If there is one word to describe it."
Lockwood tried to compete with an injured riding hand (his left) during the PBR World Finals last fall in Las Vegas. He went a frustrating 0-for-5 and finished eighth in the final world standings.
"My hand hurt, it was bugging me the whole time," he said. "I was in world title contention and didn't ride a bull. I was in there for a world title and didn't do my job. I wasn't too happy with my Finals."
He did not use his left hand, for anything, in November and December.
"I didn't pick up anything with it," Lockwood added. "On the bigger jobs around the ranch, I told my dad, 'Get Uncle Shawn (Lockwood) to do it.' I didn't want to risk anything."
This day in the family office, he is wearing a red MTN OPS — one of his sponsors — T-shirt and black sweat pants after rising late. He is barefoot and shifts in his chair as he explains how his life has changed in 12 months.
Lockwood suffered a torn groin at the Iron Cowboy in Arlington, Texas, and was forced to sit out six weeks. He would only watch good friends Derek Kolbaba and Cooper Davis when the PBR was televised.
"It's been a rollercoaster for sure," Lockwood said. "The year has had its ups and downs."
Kolbaba is his best friend on tour.
"Derek and I are too young to go out with everybody," Lockwood said. "We go back to the hotel room and hang out."
Despite missing more than a month's worth of events, Lockwood is a firm second in the BFTS standings. He has already earned $171,873 for this year.
Lockwood spent the end of December, along with all of January and the majority of February, living at Cody Lambert's place again in Texas. The blunt-speaking Lambert is the vice-president and livestock director for the PBR. He is in charge of selecting the bulls for each BFTS event.
"Cody doesn't sugarcoat anything," Lockwood said of their Monday video reviews that included two-time PBR world champion Justin McBride. "And neither does Justin.
"Cody might tell me, 'That looks like you never rode a bull before,' " Lockwood finished with his continuous smile.
Lockwood rehabbed his groin injury with physical therapy three days a week in Broadus under the tutelage of Kristy Elgin.
He now works out twice a day — an hour in the morning and an hour in the evening — in a shed he built on the family property. Along with a weight machine, the shed contains a blue and gray Billings Skyview wrestling mat purchased at a District 2 warehouse sale. Lockwood likes it warm in the building during his sessions, turning up the thermostat to demonstrate.
"I do the Insanity 30 workout, lift weights and do core work," he said. "After that, I work around the ranch to keep moving."
"I was worried about guys gaining points on me," Lockwood said of his time away. "But I knew if I came back too quickly, I would just get hurt again."
A taut 5-foot-5, 130 pounds, Lockwood follows an eating regimen focused on chicken, broccoli and rice. That morning, he allowed himself two pieces of toast for breakfast.
"That was uncommon for me," said Lockwood, who youthfully sits on the counters during family discussions in the kitchen. "Your body treats bread as sugar."
He shuns fast food when on the road, always trying to find a sit-down meal with his bull riding friends.
His bedroom is a testament to his bull riding success. It's filled with buckles from rodeos from every level. Commemorative rifles hang on the wall, along the bracket from when he won the Class B-C 98-pound wrestling title as a freshman for Broadus.
Lockwood has not splurged with his new earned income.
"I'm pretty grown with my money," he said. "I don't want to spend it all now. I want to have something when I'm done riding bulls."
But he has allowed himself a little fun. He purchased a Bobcat skid-steer two weeks ago.
"I move dirt around the ranch," Lockwood said with another grin. "That's fun to me."
The other side
Bull riding is eight seconds at a time.
Lockwood is now concerning himself with things that will impact him for a lifetime.
Along with two agents, he also has a financial advisor to help set up his future.
"I know a lot more about the business side now from a year ago," he said, sinking back in the chair.
The phone rings almost daily with potential sponsorship deals or people wanting a piece of his time.
Mom Angie runs the initial interference before funneling the information to her son's agents. Ultimately, the decision belongs to the young bull rider.
"I'm getting used to saying no," Lockwood said.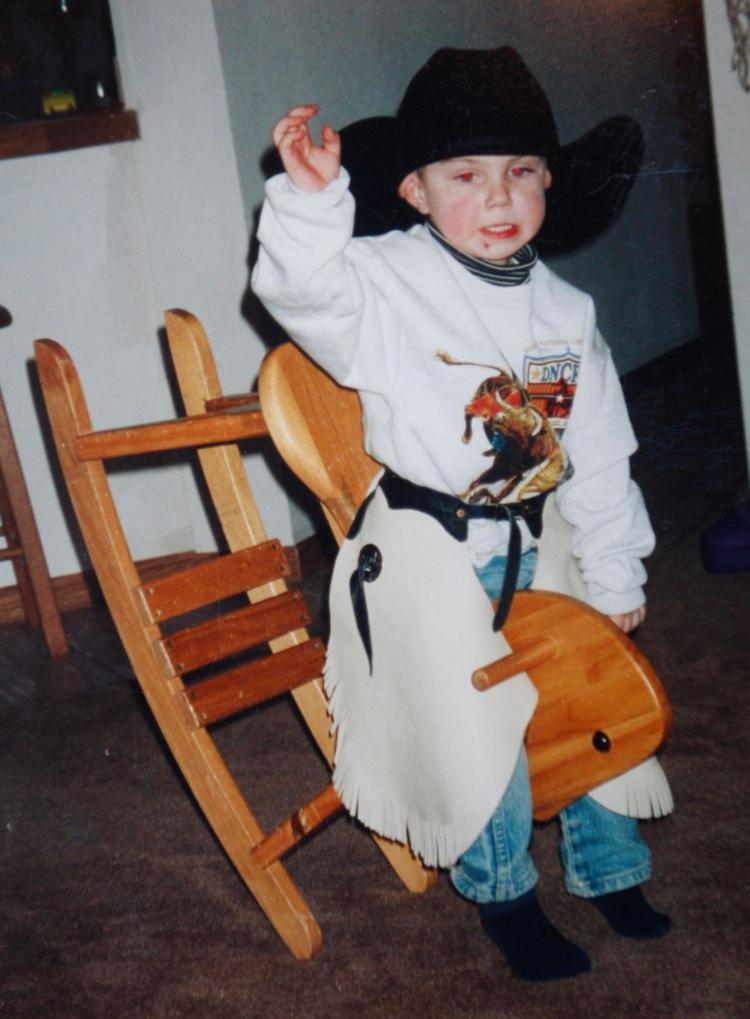 He also takes advice from his aunt Lisa Lockhart, Angie's sister. Lockhart, from Circle, is one of the premier barrel racers in the world and a 10-time qualifier for the National Finals Rodeo, with more than $2 million in career earnings.
"We talk once a week, sometimes more," said her nephew. "She helps keeps me grounded and focused."
And while making grown-up decisions, there is still a little boy beneath the surface.
Lockwood gets animated when reminiscing about being with his cousins Alyssa, Thane and Cade, Lockhart's three children. Lockwood and Alyssa are only a few months apart.
During the summer, the group would play "Rodeo." Alyssa would sing the National Anthem, followed by the group competing in all the events.
"We played rodeo I'd say from when we were 4 to 10," Lockwood remembered happily. "We would play inside and outside, depending on the weather. I miss the cousins coming over for the summer. Being a kid."
Back to work
Between checking cows, Lockwood finds time to visit Sonny Lockwood, the family patriarch who lives a few yards away on the property.
Sonny Lockwood and his companion Sandy Stahl, along with Uncle Shawn Lockwood, help keep the ranch going when Ed and Angie have family obligations with their children.
"We could not have done this all these years without them," Angie Lockwood said of hauling Jess and his brother Jake to athletic events all around the region.
Sitting across from Sonny in a rocking chair, Jess Lockwood discusses his weekend in Sioux Falls and, of course, cows, before leaving.
He also tells the story that part of his rehab included jumping on a ranch bull — "Scarbelly," Lockwood tells his grandfather — and taking the bull a few steps in the pasture to test his groin injury.
Jess Lockwood rode just one bull of four in South Dakota, going 90.25 points during the 15/15 Bucking Bull Battle.
"It felt good to get one rode," he said. "And being 90 points, that's a pretty good feeling, too."
Likable and mature beyond his bull riding years, Lockwood still has definitive goals ahead of him.
"The goal is to ride every bull I get on," he said. "I want to be in the hunt for a world title every year."
Lockwood turns and starts walking back toward the house. Inside is a clipboard that contains a list of his heifers that have given birth in the last few weeks.
Like his career goals, he's got another one to check off.