When in the stands at a Billings Skyview football game this fall, fans will undoubtedly be drawn to No. 22 as he streaks down the field after catching a pass or leaps into the air to deflect one away.
Senior Tre'von Dixon-Strong, who is listed at 6-foot-1 and 190 pounds, is a dual threat, playing both safety and wide receiver.
Last season, Dixon-Strong earned honorable mention all-state honors at safety for the Falcons, who finished 7-5 and reached the Class AA state semifinals.
On defense, Dixon-Strong made 72 tackles, snatched four interceptions, deflected 10 passes, notched one fumble recovery and scored one touchdown.
Offensively, Dixon-Strong received honorable mention all-conference honors at wide receiver in the Falcons' Wing-T offense. He caught 24 passes for 503 yards for an average of 20.9 yards per catch. He also hauled in five touchdowns.
Skyview coach Ron Lebsock said Dixon-Strong is successful because of the time he puts in studying the game, attending camps and lifting weights. And a little natural talent doesn't hurt.
"He runs great routes and has a wide range of catching ability," said the 30th-year coach. "He's caught some balls that have made you chuckle. You wonder how he did it, but he did it.
"As a defensive back, he's got a good nose for the ball and is a smart player. And being the athlete he is, he can cover a lot of ground."
In all, Dixon-Strong spent time at four camps preparing for his senior season. The reason: to help him accomplish his goals of becoming first-team all-state, play in the Shrine Game and "be better than I was last year."
"Team-wise we all have the mindset to come out every day in practice and compete hard," he said. "We all want to go to the state championship. And then, we all want to come more together as a team and play on the field as one. Every time we line up, we want to dominate the opposition mentally and physically."
One of the camps Dixon-Strong attended was an invitation-only Nike Football Training Camp in Los Angeles. Dixon-Strong said it will help prepare him for his dream of playing college football.
"My ultimate goal is Division I (FBS)," he said. "Division I is where I want to play and know where I can play at," he said. "If I go DII or DIII, that's just where the chips fell."
Lebsock said Dixon-Strong has the ability to succeed at the next level.
"He will play somewhere," the coach said. "He's just that skilled and that good. I think he can play any level he wants."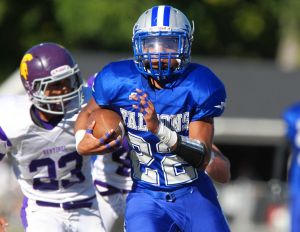 Last season, Dixon-Strong carried only the last name Strong. He added Dixon to his name in honor of new Billings Wolves Indoor Football League coach and former Billings Outlaws star Chris Dixon, the father figure in his life.
Dixon-Strong met the former star quarterback at an Outlaws game when he was 8. Now, Dixon attends Dixon-Strong's games, helps him study the game and work out, and is a role model for him. Another influential person in Dixon-Strong's life is his mother, Brandie Strong.
"We've developed a father-son relationship in the last eight to 10 years I've been here," Dixon said. "I'm proud that he's proud to put that name on his back and he wants to live up to it."
And when football season concludes in November, don't expect Dixon-Strong to fade away.
"He's always involved at Skyview with football, basketball and track," Lebsock said. "And he is a good student.
"He is a very, very easy guy to have a conversation with and is a good person and is genuine in everything he does. He cares about his teammates and his responsibilities."