During Lockwood High School's first homecoming week, students crowded into the Sturdevant Gym, cheering with school spirit and singing the school fight song as though they'd been doing it for years.
The assembly contained what will be the first four classes to go through the halls of Lockwood High School, grades six, seven, eight, and nine. They were dressed head to toe in red and silver, adorned with beads, red tutus, and red and black face paint.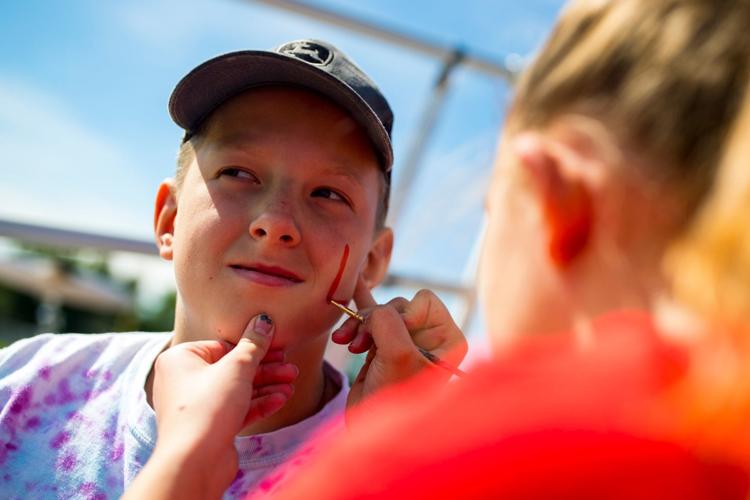 Many students wore T-shirts with the motto, "Tradition Starts Here," written next to a logo of the Lockwood school's mascot, the Lockwood Lion.
Lockwood's first freshman football and volleyball homecoming games on Saturday were no exception to that school spirit. Many residents and students decorated in red turned out to watch the games.
"Boy, the assembly yesterday was amazing," said Lockwood High School principal Gordon Klasna on the pep rally. "There are things you have to learn and usually you're taught by upperclassmen, but they don't have that. Learning the school song, when they sang it for the first time yesterday, you would have thought they had known it for years."
To celebrate homecoming week, students had fun dressing up like teachers or members of an 80s rock band. Friday, students decorated wagons with red tinsel, ribbons, and streamers for its first homecoming wagon parade through all of the school buildings.
Lockwood faced the first football and volleyball teams of the new East Helena High School on Saturday. Similar to Lockwood, East Helena is also building its first high school.
The football game was played at the Rocky Mountain College Herb Klindt Field, while the volleyball teams played at the Sturdevant Gym in Lockwood.
A small but enthusiastic pep band played west of Klindt Field, with the band's conductor Q Staton doubling as the Lockwood Lion, the mascot.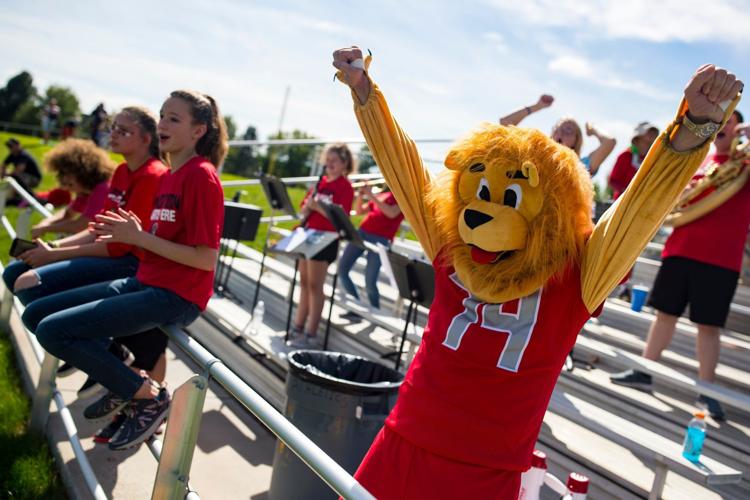 About 12 middle school and high school students played in the band on Saturday. It was a last minute endeavour, Staton said, and some band members even rescheduled plans to be there.
School administration made the arts a priority with its intentions to build an auditorium that seats 700 people, according to Staton. Next year when construction is finished, choir and band classes will be housed in their own rooms.
Lockwood is anticipating larger band groups and choirs in the years to come.
"We can have concerts in our theater instead of in our gym, which is a different atmosphere," Staton said. "It's a super exciting time for Lockwood."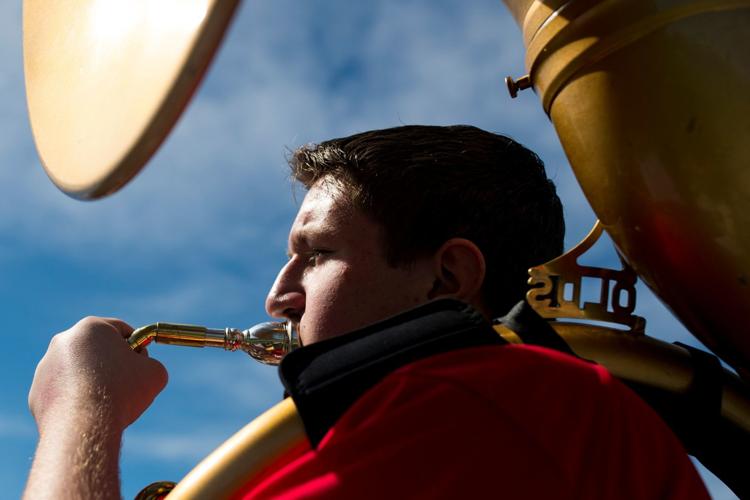 Megan Mizelle's son, Jeffery Kordonowy, a split end/defensive back on the Lockwood football team, said her family just moved to Lockwood from Wyoming.
Her daughters, who are currently attending Lockwood Middle School, will age into the new high school. The whole family is excited to be a part of new traditions.
"We think it's important to have the school out there," Mizelle said. "I think that letting the kids take the lead in starting traditions is awesome."
You have free articles remaining.
Keep reading for FREE!
Enjoy more articles by signing up or logging in. No credit card required.
Renee and Nick Little from East Helena watched their son, Kaleb Arnell, playing offense and defense during the game. The experience of two new high schools competing with one another is special.
Their son is now able to continue playing with his grade school pals, thanks to the new high school, Nick Little said.
"I think that's the biggest thing for the whole school is all the firsts that they're going to have," Nick Little said.
The volleyball game saw just as much support from fans on Saturday.
Gina Frost and Danielle Olsen of Lockwood watched their daughters Hannah Frost and Andi Hinman play. They were excited that their daughters would have preferable school environments like smaller class sizes and better opportunities to build relationships with teachers at Lockwood High School.
"I had two older kids who went to Skyview, and I just feel like they kind of got lost in how big the school was because of their personalities," Olsen said. "The teachers know each student because they went through the other schools."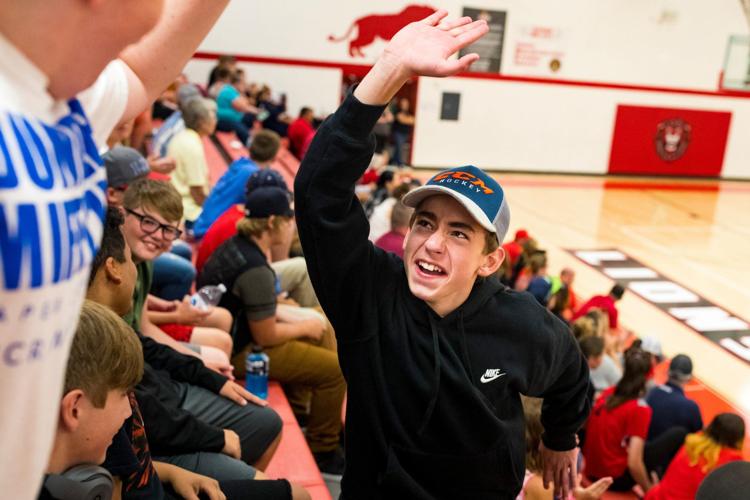 East Helena superintendent Ron Whitmoyer said Lockwood High School and East Helena High School both resulted from years of public demand and support.
Whitmoyer has worked for East Helena schools for 16 years and was always bombarded by residents asking about future plans for a high school.
"I've heard, and I'm still approached by, people in their 60s and 70s that are saying, 'Wow, it's about time. I tried to get that with the superintendent 40 years ago,'" Whitmoyer said. "It's a cool process."
About 90% of middle school kids in East Helena chose to attend the high school, he said. Construction of their new building will be finished by 2020.
Lockwood superintendent Tobin Novasio said that when the district started construction, a former faculty member and long-term resident in the area showed Novasio an article about Lockwood residents in the 1950s advocating for a high school.
"It's been a long time coming for our community," Novasio said. "I think the people in Lockwood for a long time have felt kind of like an afterthought, real similar to the situation in the Heights back in the 1980s prior to when Skyview opened."
Elementary-only school districts in Montana weren't allowed to create a high school until the passage of a 2017 law allowing elementary districts with more than 1,000 students to vote to break away from the high school district into which their students funnel. 
Lockwood residents passed a $49.9 million bond to build a new high school in 2018, and construction is currently underway. For the first year, about 100 freshmen are taking classes in an auxiliary building behind construction.
The new school will sport a 2,700-seat gym, expansive auditorium in the main building, as well as its own football and softball fields. The auxiliary building will be used for career and technical education courses after the school's finished.
Having a high school helps keep students involved and lowers the risk of dropout, Novasio said, and it also removes the geographical barriers for parents who have to drive over the Yellowstone River to pick up kids from Billings' high schools.
As things are coming together, Novasio encourages everyone to add their input and ideas on future traditions.
"Schools are a reflection of the community, and we feel like we have one of the best communities in the state" Novasio said. "Hopefully we'll build a school that's worthy of that."