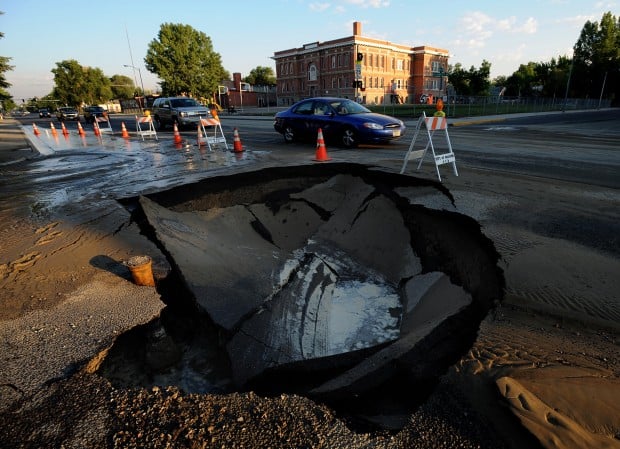 A water main burst on Broadwater Avenue early Tuesday, creating a 20-by-20-foot crater at Broadwater and Fourth Street West.
"It's pretty much self-excavated. It blew out the street pretty good," said Scott Emerick, water distribution and collection superintendent for the Billings Public Works Department.
The 300 block of Broadwater was closed for part of the day while crews repaired the broken main.
The cast-iron water main, installed in 1926, burst at about 2 a.m., and workers had the water shut off by 2:30, Emerick said. Tuesday morning, a handful of houses and the Evangelical United Methodist Church at 345 Broadwater remained without water.
Emerick said so much water was released that it will be several days before the ground is dry enough to permit road crews to repair Broadwater. That will probably be done early next week, he said.
Until the roadway is repaired, Broadwater will be narrowed to one lane in each direction in the vicinity of the sinkhole.
Be the first to know
Get local news delivered to your inbox!