Every so often, Andrew Thompson will take an evening to head out on what he calls sign patrol. 
He drives around town, looking at illuminated signs, noting which are broken or burnt out, and figures out which ones he might be able to repair or replace. The next morning he picks up his phone and calls the businesses, pitching his services. 
Such is life for a neon sign craftsman. 
"I want to keep the tradition going," Thompson said. 
Thompson, with his business ART Signs, has been doing both traditional and neon sign design and repair for almost 12 years. But it's always been in his blood; his grandfather, Roy Thompson, had a thriving sign company in Billings for decades. 
"I never met the guy," Thompson said. But when he saw old photographs of his grandfather and the sign he used for his company — Roy Thompson Signs — Andrew Thompson felt a connection. He decided to make a name for himself following in his grandfather's footsteps.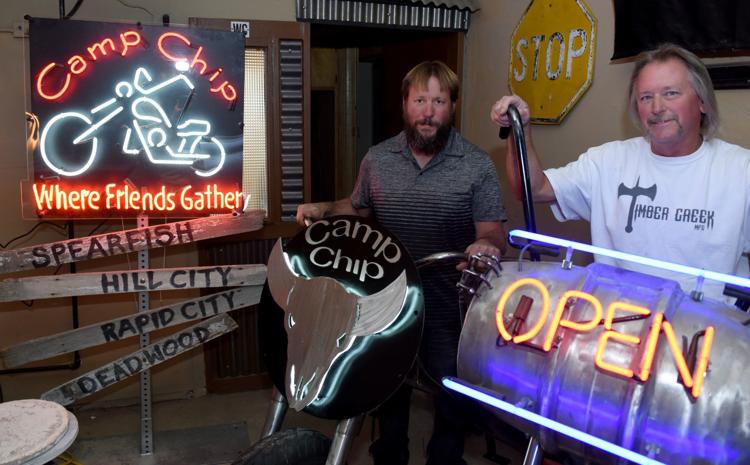 Which is how he struck on the name for his business. Andrew's middle name is Roy, like his grandfather, and so he decided to use his three initials and become ART Signs. 
But it was a circuitous path getting there. After high school, where Thompson had found a lot of fulfillment in his art classes, he worked as a mechanic for a while and spent time in restaurant kitchens as a cook. None of it was satisfying. It was then he decided he needed to do like Roy Thompson and start his own sign company. 
"I've always liked art and neon," he said. 
The rub, of course, was that he knew nothing about the sign business.
So he hired on with Sign Products, which at the time was Billings Neon, working as a janitor, "pushing a broom and asking a lot of questions," he said. 
It was there that Thompson met John Nyman, owner of Nyman Neon, perhaps the only other person in Billings who designs, builds and repairs neon signs. Nyman's father had owned Billings Neon until 1976 when he sold it and retired. John Nyman came on board at roughly the same time as the company's main neon sign craftsman. 
In the early 1990s, Nyman left Billings Neon to launch Nyman Neon, which he's been doing now for 27 years. Nyman quickly saw in Thompson his desire to learn the craft and an aptitude for working with the material and designing the signs. 
Over the years, Nyman taught Thompson how to heat, bend and shape glass tubes into words and designs, and how to fill the tubes with neon or argon gas. Thompson laughed and pointed out that the technology for crafting and building neon signs hasn't changed since it was invented in 1910. 
Keep reading for FREE!
Enjoy more articles by signing up or logging in. No credit card required.
In fact, when Thompson struck out on his own 12 years ago, he set up shop on his family's farm just outside of town. He didn't need anything fancy, he said. 
It was there on the farm that Thompson slowly built up his business, working and repairing regular signs, neon signs and building neon-based artwork that he sells on the side. 
Nyman and Thompson still work together. On big jobs they help each other out, and when Thompson feels he has a job that extends just beyond his reach, he seeks out advice from Nyman. Together, they take jobs from all over the region.
"We pretty much cover the whole state of Montana," Thompson said. 
Two years ago, the owners at Red Oxx invited Thompson to set up his business in a little shop Red Oxx maintained adjacent to its store on North 13th Street. Thompson had done neon work for the company and the owners at Red Oxx felt that Thompson would be a good addition to the arts community it is building east of downtown Billings. 
"It's nice to have a storefront so I'm not having to meet people out at the farm," Thompson said, smiling.
With the new space, Thompson decided he and Nyman no longer needed to be in their own shops. They could do under one roof what they had already been doing for years — crafting, building and repairing neon signs for most of the state.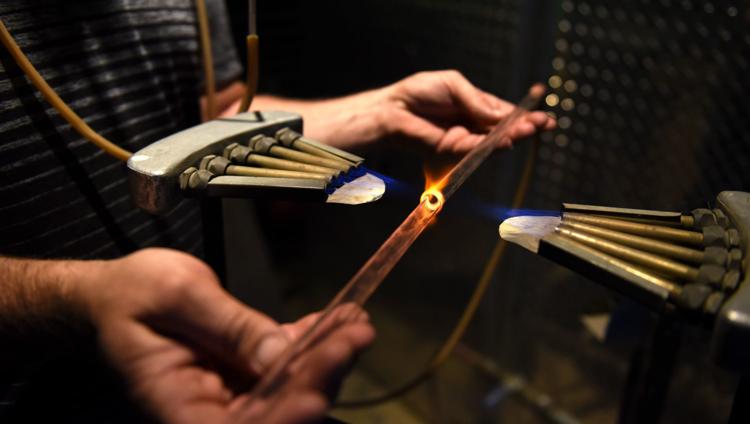 "I'm gonna move and we're gonna set up there in the shop," Nyman said. 
Moving forward, Thompson hopes to see the business expand. His company's success gives him the space to work on his art.
For the last few months, Thompson has had a booth at the new Liberty & Vine store downtown that sells his neon artwork. It's been successful for him, enough so that he hopes to grow the model. 
"I'd like to have Liberty & Vine-like booths all over the country," he said. 
But for right now, it's the signs that are the main moneymaker for his business and so that's where the focus will be. And he doesn't mind; it gives him plenty of opportunities to hone his craft. 
"I'm still learning every day," he said.