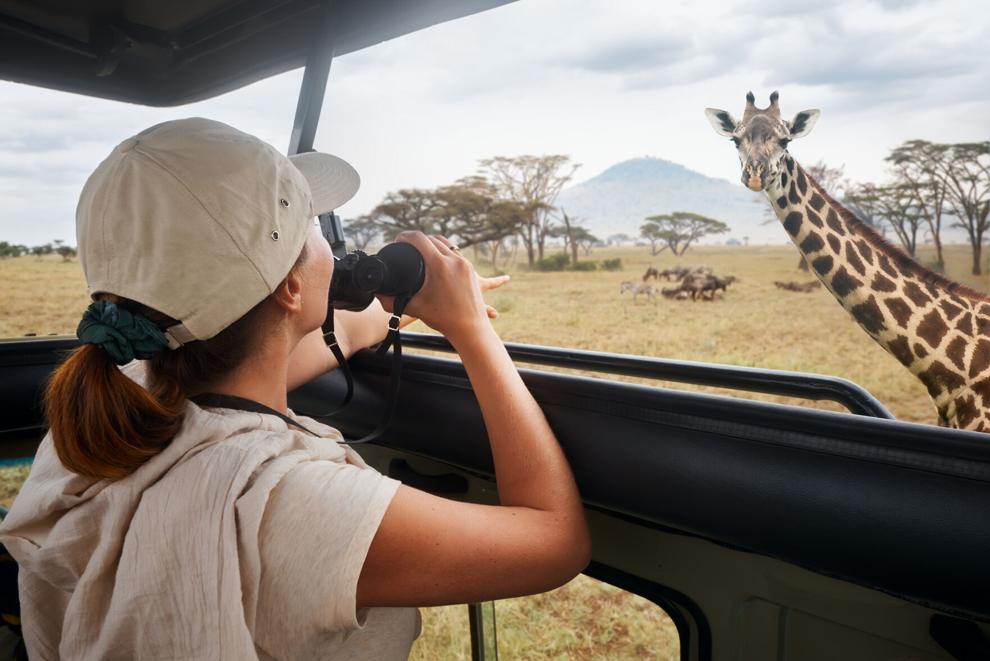 The Big Five safari animals. The open savannah. Warm ocean waters. A trek to the top of Africa. These are just a handful of the experiences that await those who visit Tanzania.
An African safari is a bucket-list trip for many travelers, and the thrill of rounding a corner and coming face-to-face with a pride of lions, a bull elephant or a leopard sleeping in a tree is an experience of a lifetime. There are few better experiences than waking up on the African plains in luxurious accommodations with the sounds of the savannah and a warm beverage awaiting you.
The Big Five
A trip to Serengeti National Park in Tanzania is a dream for even the most experienced travelers and wildlife enthusiasts. Add in Arusha, Tarangire and Lake Mnayara National Parks — along with Ngorongoro Conservation Area — and you get a world-class travel destination known for its biodiversity and exceptional wildlife viewing opportunities.
A spectacle you won't want to miss? The annual wildebeest migration. Over 1.5 million of these magnificent creatures trek through the Serengeti every year at the end of the rainy season (usually in May or June). It's an amazing sight to see.
A trip to Tanzania gives you a great chance to see Africa's famed Big Five. Game drives through National Parks offer intimate views of lions, leopards, rhinos, elephants and Cape buffaloes in their natural habitats. Tanzania is also home to other animals such as cheetahs, giraffes, wildebeests, gazelles, ostriches and impalas. But you don't have to be a wildlife connoisseur to appreciate a trip to Africa.
Summit Kilimanjaro
A Kilimanjaro climb is not for the faint of heart, but summiting this 19,341-foot giant will be an experience you won't soon forget. It's often dubbed one of the highest nontechnical peaks to bag in the entire world. Travelers wanting to experience life atop the savannah can do so without climbing gear at the apex of the world's largest free-standing mountain.
The five-to-nine-day walk gains 16,000 feet in elevation to reach the summit and could be the perfect beginning or end to your safari trip or luxury vacation. Be sure to bring warm clothes, though, even in the middle of summer. Life at 19,000 feet can be chilly, even if you're standing on a once-active volcano.
Don't forget the beach
No rule says you have to go on twice-daily game drives or climb a dormant volcano to have an exceptional vacation to Tanzania. This African nation has some of the best beach destinations on the continent.
Stay on the mainland and head to Saadani National Park, 62 miles north of the bustling metropolis of Dar es Salaam, or nearby Sange Beach for a combination of wildlife and beach comfort. If you want to venture out for a more remote experience, there's no place like Zanzibar — located less than 50 miles off the mainland. Sit on one of Zanzibar's pristine beaches, take a tour to a local spice farm or snorkel a coral reef.
Experience your journey with African Traits
African Traits offers a one-stop solution for anyone looking to go on a luxury vacation to Tanzania. The borders for Tanzania boarders are open for international travelers, and rest assured, it is very safe. On top of that, the African Traits team applies all standard procedures to make sure their guests are safe from COVID-19.
African Traits managing director Godfrey Willy said the company focuses on providing its clients with the best experiences and accommodations.
"We focus on our unlimited game drive offering," Willy said. "We don't limit our guests to just one or two game drives a day. We let them see as much as they would like."
African Traits has agreements with some of the most luxurious safari tented camps and lodges in Tanzania and offers private tours for Kilimanjaro hikes and Zanzibar stays. If you've been waiting for the right time to go on an African safari, now's the time.
---
This content was produced by Brand Ave. Studios. The news and editorial departments had no role in its creation or display. Brand Ave. Studios connects advertisers with a targeted audience through compelling content programs, from concept to production and distribution. For more information contact sales@brandavestudios.com.