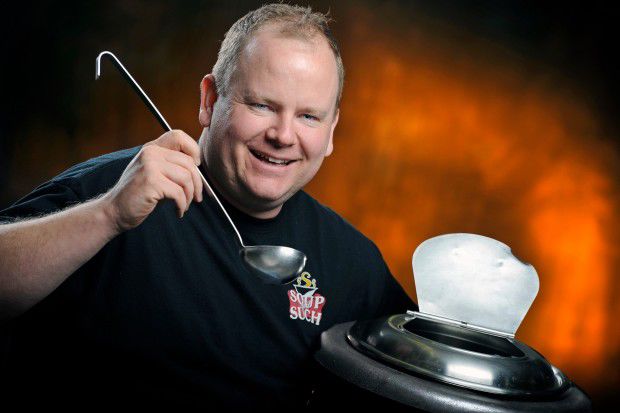 Some know Mike Craighill as the ambassador of comfort food, a business owner whose friendly demeanor consistently leaves his customers smiling.
Lunch hours tend to be busy at Soup and Such, Craighill's downtown restaurant. On most days you'll find him at the front counter, welcoming new customers and chatting with regulars.
"I love everything about this job," he said. "I love the business side of it, knowing what your numbers are. I love making the soup. And I love the customers."
Craighill and his wife, Antonia, started Soup and Such in the Heights in 2006, then expanded to downtown in 2008. The Heights restaurant had to close shortly afterward because they lost their lease. But that allowed Antonia to pursue another dream by opening Velvet, a bakery that specializes in cupcakes and special-occasion cakes, just up the street from the downtown Soup and Such.
The most popular soup on the menu? That would be the baked potato chowder. Craighill's personal favorite is the creamy tomato.
Describe how you got where you are in your work today:.
I met my wife at the Heights Wal-Mart, where I worked. We dated and we were married in 2004. I was planning on going to law school, but my priorities changed when we found out we were having a baby. After some deep soul searching, I decided that law school wasn't the right path for me. My wife had always had a dream of opening a restaurant/bakery.
A local restaurant in the Heights closed, so on a whim we inquired about the terms. We had a very rough business plan that needed a bunch of work. We started working with the Big Sky EDA/EDC on our business plan, lease terms, financing and more. Rebecca Hedegaad was our personal counselor, and we relied heavily on her for advice and direction.
We decided that I would help Antonia get started and then move on once the restaurant was established. I really had no desire to own a restaurant. Here I am, however, almost seven years later, and I couldn't be happier.
What's the toughest challenge that you have faced in your business?
Closing the Heights location had to be the hardest thing I've ever done in business and in life. Although it was not our choice — we were unable to negotiate a new lease — it still felt like we failed. We live in the Heights, and so many of our customers expressed what we felt: Heights businesses always seem to struggle. The last few weeks were especially hard. We laughed with our customers as we retold stories from our first year in business. We cried when we remembered that our two youngest children had taken their first steps in the dining room. We worried about what would happen to the downtown restaurant and the company. It was a very trying time. Antonia and I told each other that we could make it through anything if we could just keep holding hands.
What did you learn from that challenge?
The first lesson, obviously, was protect yourself in your lease. We were inexperienced and naive about commercial leases when we started out. There may not have been a lot of things we could have done differently in this particular case, but we sure learned what red flags to look out for when leasing. Second, and more importantly, we learned to have more faith in God about the future. I like the quote "Pray like everything depends on God; Work like everything depends on you."
In reality, closing the Heights location opened up an opportunity for us in Velvet, my wife's cupcake/cake shop downtown. That opportunity would not have happened if we were still operating two locations.
If you could make one positive change in Billings, what would it be?
I would do more to develop the Heights. That area of town has so much potential.
Aside from profit and loss, how do you measure success in your job?
The success of our business is based solely on our customers' satisfaction. We like to say that you come to our restaurant as a customer and leave as family. If we are successful doing that, the profit and loss (and every other matrix) will follow.
What do you consider your greatest achievement?
It may sound cheesy, but raising my family is the greatest achievement of my life.
Which living person do you most admire?
With customers in the restaurant. I love to hear about their families, their work, their lives.