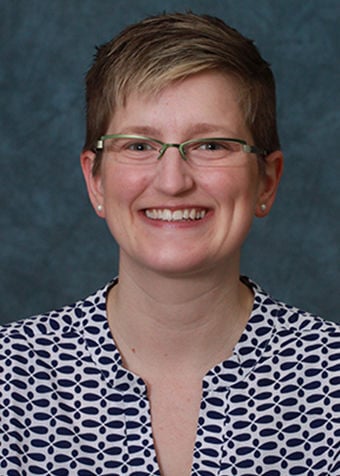 Company and title: RiverStone Health, faculty physician
Hometown: Beloit, Wisconsin
Education and/or background: Undergrad: Goucher College, music major (cello performance), Post-bac premed program: Goucher College, Med school: Warren Alpert Medical School of Brown University, Residency: University of Wisconsin-Madison Family Medicine Residency, Fellowship: Hennepin County Medical Center Geriatric Medicine Fellowship
Ali Brock had not planned on a career in medicine. She studied cello performance as an undergrad and then worked for several years as an AmeriCorps member with the Chicago Public Schools Homeless Education Program. It took time for Brock to realize that medicine was an important means of advocacy for marginalized communities. Once she understood that, becoming a family doctor just made sense.
"I elected to do further training in geriatric medicine in no small part because our current health care system can be quite treacherous for this population. I am incredibly detail-oriented and thorough by default, and these traits are a good match for my complex geriatric patients. Finding the sweet spot between evidence-based medicine and a patient's quality of life is what I love to do."
If you couldn't do this, what would you do instead?
I would be a hospital or nursing home chaplain. Sitting, listening, and holding space.
What other passions/callings are part of your life?
Dogs and houseplants are probably not the answer you are looking for here. But it's the truth.
What is the worst advice you've received and why?
A specialist in medical school once told me that he didn't think family medicine would be interesting enough for me. I am humbled every day by the complexity of illness my patients experience and navigate. We need to be sending our best and brightest students into primary care. Full stop.
What advice would you give to a teenager about success?
Pay attention to what fills your heart with joy. Seek out work that allows you to do these things in service to your community.
What's your guilty pleasure?
Talenti Peppermint Bark gelato.
What is one professional accomplishment you still want to achieve?
I would like to complete the Society for Post-Acute and Long-term Care's program for Certified Medical Directors (CMD).
How do you measure your own success?
Whether I am living all aspects of my life in line with what I value.
What is the hardest part of your job?
It has been particularly challenging to work in the nursing home setting during the pandemic. While I have lost patients to COVID-19, I have watched many more patients deal with fear, isolation, confusion, and sadness that their quality of life has been so significantly disrupted. If you have friends or family living in a skilled nursing setting or assisted living facility, please do whatever you can to remind them that they are loved. They need it. 
What was the last show you binge watched?
"Schitt's Creek." I have no regrets.
What is your favorite book?
Any and all of Mary Oliver's poetry collections.
What is the most rewarding/important aspect of your occupation?
It is a privilege and a joy to get to know a panel of patients over time. Walking into the room of a patient I know well and being able to understand the context for their concerns is incredibly rewarding.
What is the most challenging aspect of your occupation?
Working in medicine exposes the breadth of human suffering. Sometimes we are able to relieve that suffering. I find the times that we are not able to do so the most challenging. 
Who is your greatest mentor/inspiration?
I am incredibly grateful for the generation of female physicians before me. They faced significant challenges and paved the way for my career.
Do you have a motto that you live by?
Respect your elders. Many of them fear they are a burden, and it is our job to remind them that they deserve care and support.
How does it feel to be nominated and selected for Forty under 40?
It's certainly an honor to be recognized during this difficult year. I hope that everyone who works with me at RiverStone knows how much their support and partnership allows me to do what I do. Medicine truly is a team sport.
What advice would you give to anyone wanting to start new business or excel in a business or field?
Never place profits over people. Seek to fill a need in your community.
What do you do for fun/relax/hobby?
My partner Simon and I relax with our three-legged rescue pup, Sadie. We also have an unreasonable number of houseplants that bring us a lot of joy.