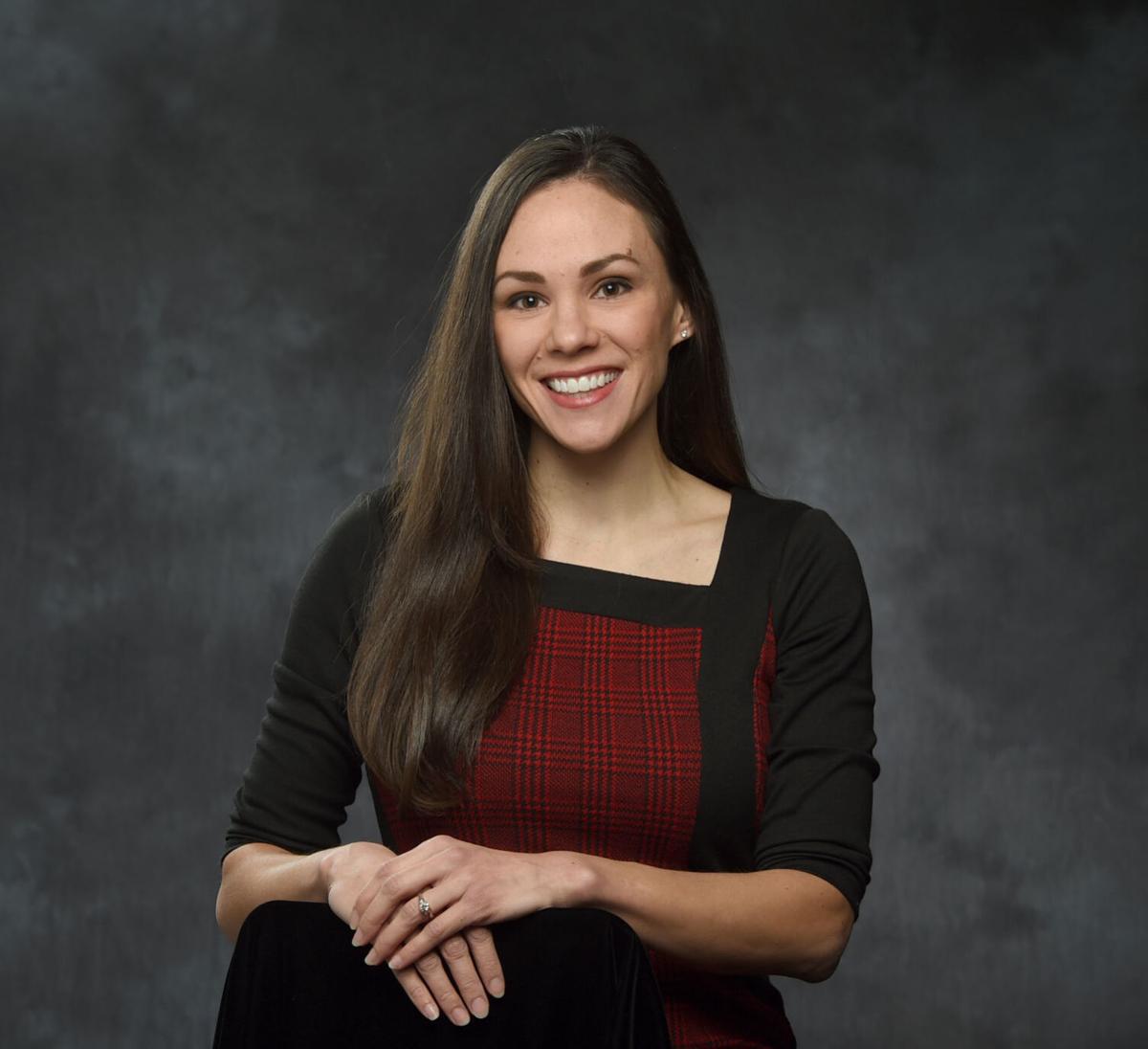 Company and title: SCL Health, SCL Health Montana region communications manager
Hometown: Plymouth, Minnesota
Education and/or background: Bachelor's of arts degree in mass communications with an emphasis in broadcast journalism, minor in travel and tourism.
As a communications professional in the field of health care, Angela Douglas Babcock hears the heartfelt stories of patients, families and coworkers on a daily basis.  
"I consider it a great honor to be able to share someone's personal journey, experience and/or accomplishment. Through storytelling, I am able to inspire, educate and influence — but even more than that, I'm able to help create a human-to-human connection, which can ignite change, build trust, develop compassion and provide a better understanding of each other," said Babcock.
If you couldn't do this, what would you do instead?
During college, I studied broadcast journalism and travel and tourism. More than 10 years later, those two areas of focus still deeply resonate with me. Producing and hosting a show focused on travel and tourism has always been a dream of mine. I love exploring the world around me and I enjoy sharing those experiences to encourage others to do the same. During my time as a television news anchor/reporter, I created a series called "Angela's Adventures." That series stemmed from my desire to encourage people to explore our great state of Montana and make it feel more approachable to the average person. I still see great value in inspiring a love for travel and the outdoors, and now that I'm a mom, I have a whole new understanding and appreciation for the family approach to travel and tourism. Not sure if an actual show will ever happen, but I do enjoy creating our own family videos.   
What other passions/callings are part of your life?
My young family of six. My husband and I have four kiddos age 5 and under. As you can imagine, we experience the full gamut of emotions throughout the day (and night) raising our 5-year-old son, 3-year-old twin boys and 1-year-old daughter, but my goodness – they fill my world with pure joy, unconditional love, comic relief (kids do say the darndest - and funniest things) and complete exhaustion (I honestly go to bed looking forward to my morning coffee. That's normal, right?). Additionally, my husband and I are passionate about the outdoors – rock climbing, hiking, camping, skiing, fly fishing – and we can't wait for our kids to experience all that Montana has to offer. I'm proud to say they're already great little hikers and climbers.
What advice would you give to a teenager about success?
Think about what you're most passionate about and figure out how you can make a living doing it. A lot of the things that excite us as a child/teenager stay with us into adulthood. In my case, I've always loved writing and storytelling – so I pursued a path that would allow me to use and grow those skills. As long as you have passion for your work, your job will bring you satisfaction, joy – and success.
What's your guilty pleasure?
Candy and cookies are my weakness, for sure. And now that I have four little kids who can hear a wrapper crinkling and know exactly what I'm up to, I feel even guiltier when I sneak a sweet treat. I can't decide if their influence is keeping me accountable or driving me to become stealthier. Either way, I'm always down for a chocolate chip cookie or Starburst.
What is the hardest part of your job?
Navigating the challenges and unknowns of a global pandemic. In addition to developing and managing day-to-day internal and external messaging to support one of Montana's largest health care systems, I also serve as the Public Information Officer (PIO) for St. Vincent Healthcare, Holy Rosary Healthcare in Miles City and provide support to St. James Healthcare in Butte. While I have served in the PIO role since I began my career in health care, the position has never been needed in such a profound way until the world was hit with COVID-19. As a PIO, it's my responsibility to respond to internal and external communication needs both quickly and thoughtfully, while remaining calm, cool and collected. Whether it's sharing powerful stories from front-line nurses and physicians, communicating critical updates to our associates and providers, or developing impactful imagery and videos that resonate with fellow health care workers and community members, I am committed to doing everything I can to help others understand the seriousness of the virus and the impact it's having here in Montana. While the work that falls under my role as "PIO" can feel daunting at times, it has truly been an honor to serve my community and organization during this pandemic. Additionally, I am humbled and honored to work alongside the brilliant minds that make up our St. Vincent Healthcare Hospital Incident Command Team as we navigate these unchartered waters of COVID-19 together.
Beyond my PIO role within SCL Health, I also have the privilege to collaborate with the Unified Health Command (UHC) in Yellowstone County and work closely with my fellow UHC PIOs on bringing forward important messages to our community regarding their safety and health amidst COVID-19.
What was the last show you binge watched?
"The Marvelous Mrs. Maisel."
What is your favorite book?
These days, I'm really into reading classics – you know – "The Very Hungry Caterpillar," "Corduroy," "Berenstain Bears," "Good Night Moon," "The Giving Tree," etc.
I'd have to say the Harry Potter and The Hunger Games series also remain at the top of my favorites list.
What is the most rewarding/important aspect of your occupation?
To share someone's personal journey, experience and/or accomplishment. Through storytelling, I am able to inspire, educate and influence -- but even more than that, I'm able to help create a human to human connection, which can ignite change, build trust, develop compassion and provide a better understanding of each other. Those are the moments when I feel really lucky that I get to do what I do.
Who is your greatest mentor/inspiration?
My uncle Todd. I've always greatly admired his work ethic, determination, independence, and the subtle guidance he has provided me throughout life. He has accomplished incredible success as a builder and business owner, but it hasn't been without adversity. In 1985, he was involved in a car accident and suffered permanent injuries rendering him a quadriplegic. One year later, I was born. We've always had a special bond – he provided the best rides on his wheelchair when I was a child. And when I moved to Billings in 2008 for my first job, after graduating from college, he opened up his home to me – like he has for many others in my large, extended family. He's one of my favorite people on earth and I'm so lucky to have such an inspiring man for an uncle.
Do you have a motto that you live by?
Appreciate life. Express gratitude. Pray daily. Choose happiness. Remember to play.
How does it feel to be nominated and selected for Forty under 40?
Oh, wow. It was such a surprise and honor to learn that I had been nominated and selected as one of this year's Forty under 40. Our community is filled with so many talented, thoughtful, highly-skilled and ambitious young professionals -- it feels very special and humbling to be recognized among this fine group of individuals who are improving and making an impact on our great city.
What advice would you give to anyone wanting to start new business or excel in a business or field?
Be flexible, adaptable and stay "above the line."
What do you do for fun/relax/hobby?
Spending time with my husband and kids is my favorite pastime. Our preferred place to be is exploring the great outdoors – it's where we're all the happiest. I also love it when I'm able to reconnect with my girlfriends over a glass of wine (or two.).
What's the greatest gift you ever received? Why?
I thank God every day for the gift of being called, "Mama." Not only is it the sweetest sound coming from the lips of my babies, but it's an incredible blessing to have the honor of raising four little humans. As a full-time, working mom, I'm constantly striving for that elusive balance so many of us seek and I often feel pulled in multiple directions. But their love, adoration and grace motivate me to be the very best version of myself – Every. Single. Day. They bring me more joy and pride than I ever thought possible.