Becoming an accomplished fashion designer is hard enough – in Montana, impossible. But Bethany Yellowtail has done it. With an Associates of Arts Degree from The Fashion Institute of Design and Merchandise, B.YELLOWTAIL clothing is unlike anything else in the fashion industry. With beautiful, unique and functional designs, Bethany Yellowtail's incredible artistry highlights her Native American heritage.
How did you get started in this business/venture?
B. YELLOWTAIL was legally established in January 2015. However, it's been a decade in the making. I started creating my own designs and selling custom items while in college and during my career in corporate fashion.
I had worked at some of Los Angeles' top apparel brands for a number of years, and when I felt there was no more growth for me there, I decided to launch my own brand fulltime.
To be honest, I was really scared because I knew nothing about business. I was well equipped with fashion industry knowledge but had no clue where to begin, let alone make a business plan.
But by fate, I met my now business partner and B. YELLOWTAIL co-founder, Kim Meraz during Thanksgiving dinner at a dear friend's house. She was the key ingredient to launching the brand and has taught me so much about business strategy and the financial responsibilities of owning a company. She's seriously amazing, much of our success is because of her. I call her "Kim Possible."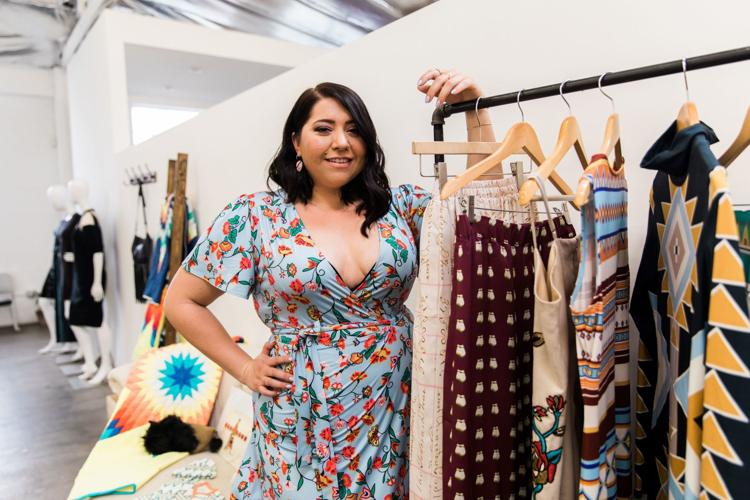 What inspired you to begin a fashion line – the concepts and style approached; what do you aim for with your designs?
Each collection or clothing design has unique inspiration of its own, but overall we focus on meaningful designs imbued with the spirit of story. I come from a rich history and vibrant people, there are endless stories that have yet to be told and I've found that clothing design is an incredible way to connect people and share truths.
Sometimes the collections or pieces are clear nods of expression from Crow culture, other times the designs are more interpretive to the customer and may embody the spirit of female empowerment interwoven in contemporary happenings.
What has been the best/worst part of all it?
The best part of it all is that I am surrounded by cultural art every single day. I get to collaborate with incredible artists and share stories through my love for fashion. We work with some of the most talented creators in North America that are still using techniques and methods passed down from family generations. It feels so good to create clothing and sell accessories that make an actual positive impact on native peoples.
The worst part? Haters and Instagram trolls. Just kidding. I think self-doubt and slow sales is the worst part of being an entrepreneur.
What would you tell young girls who look at you as inspiration?
Dream big and surround yourself with people who are moving forward and encourage your growth. Throughout my journey I am grateful to have been surrounded by an incredible community of folks who are not only kind, generous, and hardworking, but they all live in their purpose, and their purpose is much bigger than the individual.
If anything I learned in getting where I am today, is that you are the company you keep.