Hometown: Belle Fourche, South Dakota and Lancaster, California
Crystal Bleu Dvorak was attending grad school to become a Speech Language Pathologist, not even knowing what audiology was at the time. Dvorak took a course called "Introduction to Communication Disorders," covering disorders of speech, language and hearing. She recalls the moment the professor taught about the transduction process –how the ear works –and how that lecture changed her career path forever. As a Doctor of Audiology at Rehder Balance and Hearing Clinic and captain with U.S. Army Reserves, she combines her two passions to help veterans who suffer from hearing loss in the military.
This profession and science ignited a spark in you. How does it feel to help those with hearing loss?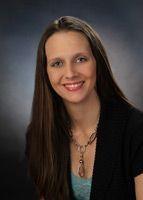 I am fortunate to be able to give people the gift that matters most: communication with their friends. I'd love to say it's an easy field, but there are many obstacles I have to help people overcome. One of those being getting people to admit they have a problem in the first place. We need to assist with issues related to vision and dexterity combined with using devices. The biggest issue is helping people realize it isn't as simple as just putting a device in their ear, they need us to help guide them to optimize their hearing, which takes time. Their brain needs to learn to adjust and we counsel them through the process called Aural Rehabilitation. Some of my patient adapt quickly and others I need to be there to guide them step-by-step. Whatever is needed, I am there for them. I am fortunate that I get to spend time with my patients, getting to know them as friends.
How did you start helping vets ?
My husband has honorably served in the Army National Guard for 18 years, and my father and stepfather were both soldiers in the army. The Army Reserves was in need of an Audiologists and it called to my desire to serve and I started researching to logistics. It took many months and lots of paperwork, but I saw it through. I commissioned as a Captain in the Army Reserves in February 2018. I started drilling a few months later in Helena with a medical unit.
In the next couple of years, I will complete training on how to be an Officer in the Army. There's lots to learn. It's been exciting, but I would suggest to anyone considering this path to do so before they are in their late 30's. Once I have completed my extensive training, as an Audiologist in the Army I will focus much more on prevention of hearing loss.
What kind of community work do you do?
I have coached youth t-ball, basketball and soccer. I am a member of League of Women Voters and 100 Strong Billings, a nonprofit that helps women and children.
I recently applied to become a volunteer at the YWCA. I hope to get training for that soon and start helping victims of sexual assault. I serve on the National Audiology Council in the American Speech Language Hearing Association and as the Montana Audiology representative for the American Academy of Audiology. I am involved at the state level of the Montana Speak Language Hearing Association and in the Montana Audiology Guild. I am also a member of the local Cleft Palate Team at St. Vincent's.
Do you have a motto that you live by?
I'm stealing these wise words from my mom. "The only things that count in life are the imprints of love we leave behind once we are gone." Love comes in many forms — service, kind words, random acts of kindness, hard work and  understanding. Make the world a better place because you were here.