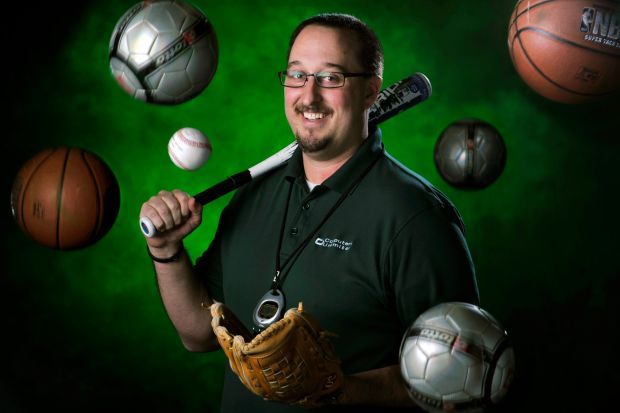 Kevin Fichtner credits the late Lorrie Steerey, his academic adviser at Montana State University Billings, for getting him excited about how computer systems can make businesses more productive.
While attending MSU Billings, Fichtner landed an internship at Computers Unlimited, a longtime Billings company that has carved out a unique niche in the technology world.
The internship lasted about six months. But Fichtner was hired as a full-time employee in 1998 after completing his degree. He's been there ever since.
 "I've had so many opportunities where I've been allowed to grow, and I'm just passionate about it," Fichtner said. "It's a family-run business. We've been developing software and relationships for 36 years. It seems cliché, but they really do treat you like family."
Mike Schaer started Computers Unlimited in 1978 and took a gamble by moving the business to Montana Avenue when downtown Billings had been through a rough time. Now Mike's son, David, has taken over the helm of Computers Unlimited. But the company's family-oriented atmosphere hasn't changed, Fichtner said.
Computers Unlimited provides software to industrial gas and welding distributors, home medical equipment companies and a variety of other health-related businesses.
With technology constantly evolving, Computers Unlimited is branching out into incorporating mobile devices such as smartphones and tablets.
"We're really stretching out to try to get into that market so we don't get left behind," Fichtner said.
Describe how you got where you are in your work today: I started my career at Computers Unlimited as a distribution technician intern. After graduation I worked in the support department supporting the accounting side of our software. In 2002 I was promoted to an upgrade specialist upgrading our entire customer base from our legacy version to our new Windows version or our TIMS Software. In 2004 I accepted a management position in our development group on the Industrial Gas and Welding side of the business. Since becoming a development manager I have absorbed a satellite office in Bozeman and another small quality assurance group.
What's the biggest challenge you face in your job? The biggest challenge is finding developers/programmers who want to relocate to Billings. Billings is not known as a technology city, so finding developers/programmers with experience to relocate is a huge challenge.
What's the best business advice you have received? No matter what goes on in your day, you have to always remember the human element. You are only as good as your employees so it is important to make time for them and help them grow into leaders.
 Who gave you that advice? David Schaer, the president of Computers Unlimited.
Here's what I'd like to do to improve my community:
Continue to volunteer and help children in need. As part of the Heights Exchange Club we work closely with the low-income schools (Bench and Bitterroot Elementary) to give school supplies, winter coats, gloves, boots, Christmas presents, etc… There are so many children that are not able to even go outside and play during recess due to the fact that they do not have a coat or appropriate clothing. Our family is so fortunate that we can give back by volunteering our time and donating supplies to schools. 
Aside from profit and loss, how do you measure success in your job? By the quality of our product and by our employees' engagement in the business. Our mission statement at Computers Unlimited has four aspects: Our innovative products and services are No. 1; We exist to serve our customers; Quality is a given; Our people make it happen.
Which living person do you most admire?
Duke men's basketball coach Mike Krzyzewski (Coach K). He has been a very successful coach, yet is also a great volunteer, businessman, father and husband. The one trait that I admire most is how genuine he is. Coach K is the first to congratulate the other team on winning when his team loses and he cares about his players and fans. There is book about Coach K called "Leading with the Heart," which is something I try to use in the workplace. For the past 18 years I have had passion about our employees, the product we produce and how we carry ourselves in the workplace.
What do you consider your greatest achievement? Being a father.
I'm happiest when I'm… spending time with my wife and son. It does not matter what we are doing as long as we are together.