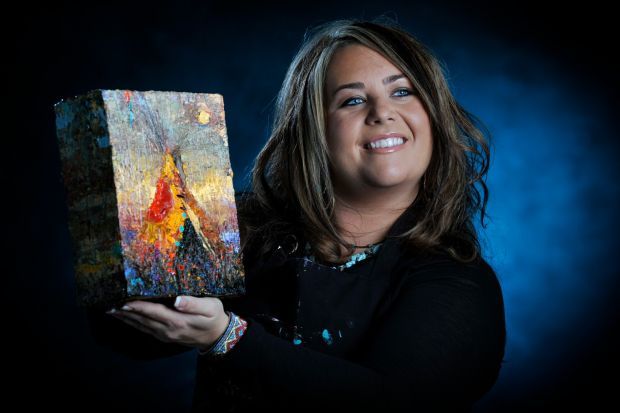 As her painting career has taken off, Kira Fercho has found it necessary to cut back on her other job as a licensed therapist.
"The last (counseling) client I saw was about a month ago," Fercho said in December. In her practice, Fercho has specialized in working with families and troubled youth. But she's not ruling out taking on clients again at some point. "It's something I can always go back and do if I need to," she said.
Moving forward, she continues to assist nonprofits that benefit families and children. "I do about 20 different fundraisers a year for organizations I was associated with as a counselor," she said.
Fercho acknowledges that it's not easy to give up a passion like counseling. "But there's only so much time in the day to do things."
Fercho's art is shown in seven national galleries and two museums and at the Frame Hut in Billings. Meanwhile, her work is also on display at a new location: Fercho Gallery & Elliott Design in Big Sky.
Fercho can't remember a time when she didn't have a paintbrush or a pencil in her hand.
"I was always painting, and I was very concerned with what things looked like, even in my room," she said. "When my mom was buying a shower curtain, I'd tell her, 'Don't get that color. Get this other color instead.'"
Fercho studied art and psychology in college, and went into art education. After deciding that teaching wasn't her cup of tea, she went to work at the Yellowstone Boys and Girls Ranch. Later, she returned to Montana State University Billings where she received a master's degree in counseling.
One of Fercho's better known works is an expansive display of 12 tepees on display at the Billings Clinic.
Nicholai Fechin and other Russian impressionists influence her art. But Billings artist Loren Entz has long been an inspiration.
"I've painted with him on and off for 17 years. We mostly do figure studies," Fercho said. "I will take workshops and classes from other people until I turn 90."
Describe how you got where you are in your work today: I pray and listen to others who are more intelligent or have more experience than I do. I also read a ton of books on finance. Mostly, I feel that I was given a few talents in this world and I need to strive to perfect them.
What's the biggest challenge you face in your job? I think fear is most people's biggest challenge. However, the things that I was afraid of never became problems. The problems are things that occur out of the sidelines. I like to say, "We will iron that wrinkle when we get there."
What's the best business advice you have received? Put your beliefs first, family second, and everything else will follow.
Who gave you that advice? I have read it in many books. I am not sure where I first read it. Also, my mom likes to remind me that I work well with "a wing and a prayer." Somehow, I always land on my own two feet.
Here's what I'd like to do to improve my community: I donate resources and time to many nonprofits in our community. That is helpful. However, I would like to work on a direct link between MSU Billings grad students and our social services. For example, I would like to create a program that brings women from the women's shelter to MSU Billings. Each woman would receive a counselor through the rehab and counseling program. Each woman would receive a mentor/case manager that would assist them with their educational/training goals. I would like for these women to receive free weekly mental health counseling (supervised by a licensed therapist) while receiving vocational counseling as well. My short-term goal would be that the individual would receive help to get into a program at MSU Billings. While they are at MSU Billings, they would receive free child care and also gain assistance through scholarships. This is only the tip of the iceberg. I have been thinking about this for years.
Which living person do you most admire? Wow. This is the toughest question. I have about 20 people that I could name. The one that makes the top of the chart (I think) is the man that has purchased many works of mine. Here is why: He is originally from a small town in Wyoming, came from a humble family (dad was a mechanic and mom was a stay-at-home wife with five kids). He gained an education as an engineer and then started a company that grew into a very large energy company.
What do you consider your greatest achievement: Overcoming challenges that should have slowed me down, but instead making my weaknesses my strengths.
I'm happiest when I'm… with my daughter/family, painting, hanging out with my boyfriend and friends.