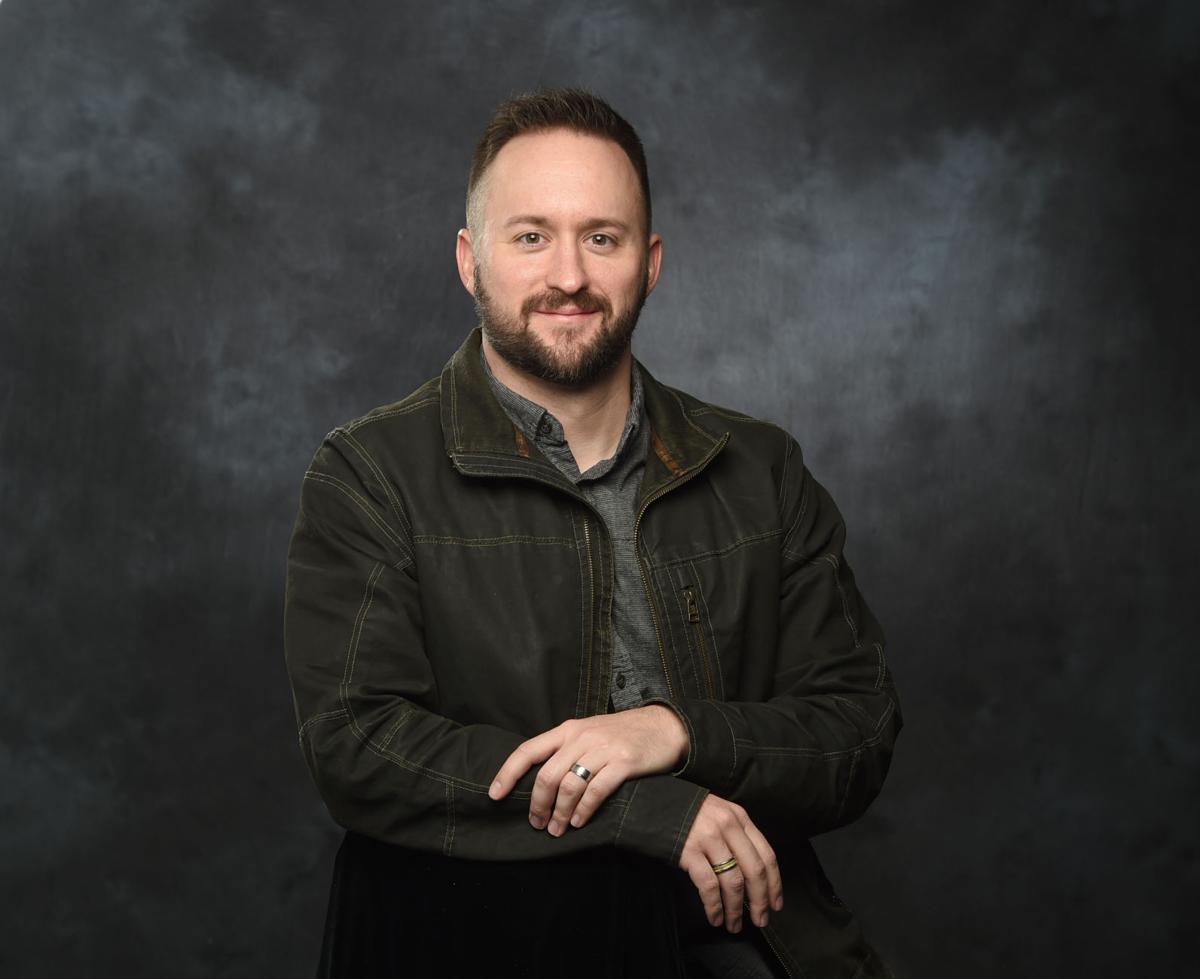 Company and title: ExxonMobil — reliability coordinator and author  
Education and/or background: Bachelor's in chemical engineering.
To say Mike Thayer is immersed in fantasy stories is an understatement. In front of his Billings home is a real sword in a real stone. And yes, strangers really do stop and give the Excalibur a pull. So far, no kings have been revealed.
And, while Thayer's deepest passion is for writing — he's published several novels for young readers — he also appreciates the problem-solving potential of chemical engineering and credits his choosing that profession to an influential chemistry teacher. 
If you couldn't do this, what would you do instead?
I actually already do it. I write children's fantasy novels. I have been writing in the evenings/nights for over 10 years now. Hammering away, honing the craft. I can't even tell you the amount of times I've fallen asleep at my keyboard (I typically wake up to find I've typed three pages of Ds). I spent seven years writing and rewriting my first novel, a novel that will never see the light of day. It wasn't that great, but it taught me how to write and (more importantly) how to revise. When we moved from Australia to Billings in 2016, I shelved that first book and started "The Epic Adventures of the Techno Wizard" series.
I started doing assemblies at schools, conducted writers workshops, sold my book at Renaissance fairs and other festivals, and I loved every minute. I loved it so much that I actually left my engineering job for an entire year, during which I wrote two more Techno Wizard books, spoke to over 10,000 school kids, and wrote another totally different book, "The Double Life of Danny Day," about a sixth-grade boy who lives every day twice. That book got picked up by an agent and eventually sold to Macmillan in a two-book deal. "The Double Life of Danny Day" finally hits the shelves nationwide in June 2021. It's been a long time coming.
I went back to work at Exxon in September 2019 to start an incredibly rare and amazing opportunity: to implement retired Navy SEAL Jocko Willink's Extreme Ownership leadership program at our site. For more than a year I have been working with Jocko's company Echelon Front to implement their leadership program at the refinery and it's changed my life.
What other passions/callings are part of your life?
Too many. My family, first and foremost. I love public speaking. Doing school visits, whether huge assemblies or just a classroom, is my lifeblood. I have a passion for doing voice impressions and accents and put it to good use whenever I can – whether it's narrating my own audiobooks or getting in character at the Renaissance fair. I love being immersed in fantasy worlds, through books, movies, and places like Harry Potter at Universal or Hobbiton in New Zealand. So much so that I'm building a livable hobbit hole in the mountains of Utah.
What is the worst advice you've received and why?
When I was in college, I went to one of those timeshare presentations so I could get a free $100 Visa gift card. They tried to convince me that going into $30k of debt for a timeshare I would never use was the most important decision I could ever make for my family's lasting happiness.
What advice would you give to a teenager about success?
If you want to be successful, you need to be productively obsessed. If you aren't obsessed with something, if you require a parent or someone else to force you to do something, you just aren't going to get very good. Plain and simple. Find your passion, the thing you can't stop thinking about, and feed it awesomeness. Surround yourself with that awesomeness. You can spend your free time entertaining yourself, learning about something, or creating something. Deny yourself as much entertainment as you can bear and be obsessed with self-betterment and creation. Also, get skills that the world values. If you have a passion that doesn't seem to make you that much money, you can always do it as a side gig until you can afford to do it full time.
What's your guilty pleasure?
For the most part, I've given up playing video games, but every Friday night I still play Apex Legends with my brother and my good buddy. I wouldn't miss it for the world.
What is one professional accomplishment you still want to achieve?
No. 1 New York Times bestseller. That, and having a movie or Netflix series made from one of my books.
How do you measure your own success?
Whether I'm hitting my goals. I make them pretty ambitious, but they're all possible. Sometimes it's something small like a Saturday project of installing a sword in the stone in my front yard or building a secret door to my storage room. Sometimes it's much bigger like getting picked up by a major publisher or building a livable hobbit hole in the mountains of Utah. I'm someone who has lots of ideas of cool things I'd like to see in the world. If they don't exist in my life, it's up to me to change that.
What failure have you learned the most from?
Getting my books rejected well over 100 times before getting picked up by a major publisher has been a lesson in perseverance, patience, faith, humility, and grit. 
What is the hardest part of your job?
My day job only leaves so much time for my night job. It also limits my time to pursue all my other ideas and personal projects I would like to do. That said, I'm very pleased with my employment and have had a fantastic career with ExxonMobil that's taken me all over the world. No regrets.   
What was the last show you binge watched?
Currently binging "Forged in Fire." It's a reality competition show where every episode four bladesmiths compete to make knives and swords. There's a part of me that wants to retire to some isolated mountain forge and hammer out blades like some kind of hermetic dwarven blacksmith. I've got too many hobbies currently, so it'll probably have to wait a few years.
What is your favorite book?
This is a really hard one. Can't really narrow it down to one. "The Tree House" by my dad, Douglas Thayer. I loved the Beyonders series by Brandon Mull, and "Red Rising" by Pierce Brown.
What is the most rewarding/important aspect of your occupation?
With engineering, it's working with awesome people and training folks on Extreme Ownership. I love the program, what it's done for my life, and the opportunity to share that with others. With being an author it's connecting with and inspiring people, especially kids. I absolutely love presenting for a room or gym full of kids. To get them laughing, to listen to their questions, to hear when they say they've been inspired by what I said or that they loved what I wrote. There's nothing better.
What is the most challenging aspect of your occupation?
At the refinery, it's driving lasting cultural change. For writing, I think it's getting my work noticed by people. A good novel is difficult to write, but I understand the process and am confident with enough work I can pull it off. Promotion and advertising is a different beast though. It's a lot of work, it can be expensive, and sometimes your best efforts just don't seem to move the needle much.
Who is your greatest mentor/inspiration?
It's cliché to say, but my late father. He worked alongside me to teach me hard work, the futility of complaining, the importance of dusting myself off and not wallowing in being a victim.
Do you have a motto that you live by?
"I am hurt, but I am not slain; I'll lay me down and bleed awhile, and then I'll rise and fight again."  - Thomas Moore
"Great heights by men reached and kept, were not attained by sudden flight, but they while their companions slept, were toiling upward in the night." – Henry Wadsworth Longfellow.
How does it feel to be selected for Forty under 40?
A huge honor. I love this city and the life it affords my family. Very honored to represent it in some capacity.
What advice would you give to anyone wanting to start new business or excel in a business or field?
Be productively obsessed. When no one is telling you what to think, it's got to be the thing you think about. You got to be obsessed with it or you just aren't going to put in the crazy amount of work it takes for a business to make it. Also, if you can't support your family with your passion, then work your passion as a side gig until it gets up and running enough that it's realistic to do it full time.
How do you view failure and success?
Failure is not the opposite of success or even something that you have to overcome in order to find success. Failure is part of success. They're inextricably connected. Missing thousands of three point shots in practice is part of being able to consistently hit three point shots in games. Don't be shy about failing. Learn from failure, invite feedback, stay humble, learn, and grow. In writing they say your first million words are garbage. Get them out of your system as quick as you can.
What do you do for fun/relax/hobby?
I'm a lifelong gamer, I love football, watching UFC, editing videos, getting a good deal, attending murder mystery dinners in character, doing escape rooms, watching movies, shooting guns, camping, working out, collecting Lord of the Rings memorabilia, and going on RV trips with the family.
What's the greatest gift you ever received? Why?
For the last two years, my wife and her friends have surprised all the husbands with an elaborate and thoroughly embarrassing scavenger hunt across Billings. The time, effort, and creativity was beyond impressive and has been a constant reminder how lucky and loved we all are.