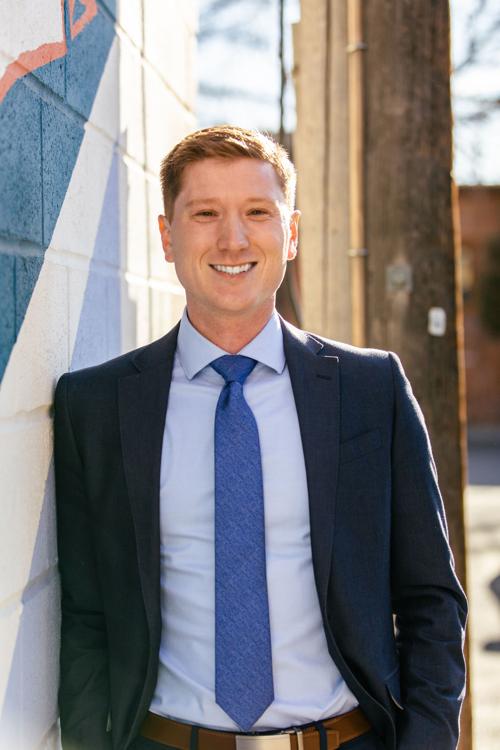 Company and title: Big Sky Economic Development – community development project manager
Hometown: Dumont, Minnesota
Education and/or background: Undergrad degree from Minnesota State University Moorhead — political science, master's degree from Montana State University Billings — public administration.
Since childhood, Patrick Klugman has been interested in law and policy. For Klugman, the opportunity to engage within civic processes and involve public/private partnerships towards the better quality of life within the community was a no-brainer.
"Economic development has become a household term, which is fantastic because it is so much more than statistics and public hearings. It is the infrastructure that holds our city and county together, advocates for our business community, and creates vibrant places to attract and retain talent — to have a minimum role in that process is a privilege and why I chose my profession," said Klugman.
If you couldn't do this, what would you do instead?
Aviation has always fascinated me, from small planes and helicopters to commercial jets and chinook helicopters. I would love to interact and learn more about our local aviation. As much as I love the idea of flying, I would likely become a disappointment as I quickly get motion sickness in the air and would need to be grounded. I'd still give it a try. Maybe I need to resort to air traffic control.
What other passions/callings are part of your life?
Family is always first, and to watch my 2-year-old daughter grow is a reward everyone said would happen, but until you experience it firsthand, it is an overwhelming feeling and my biggest accomplishment in life. I love to gather people (COVID has made that plenty difficult) professionally and personally. I organize a golf league that creates great memories with even better guys each summer. Finally, officiating basketball is something I never expected would be a passion but it certainly has become that. From junior high games to college, I strive to provide players and coaches with the best officiated game possible. The women and men you meet along the way are incredible, and I have learned many professional/personal life experiences through officiating basketball.
What is the worst advice you've received and why?
"Lower your expectations" — This was an attempt to protect me from failure. While failure is difficult, it also defines you and pushes you further towards success and goals. Some of my greatest successes came directly from failure. It is difficult to be vulnerable, but being honest with others and listening to their advice can create incredible opportunities. I learned and made strategic decisions always striving to be better than before. Lowering expectations is an evasion of challenge and acceptance of the "easy road," persistence through the challenging times has made me appreciate so much more than if I would have "lowered my expectations."
What advice would you give to a teenager about success?
Hard work is rewarded with success.
In the immediate: Prioritize your goals and include time to pause and appreciate your accomplishments, acknowledge your successes to continue momentum throughout this thing we call life.
In addition: Success is not only determined by money. You are likely going to have more failures then successes and that is ok, heck, maybe even expected. Keep grindin' and worry more about your goals in life than Instagram likes.
What's your guilty pleasure?
Supporting the Montana Lottery and losing my $10 bet for the Minnesota Vikings every Sunday.
What is one professional accomplishment you still want to achieve?
I feel I am still a "noob" and have so much to accomplish in my career – that one single professional accomplishment is met with 10 more right after it. I will say my professional accomplishment on the forefront of my mind today is Securing $250k for a challenge grant to implement $500,000 to the master plan and first phase of development at Coulson Park.
How do you measure your own success?
Development, momentum, and completion of projects is very important to me because often our projects influence creative placemaking and vibrant livable places. Moving these projects forward with public/private partnerships benefits our entire community and allows me a measurement of success. My influence and advocacy to support business and community projects is also very important to me, contributing to those conversations is a major consideration to my individual success and hopefully community/business benefit within Yellowstone County and the city of Billings.
What failure have you learned the most from?
Botching the Law School Administration Test (LSAT). It completely changed the direction of my life. In the moment I thought it was the end of the world, when in reality it pointed me to my master's degree in Public Administration and a career I feel more passionate about which was completely unexpected.  Like anything, failure is difficult to swallow, however, the opportunities and lessons it can provide are unmatched.
What is the hardest part of your job?
The typical timelines that come with the public sector. I am a dreamer and get so excited and passionate about projects, I want them to move forward as fast as possible and engage all parties to make the implementation a reality.
What was the last show you binge watched?
"The Last Dance." "The Office" seems to always be on in the background, as well.
What is your favorite book?
"Into the Wild" by Jon Krakauer.
Current Book – "Potting Training in 3-days" – Fingers crossed it works.
What is the most rewarding/important aspect of your occupation?
I am privileged to be engaged and a part of conversations with community leaders and elected officials to make all of us "Better Off in Billings" and Yellowstone County. Between encouraging reuse and redevelopment of our revitalization districts, advocating for local businesses within the City and County, and/or creating spaces into places towards the vibrancy and increased quality of life of our community, I can confidently say I am "Better Off in Billings" and feel these aspects of my career are the most rewarding because I can see a direct benefit to our entire community and generations to come.
What is the most challenging aspect of your occupation?
Staying committed and leading projects with absolute full motivation and focus. Especially after they may experience downfalls or disappointments. It is important to lean on your supporters within the community to help articulate a purpose and/or project.
Who is your greatest mentor/inspiration?
I am going to break the rules and list more than one person. Undoubtedly, my greatest inspiration is my mother. My mother engrained in me my work ethic, the importance of character, and moral value. She raised me as a single mom and clearly had many sacrifices in her life. While I learned quickly nothing was entitled to me, I never felt I missed out on anything. Thanks, Mom.
Because I grew up without my biological father, I had incredible people step up. My high school boss "Sag" taught me business, life, and everything in-between. He became that father figure to me and is still today. A relative, Doyle, has been my greatest mentor and someone I have always leaned on to help with life decisions. My mother and father-in-law are two astounding people. I learn constantly from their day-to-day actions and unconditional love. Finally, my wife Nicole is an incredible person and I want to be more and more like her every day.
Do you have a motto that you live by?
Nothing that I live by, but if I am required, "fake it until you make it." Maybe not the greatest words of advice or encouragement, but I say that in the light that I do not ever expect to "make it." Continue to learn as much as possible, work hard, never assume you know everything, and continue to "fake it" by striving towards "making it."
How does it feel to be nominated and selected for Forty under 40?
Humbled, to say the least. To be in the same conversation with awardees this year and past years is a compliment not expected and not sure I deserve it. My wife and I have made Billings our home since moving here seven years ago and this community has welcomed us with open arms. We are so appreciative to those that have made us feel that way, and to be nominated and selected to this great award only strengthens that thought.
What advice would you give to anyone wanting to excel in their field?
Go immediately to the Small Business Development Center at Big Sky Economic Development. My incredible colleagues will provide excellent business consulting, help with business plans/models, and work to get you bank ready, and best part – it is free.
How do you view failure and success?
Failure is very difficult to swallow and is never something we want. However, if you accept failure as an opportunity it can direct you toward a completely different lane in life and teach you better decisions in the future.
What do you do for fun/relax/hobby?
Time with my wife and daughter are undoubtedly the best times. My daughter loves to get on the hiking trails and it is so much fun to watch her enjoy the outdoors. With baby #2 on the way, I look forward to hiking trips as a family of four. I also love to golf with family and friends. I organize a golf league (BL) with great guys that has provided hilarious and fantastic memories over the years. It continues to go over-the-top each year and this upcoming year will likely be no different.
What's the greatest gift you ever received? Why?
My greatest gift is my wife. We have been together since she was a junior in high-school. I have no better support system for life and no better person to tackle parenthood with. Materialistically: golf clubs, which I still use today.