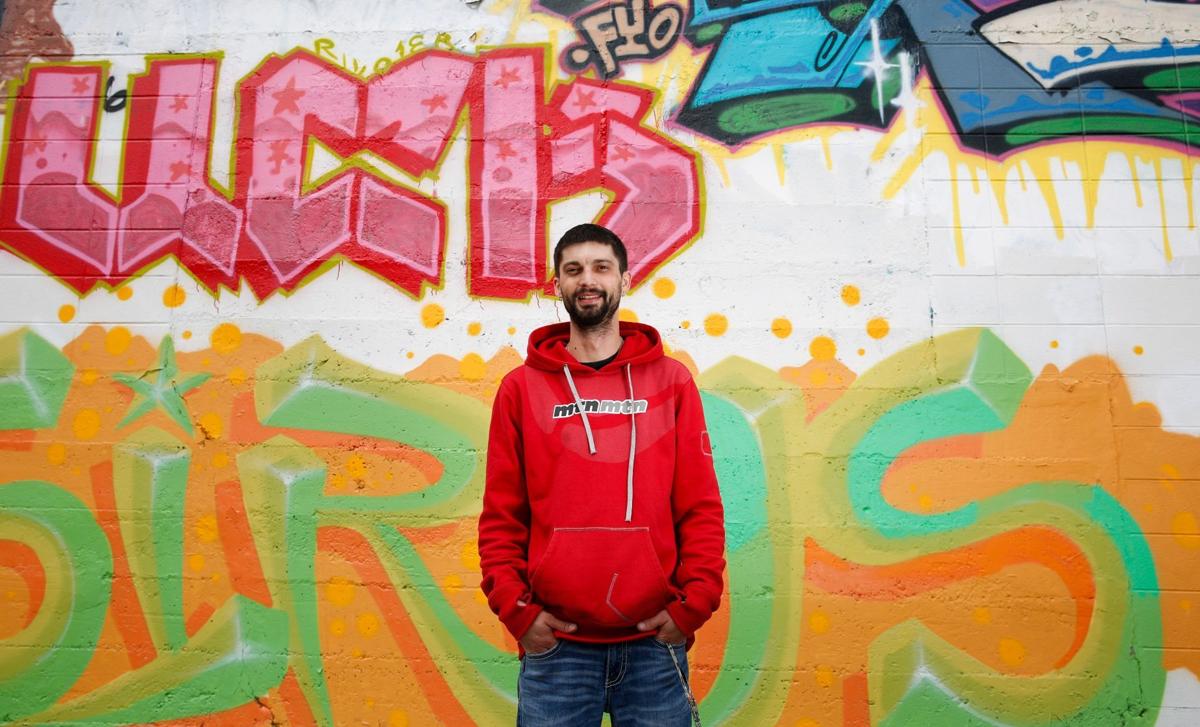 Company and title:  Underground Culture Krew, owner/operator
Tyson Middle has always had a passion for art. It began with his grandfather, LeRoy Payne, taking him to McIntosh Art for supplies. His passion for art continued throughout high school, much of which he attributes to the guidance and support of his art teacher, Karyne Dunbar. Now, the owner and operator of the graffiti art company, Underground Culture Krew, Middle spends his days nurturing local youth through various avenues of mentorship.
Why did you choose this profession?
I am inspired by art and creation. I thought Billings needed more color — or at least a different type. Graffiti art wasn't really part of Billings when I moved back here after high school. While providing the city a new and different art form, I always had goals and aspirations of involving the youth.  
Working with youth is my passion. Most kids want to be seen, to be noticed and to be heard. Many of these kids come from a common background such as violence, split-up parents, drugs, prison, or parents not at home. They are often looking for attention, someone to guide them, and give them some feedback.
If you couldn't do this, what would you do instead?
Probably something involved with youth in the community. With my degree in psychology, I have always wanted to work with children through mentorships, counseling, Big Brothers Big Sisters, Tumbleweed, etc. The children are our future, so it's nice to be able to help guide and lay the proper groundwork or foundation for them.
What other passions/callings are part of your life?
I am super family oriented. My son, wife, and stepdaughter are very important in my life. My wife and I are extremely interested in becoming foster parents and helping kids. We have recently taken on a 16-year-old kid. It is something totally new and different for our family. It gives us some age range between all the kids.
I also love skateboarding, snowboarding, tattoos, Nike Air Jordan's, HO scale train models, and I have a pretty impressive Hot Wheels collection.
What is the worst advice you have received and why?
I don't feel that any advice that has been given to me is bad. Everyone is entitled to their own thoughts and opinions – whether it is good, bad, or indifferent, there is something to take away from it. Put it all together and pull away things from everyone's opinions.
What advice would you give to a teenager about success?
Get involved, make a goal, build a team, focus on the positive, push yourself, believe in yourself, and continue to work.
Don't be arrogant. Success is not measured by money or status – it's by how we treat others.
What's your guilty pleasure?
I am an adrenaline junkie. I like to do anything that gets the heart and blood pumping. That can be anything from cliff jumping to pushing my own personal boundaries within life and business.
What is one professional accomplishment you still want to achieve?
To develop a different type of youth center for kids.
I want a center that revolves around art, photography, skateboarding, culture, welding, pottery, sculpting (the trades) – all kinds of creative avenues. I want it to be a place to have fun, be creative and be safe  – areas to just hang out, relax, and be yourself. I also want to offer counseling, mentorships, and classes. I want it to be a place to come before and after school.
How do you measure your own success?
I don't — I know that sounds cheesy. I just do what I do. I am always wanting to continue to learn and grow and push my own goals. I don't want to be stuck in the past or an old way of doing things. I am always trying to be innovative and think of other more efficient ways of doing things.
There was a moment when my good friend and supporter, Kee Dunning said "do you understand what you are doing? You are making history. Your work will be in the history books of Billings one day." Sometimes, it takes someone else to help you see or measure your own success. She was the first person who let me paint a wall in Billings — she has become a huge part of my life.
What failure have you learned the most from?
I don't view things as failures. I look at it through a skateboarder's/ artist's mind (or basketball, golf, any sport) — if you try a trick and you fall or don't pull it off, you don't give up. You look at it and find another way to do it. You always keep trying.
What is the hardest part of your job?
Getting into a client's head when they are struggling to tell me what they want or they aren't sure of their own idea or themselves. Sometimes clients have an image from the internet and expect exactly that. Clients seek us out based on our work, and our work speaks for itself and has its own style. I always want to present the best product for the client.
What was the last show you binge watched?
"The Last Dance," a documentary about Michael Jordan.
I have always looked up to him — even now at 35.
What is your favorite book?
"Heavier Than Heaven: A Biography of Kurt Cobain," by Charles R. Cross.
What is the most rewarding/important aspect of your occupation?
Seeing a client's (or the public's) reaction to a mural is always great. The moment they say, "I cannot believe you did this all with spray paint" is very rewarding.
Also seeing kid's faces when they are part of a project and they see the final results — when it is their work and they freely express who they are, and it all comes together.
What is the most challenging aspect of your occupation?
Creating from a client's imagination — to get them to believe and trust us.
Who is your greatest mentor/inspiration?
My grandfather, who is no longer with us. He was the smartest person I have ever had the privilege of meeting. He had more than 40 patents throughout his career. We had the most in-depth conversations that helped shape me and inspire me.
Also my mom. She is my best friend and business partner. She has always believed in me and trusted me. I owe her a lot. She has always been there through it all.
I also find inspiration in my family, kids, art, and music,
Do you have a motto that you live by?
"Where there's a will, there's a way." I know it's cliché, but it's so true. If I encounter a problem, I find a way to figure it out. Don't give up. If there's a will, there's a way – it helps you look at things differently.
How does it feel to be nominated and selected for Forty under 40?
I was like, "hell yeah, this is awesome." I was so excited that the community recognized all the hard work I put in to make our city more colorful and to help the youth along the way. It was a time to reflect on what we have done and where we have come from and how we will continue to move forward in the future. I owe a big thanks to the community and the people that nominate me for this special achievement.
What do you do for fun/relax/hobby?
Family stuff. We go on bike rides, go to the skate park, travel, listen to music, art, tattoos are like therapy for me, hikes in the summer, playing in the snow. As I grow older, my kids are growing and getting into more activities and it's just really fun to be able to watch them and be apart of it all.
What's the greatest gift you ever received? Why?
My son Jaxon Sirus. That kid definitely gave me more reason and purpose. Once my son came, everything I did was for him.
Now, I have my wife Carmen – she is calm, collected and even-keeled. I was drawn to her from the moment she walked into my shop, and I still am. I wish other people had a partner like her – seriously, she's awesome. She has nothing but love and support for our family  
I am also grateful for my stepdaughter, Amelie, my mom and grandma Jackie. We all love each other and respect each other.