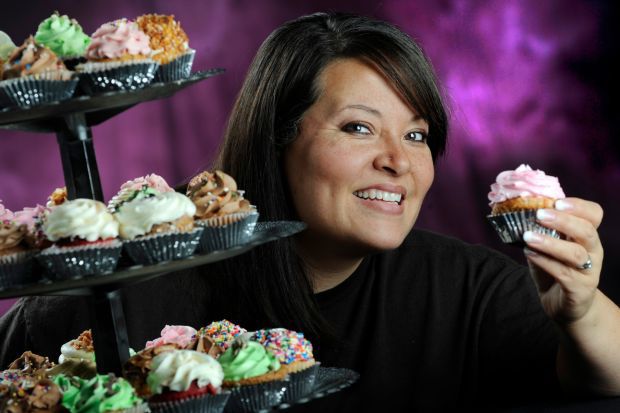 Antonia Craighill dreams of cupcakes.
"I keep a little pad and pen next to the bed so I can write it down," said the owner of Velvet Cravings, a downtown bakery. "Sometimes what I write down is legible and sometimes it's not."
Craighill said some of her more memorable late-night inspirations have been for savory cupcakes, including a spinach and artichoke cupcake with lemon and mascarpone and a tomato basil cupcake. "I did try one that was a jalapeno popper flavor, but I think there's some tweaking we'll have to do with that one," she said.
Velvet Cravings offers 15 regular flavors of cupcakes. But Craighill is always looking to create new flavors and textures.
Craighill relies on social media to market her products. When she's testing a new recipe, she'll post on Facebook and gather feedback.
Describe how you got where you are in your work today. My first job introduced me to the wonderful art of cake decorating. I realized that my art made people happy, which encouraged me to explore my talents. I enrolled in a Wilton cake decorating class.
I knew then that this was my calling. Opening a stand-alone bakery became my goal. With his support, encouragement from family and a steadfast dream, we leaped into the restaurant business with Soup and Such in the Heights. From that location, I did all of my baking and started to build a clientele. With help from the Big Sky EDA, friends and family, my dream became a reality in October 2012.
What's the toughest challenge that you have faced in your business? Balancing work and home life. I put a ton of energy and focus into my business. It would be easy to let other parts of my life slide. We have three children, two are under 9 years old. I strive to spend as much time as I can with them, but also run a successful business.
What did you learn from that challenge? I learned to let go of some things. There is always more work to be done, always another project to start. I have let my family help. My husband is wonderful at pitching in, but my real hero is my 16-year-old daughter, Kaitlyne. She helps out a lot with the kids, but she can also bake, decorate and sell cupcakes. She has such a positive attitude and it helps me get through any challenges that I face.
What's the best advice you have received? Live like no one else, so later you can live like no one else.
Who gave you that advice? Dave Ramsey.
Here's what I'd like to do to improve my community: At the end of our day, we "Cupcake Bomb" different places in the community. We have taken cupcakes to the Mission, fire stations, hospitals, police station and other small local businesses. Giving cupcakes brightens smiles, makes people giggle and the enjoyment they have when telling friends that the "Cupcake Lady" dropped off cupcakes.
Aside from profit and loss, how do you measure success in your job? Blissfully happy customers are most gratifying. Opening Velvet is my dream come true. One day, when baking with my son who is 7, he looked at me and asked "Mom, will you teach me how to decorate cupcakes so when I'm old like you, Velvet will be mine." Ahh, now that's success.
Which living person do you most admire? My husband, Mike Craighill. Without him I wouldn't be who I am today.
What do you consider your greatest achievement? Since taking the Financial Peace class in 2010, our lives have changed. "Changing your family tree" is one of the many mottos that you learn in this class. Following the steps to become debt-free, planning for our future and teaching our children to do the same.
I'm happiest when I'm... baking/cooking Thanksgiving dinner for the entire family with a whisk in one hand and a glass of wine in the other.