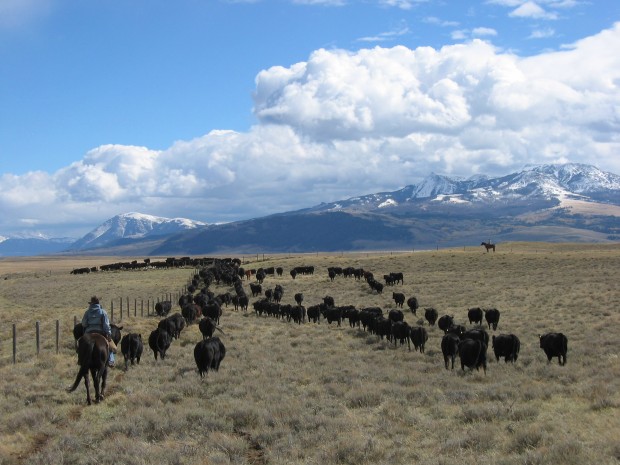 Bryan Ulring is bucking tradition.
The manager of the J Bar L Ranch in southwestern Montana has shifted away from accepted ranching practices. His cattle calve in June and he rarely feeds hay in winter. Though he's abandoned what's considered traditional, he's actually mimicking a tradition that precedes the introduction of cattle in Montana. And by doing so, he's caught the eye — and funding — of Montana Audubon and the Livingston-based Western Sustainability Exchange.
The two organizations are directing a $25,000 TogetherGreen Innovation Grant, awarded through a collaborative effort of Audubon and Toyota, to support ranchers like Ulring. Their goal is to connect wildlife-conscious consumers with sustainably-raised beef.
"We feel it's really important to use our consumer power to support what we care about," said Lill Erickson, executive director of the Western Sustainability Exchange. "Instead of using political power, people who are concerned about wildlife can use their consumer power
Steve Hoffman, executive director of Montana Audubon, sees it as another tool to protect endangered species.
"Federal funding to protect diverse ecosystems is increasingly difficult to obtain," he said. "Appropriately managed grazing can improve and protect those habitats."
Ulring comes from a long line of ranchers who homesteaded in South Dakota. But as times changed, their operation became less economically feasible. Ultimately, his grandparents sold the family place to a neighbor.
"Farmers and ranchers are some of the most creative people out there," he said. "But the standard model just didn't work."
That's when Ulring, a business management major from Montana State University, began looking for more efficient ranching practices. What he found were methods that benefit the land, the wildlife and the consumer. Many of the principles he follows imitate the sprawling bison herds that for centuries roamed the same areas on which cattle now graze.
At the J Bar L Ranch south of Dillon and on acreage south of Harlowton, Ulring relies on intensive, rotational grazing to feed the ranch's Angus and Angus-cross cattle. Like the bison that preceded them, the cattle concentrate their foraging in one area and then move on.
"The huge herds would only be there for short periods of time," Ulring said, noting that their hoof action tended to drive seeds back into the ground and at the same time created tiny reservoirs to cup moisture. "We essentially use cows as mobile composting units, converting sunshine and water into protein that's good for people to eat."
To replicate the historic bison migrations in today's world, J Bar L has divided grazing land into small plots using single-strand electric wire. Depending on the size of the plot and the number of cattle — Ulring measures impact in "pounds of hoof per acre" — the herd may be moved from one pasture to the next as frequently as once a day. In other areas, men on horseback keep cattle slowly moving as they graze.
There's no question that the practice requires more manpower, but that doesn't necessarily equate to higher production costs. Resource organizations offer credits to the ranch for the time the animals are not chomping down pasture. And rotational grazing saves money in winter, Ulring added.
"If you leave grass behind in the summer, you have something to come back to," he said. "Last year we wintered cattle at Harlowton and never fed a stick of hay."
Likewise, the J Bar L, which supplies grass-fed beef to the University of Montana's dining service, breeds its moderate-framed cattle to calve late in the spring, on schedule with native ungulates like elk and deer. The change has proven healthier for the calves and it synchronizes the peak nutrient requirements of the lactating cows with the peak nutrient availability of the forage.
"Our first year of calving in June was 2008," Ulring said. "You couldn't get me to go back."
Ulring says the shift has even been good for the bottom line. Because they're selling calves later than most ranchers, there's an increased demand that pushes the price up.
"In the grand scheme, it doesn't cost more to produce, but it does cost more to distribute," he said.
Yet the question remains: how does rotational grazing benefit wildlife? Ulring describes their overall philosophy as managing for biodiversity. And wildlife thrives in biodiversity, he adds.
J Bar L manages its land to protect key wildlife habitat during breeding season. And through rotational grazing, there's less disturbance of sensitive areas and habitat in general. The most convincing evidence, however, can be observed in the health of its native species. According to Ulring, the Nature Conservancy and a third party consultant have been monitoring the area to "make sure we're doing what we hope we're doing."
Sage grouse, a species that is threatened in much of its range, is holding its own on the J Bar L. The ranch is also home to trumpeter swans, sandhill cranes, curlew and the uncommon tiger beetle.
"J Bar L has exemplary stewardship and the monitoring to prove it," Erickson said.
In fact, it was that stewardship that caught the attention of Montana Audubon and the Western Sustainability Exchange. Through the TogetherGreen grant, the organizations hope to offset higher distribution costs by marketing beef raised at the J Bar L and its co-op partner, Two Dot Land and Livestock near Harlowton. If consumers are willing to pay a premium for sustainably-raised beef, Erickson is optimistic that they can expand their reach. Ultimately, they hope more ranchers are encouraged to consider similar practices.
"It's a huge market, especially for cattle producers and also for sportsmen," she said. "It supports our neighbors and it builds communities. We really feel this is one of the best ways to support family-scale agriculture in the West. "
Ulring welcomes the support and he likes the idea of blending capitalism with conservation.
"We're just doing our own thing and hoping it works," he said. "If other people find it'd be beneficial for their circumstances, we think that'd be fantastic."