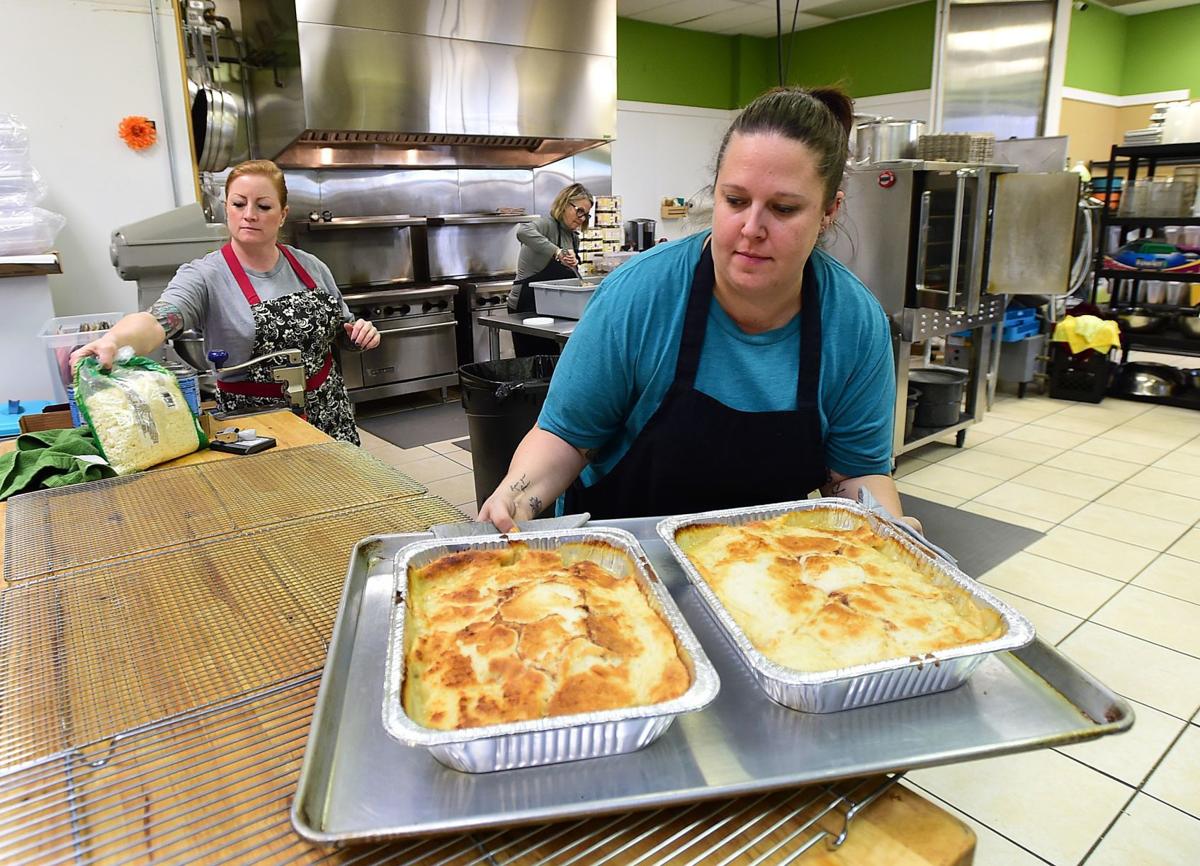 Many say that Teri Haddick's chicken noodle soup is better than what Grandma can make.
Frequent customers say that Haddick's meals rival their childhood comfort foods and casseroles, and many take advantage of the convenience of buying her take-and-bake dishes.
Having prepared meals makes Thanksgiving especially easier.
"It just cuts down your time that you have to be preparing food," Colleen Ekle said. "Her dishes are all good and homemade."
Ekle lives in Columbus and usually places an order for her family, her mother, and other relatives every week. This year, she bought a few items to help with Thanksgiving.
Haddick is the owner of Get Baked!, a storefront at 1901 Broadwater Ave. that sells prepared meals that customers can take home and heat up in the oven or microwave. All of it is handmade every Sunday, Haddick said.
Haddick prepares about 100 meals each week on a rotating menu in the Red Rooster Kitchen in Laurel, along with salads, soups, sandwich fillers and her famous Cheeseburger Bombs.
She handpicks all of her ingredients from the grocery store after an average of 60 to 70 weekly orders are sent in on the website. She preps the meals on her own on Sunday, and then customers pick them up on Monday and Tuesday.
Business hours for pick-up and walk-in purchases are Monday through Thursday 11 a.m. to 6 p.m.
You have free articles remaining.
Menu items correspond to the season and holidays, including Thanksgiving. Items for sale Thanksgiving week were stuffing, macaroni and cheese, peach cobbler, dinner rolls and more. She rotates through about 40 recipes and is creating new ones over time.
"That was my thought process when I was developing the whole idea, was that it was going to help busy families and busy moms," Haddick said.
Laura Boyer buys meals on a weekly basis, with a few of her favorites being Haddick's lasagna, stroganoff, chicken noodle soup and Haddick's son's handmade monster Wookiee cookies.
Boyer's son visits the hospital often for medical issues and usually eats Haddick's chicken noodle soup when on a restricted diet.
"The quality of her products you know is good," Boyer said. "Everything is just very fresh. Sometimes when I go, I'll stock up and I'll buy six containers of something and store them for a while."
Haddick learned to cook from her family at a very young age. As the oldest sibling, she'd come home to a note from her mother, who often worked multiple jobs, instructing her to get dinner started. She quickly found her passion and began cooking and experimenting in the kitchen.
She learned how to make her mother's cinnamon rolls and other casserole and dessert recipes from her grandmother. Now, Haddick's family has learned to cook as well, often engaging on social media comparing lasagna recipes.
"We grew up in a household where we didn't have a lot of money, so for us to go to McDonald's was a big deal and a big treat," Haddick said. "It was always food cooked at home."
After years of being a kitchen designer, she fulfilled her life-long dream and opened her store in December of 2017.
She hopes to expand the business in the future with more employees and business locations. She would like to have quicker turnaround, offering a variety of menu items daily.
"The best part is the people," Haddick said. "If I was a millionaire and could do this for free, I would."