Ian McDonald was forced out of his dental office last week after a fire, and he's found a new, temporary home in a familiar place.
McDonald is planning to reopen his practice by Friday at 1690 Rimrock Road, Suite F, the former home of Yellowstone Family Dental. He shut down his office inside the First Interstate Bank building in at 730 Main St. in Billings Heights after a March 28 fire.
The new spot is the same office once occupied by his father, Chris McDonald, and it's where Ian McDonald cut his teeth as a young dentist's assistant. He's leasing the space month-to-month from Matt Larsen, who moved to downtown Billings in the fall of 2015.
"I was in a bind, and I reached out to him, and he helped me out," McDonald said.
McDonald was at lunch when the fire alarm was triggered last week. He said his staff of nine evacuated quickly, and no one was injured.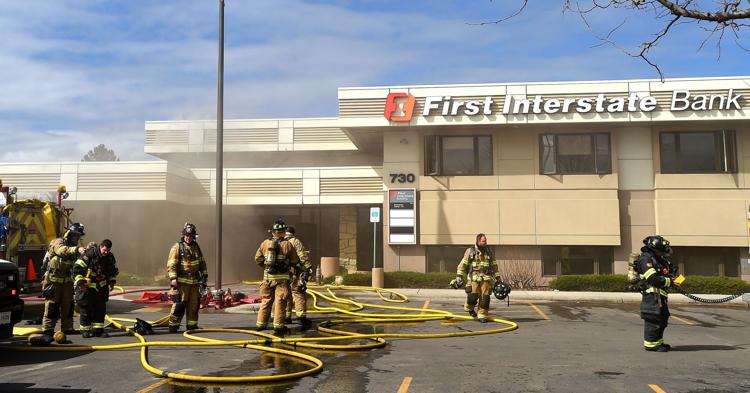 Initially, McDonald said he thought his office would be fine because the fire started in a different part of the building. He later learned the smoke damage was too extensive to work in the space.
"It was just shock. We've been through a lot this last year," McDonald said.
You have free articles remaining.
"We've kind of got a black cloud following us around," McDonald said.
He added that he has insurance, which also covers a loss of revenue.
McDonald salvaged most of his equipment and moved it to the new location, where a smoky smell hangs in the air.
First Interstate employees have been sent to work at other branches, bank spokeswoman Cindy Lyle said, adding that bank officials are uncertain when the branch will reopen.
Preliminary estimates placed the damage at $750,000, though Billings Deputy Fire Marshal Jeff McCullough said the total cost could be higher. An electrical failure with a florescent light in a file storage room was the cause, he said. 
McDonald said he has referred some patients to other dentists, but most have been understanding and rescheduled. His client base is in the Heights, so he said he'd like to get back there as soon as he can.
For now, McDonald's wife, Halley McDonald, has been handling incoming calls, and the couple has converted their home into a de facto administrative office. The office number, 256-2121, is forwarded to her phone.
McDonald credited Technology by Design for helping set up a computer network at their home.
"A lot of patients have been understanding. They want to wait until we're up and running," McDonald said.