Matt Melvin is harnessing the sun's energy to help power his new food truck business, but he's mostly focused on making good food.
Rudeboys joins Billings' growing food-truck scene but adds a unique feature. Three solar panels are attached to the back and side of the truck, allowing Melvin to tap into a secondary, renewable power source to cut energy costs and, ideally, also boost production.
"I'm really just trying to figure it out and get it off the ground," Melvin, 34 of Billings, said.
The Goal Zero solar panels and generator cost about $3,000, which Melvin said he expects to make back this summer in energy cost savings. He uses the sun to power his point-of-sales system and the lights.
The rest of the truck, including the refrigerator, stoves and oven, is powered by propane. Melvin said he needs a reliable, secondary power source to keep the food cold and comply with health regulations.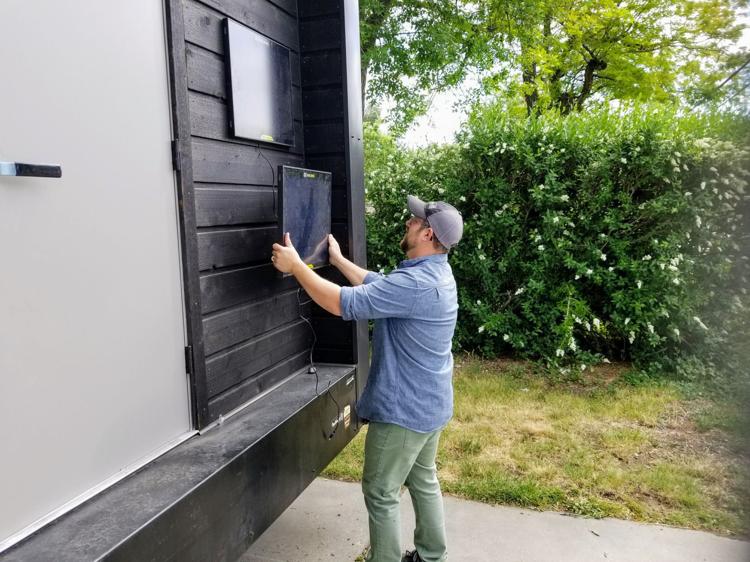 The biggest advantage of solar on the food truck will be during festivals and events in the field, when Melvin said he will be able to keep power longer and sell more food.
"As I become more successful, I will add more panels," he said.
Melvin said he learned of other food trucks using the panels in bigger cities and began exploring the costs.
The industry has grown largely because of renewable energy tax credits, which are mostly available for panels installed on buildings.
Melvin did not seek subsidies for Rudeboys, which launched this spring. He invested about $70,000 to launch the business, financed through Western Security Bank with a Small Business Administration loan.
You have free articles remaining.
Keep reading for FREE!
Enjoy more articles by signing up or logging in. No credit card required.
The truck was designed by Collaborative Design Architects. It has dark wood paneling with the Rudeboys logo like a "walking billboard," Melvin said.
Inside, the truck is a smaller version of a restaurant, with a front and back house. It has enough space for about two people to work at a time, with stove tops in the back. Melvin developed a creative system for orders: customers receive a pin with a band name, which employees then holler out when the food is ready.
At Rudeboys, the menu is simple street food with a gourmet twist. The grilled cheese, for example, is on a croissant, and the fries are seasoned with rosemary. Melvin also bakes all his bread in-house, but his top focus is his customers' tastes.
"We're trying to fuse the classic world with the grubbiness Billings likes," Melvin said.
He added, "I grew up with not a lot of money, so we'd just throw things together… Good food should be accessible."
Most recently, Melvin was the general manager at Lilac in downtown Billings. He's worked at a variety of restaurants over the years.
"Everything from greasy spoons to seven-plate dinners," he quipped.
The name "Rudeboys" is a reference to the Jamaican street rats of the 1950s and '60s, the discontented youth who wandered the poorer sections of town. It later became shorthand for fans of punk music and underground culture.
Melvin himself is a fan and took time after college to travel the country in a van, wandering from city to city.
Melvin recently returned from an event in Missoula, and he's planning to hit events statewide this summer, including the Red Ants Pants Festival in White Sulphur Springs. He also can be found in Billings at Yellowstone Valley Brewing, City Vineyard and Harper & Madison.
Both City Vineyard and Harper & Madison also sells Rudeboys bread on their shelves, Melvin said.
"We're just moving into the season," he said.