The spring snowstorm in early April was a boon for business at Oktoberfest, the German-American restaurant on Billings' West End. 
People didn't want to go out in the snow but they still wanted their fix from the German eatery. So they pulled out their smartphones. Using an app, they ordered Oktoberfest meals through the delivery service, UberEATS.
"The majority of business (that night) was UberEATS," said the restaurant's owner, Ernie Adams. "The orders just kept coming in."
For Adams, that's the app's value. On days when business would be slow because of the weather or late at night when folks are more inclined to stay reclined on their couch, they can still order items off his menu. As a result he ends up with business he wouldn't otherwise get.  
"I'm gaining another customer," he said. "It's nice to have the extra income."
UberEATS is a meal delivery service connected to the ride-sharing company Uber and debuted in Billings last October. The service partners with area restaurants to deliver meals through a stable of local drivers, who cover all of Billings, including the Heights. UberEATS has yet to expand to Lockwood. Right now about 40 restaurants in Billings contract with UberEATS.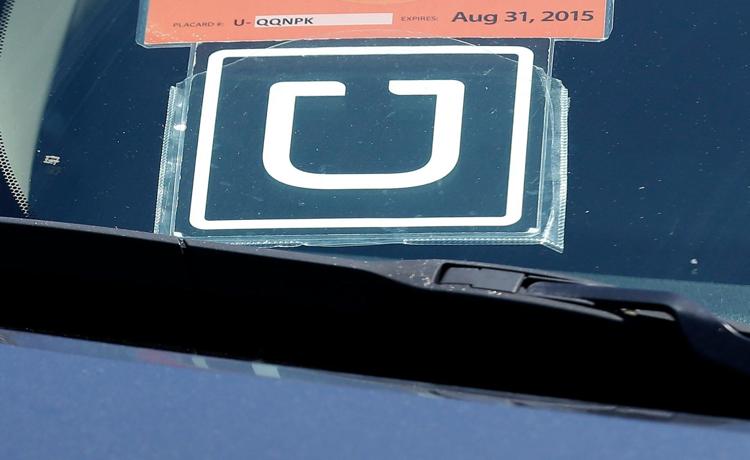 "Reception from restaurants and eaters in Billings has been really positive since we launched there," said Nathan Hambley, a regional UberEATS spokesman. 
The UberEATS app is separate from the ride-sharing Uber app, though both services operate on a similar principle, using smartphone technology to connect users with local drivers who provide delivery and ride services they need.
"I love doing it," said Linda Fries. 
Fries has been driving for UberEATS since November and wishes she were busier. As an independent contractor, she likes that she doesn't have a boss and that she essentially decides when she's going to work. 
"I don't do mornings," she said. 
Like Adams, she sees a parallel between the weather and how much she's working. During the holidays she could hardly get one order delivered before another popped up. Since then, she's seen it taper off — except for when the weather turns bad.
"Today's been really busy, and it's raining," she said last week. 
She earns between $250 and $300 a week — a good part-time job, she called it. She's hopeful UberEATS continues to bring on more restaurants; it means she'd drive more. 
Thunder Mountain Holdings, a Denver-based entertainment and real estate company that specializes in recreation and diversion, recently purchased three different bars in Billings.
"And I think our customers would like to have more variety," she said. 
Judy Boogman, who runs Caramel Cookie Waffle on 17th Street West, was one of the restaurants approached by UberEATS last fall when the delivery service was looking to expand to Billings. 
At the time, Boogman was skeptical. She'd used delivery services in the past and had been disappointed. When she signed up with UberEATS, she was hopeful it would be a better experience.  
Now, six months later, she's mostly pleased with the results. 
"It's going well," she said.
She explained it's a little more work than just running the restaurant. Staff at Caramel Cookie Waffle, which does a brisk breakfast and lunch service, has to keep an eye on a tablet that shows which orders are coming through the app and when the drivers will pick them up. 
Restaurants set their prices and UberEATS adds a $5.99 delivery fee, which helps pay the drivers. The costs for the meal and the delivery charge are delineated on the app when a customer makes an order. 
On the restaurant's end, UberEATS takes an additional 30 to 35 percent from the price of the meal charged by the restaurant.
"I think they take a little too much," Boogman said. 
Likewise, Adams grits his teeth at the cut UberEATS takes. But he's seen his business increase since he started using the service in October, and he likes the technology. 
The tablet that sits in the restaurant and tracks the orders allows him to contact customers directly if there's an issue with the order, and it shows him who the drivers are. 
And if the restaurant gets too busy he can stop taking new UberEATS orders. 
Still, it's not just restaurant owners who are frustrated with the UberEATS business model. 
John Allen is the founder and CEO of Cafe Courier, a Bozeman-based meal delivery service that's been around since 1989 and operates in cities in Montana and Idaho. The company employs a stable of drivers and partners with a number of restaurants. 
The frustration for Allen is the inequity in the business model. UberEATS drivers are independent contractors who are not employees of the company. Allen's drivers are all company employees, something the state has required him to do. 
When he started Cafe Courier, his drivers, like UberEATS, were all independent contracts. Allen is proud he's able to employ so many drivers, but it means his costs are considerably higher. He's responsible to insure his drivers, and he has to cover payroll taxes.  
Still, UberEATS' launch in October hasn't hampered Allen's business. 
"We haven't seen an effect," Allen said. "We're still growing."
Tobee Keutla likes his food truck, Mia's Lumpia. 
Maybe the company would be growing faster right now had UberEATS not come to town, but Allen is pleased with the progress his company has made. 
"We've got a strong and long following in Billings," he said. 
One of those followers is Oktoberfest, which has used Cafe Courier for years.
"They're a great company," Adams said. "But they don't have as many drivers."
Cafe Courier drivers are better equiped for delivering food, Adams said. So help improve quality, he's started selling to the UberEATS drivers the same kind of insulated hot bags Cafe Courier drivers use to keep meals warm. Customers are happier when their food arrives hot, Adams said. 
Drivers recognize that and some have bought the bags; UberEATS gives users the option to tip drivers through the app. 
Boogman stopped using local delivery services years ago. She felt the businesses weren't as efficient and some customers were getting meals that were cool by the time they were delivered.  
UberEATS "is a little more efficient," she said. 
Boogman estimated business at Caramel Cookie Waffle has grown about 10 percent since she started using UberEATS. She too likes the option of shutting down the service if her restaurant gets too busy. 
But she said if another smartphone-based delivery service comes knocking, like Grubhub or Postmates, she'll likely turn them down. Managing one delivery service is enough, she said.