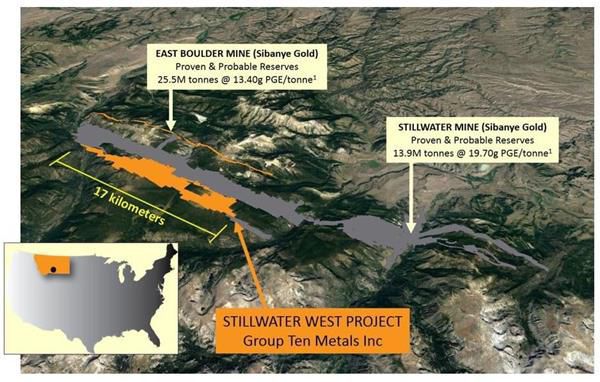 Riding the tailwinds of rising precious metals prices, a Canadian firm has agreed to buy 282 mining claims west of the Stillwater Mining complex with the hope of expanding mining in the Beartooth Mountain range.
Before any major development occurs, however, Vancouver, B.C-based Group Ten Metals must do additional soil testing, mapping and other geological work to determine whether the ground is fertile enough in south-central Montana to extract platinum, palladium or gold, President and CEO Michael Rowley said Tuesday.
"There's no question there is mineralization there. It's a question of how much, and is it minable?... The market has turned. Money has come back in, and there's a lot of attention on commodities again," he said in a telephone interview from his Vancouver office.
The company's claims cover about nine square miles in two groups in Custer National Forest on the East Boulder plateau. It's along the Johns-Manville, or J-M reef, which boasts some of the world's richest deposits of platinum and palladium.
Group Ten signed the deal with a Red Lodge firm, Picket Pin Resources, which had started developing the claims in 2011, according to Justin Modroo, Picket Pin's owner.
Modroo, a Billings native, will work with Group Ten to develop the claims.
Group Ten is a "junior explorer," meaning the company buys existing claims, seeks to prove their viability, then sells the development rights to a larger mining company, Rowley said.
The performance of palladium, which is used to make catalytic converters, jewelry and other metals, is the primary driver for Group Ten, he said. Palladium was selling for more than $800 an ounce Tuesday, according to Kitco, which tracks spot prices, and has nearly doubled since early 2016.
Group Ten's interest in the area was renewed with the news of the $2.2 billion takeover of Stillwater by a South African miner, Sibanye Gold Ltd. That deal was announced in November and completed in May.
The Sibanye purchase helped make the Picket Pin claims more attractive to buyers, Modroo said.
You have free articles remaining.
"With the upswing, people are looking to acquire good projects," he said in an interview.
A Sibanye spokeswoman said the company declines to comment on a deal involving two outside parties.
To complete the deal, Group Ten must issue 3.6 million shares of the company, pay $40,000 cash and additional royalty payments to Picket Pin and a $50,000 annual management contract for Modroo.
Picket Pin would also hold a 2 percent royalty on sales of material mined from the claims.
Group Ten sold $2 million worth of shares to finance the deal, Rowley said.
Past work in the area included broad soil and rock geochemical sampling, geologic mapping and initial drilling. Results showed deposits of palladium, platinum, gold, copper and nickel, according to Group Ten.
Group Ten is focused on acquiring and developing high-quality platinum, palladium and gold assets in North America. The company holds property in Canada's Yukon Territory, Ontario province and in Alaska.
The claims are in the same area where another Canadian company, Toronto-based Beartooth Platinum, held claims at the end of last decade that were never developed.
Rowley noted that drops in commodities prices hampered exploration for most of this decade.
With the completion of the deal, Group Ten will become the second-largest claim holder in the area, behind Sibanye Gold.
Rowley founded Group Ten in 2006. He said the company struggled to hold on during the commodity collapse but emerged in a good position on the other end.
"The demand is coming back quickly. It's a good time to invest," he said.