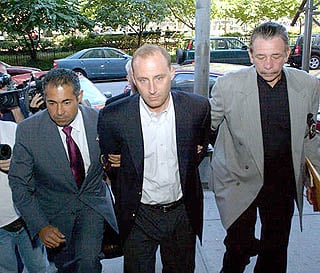 NEW YORK — State officials Tuesday filed the first criminal counts in their investigation of mutual fund trading practices, charging a former Bank of America employee with grand larceny and securities fraud.
New York Attorney General Eliot Spitzer announced the charges against Theodore Sihpol III, 36, who surrendered to authorities Tuesday morning in New York. At the same time, the Securities and Exchange Commission announced civil charges against the former Bank of America broker.
Spitzer said the charges were the first of several expected in the mutual fund probe he announced this month. "There is an effort by my office and the SEC to pursue what we believe to be a serious market problem," he said.
Authorities allege Sihpol was involved in late trading, or buying mutual fund shares at the 4 p.m. price after the market closes. Late trading is prohibited by New York law and SEC regulations. Ordinary investors who place late orders must pay the following day's price.
"Our combined message is clear: Late trading is wrong," Stephen Cutler, enforcement director for the SEC, said at the joint news conference announcing the civil and criminal cases.
You have free articles remaining.
If convicted, Sihpol faces eight to 24 years in prison.
Sihpol's lawyer, Don Buchwald, did not immediately return a phone call. A message left at Sihpol's home in New Canaan, Conn., also was not immediately returned.
Bank of America spokesman Robert Stickler had said before the announcement that the bank had not been notified of any charges.
The company announced last week that it had fired Sihpol along with several other employees, including the head of BofA's mutual fund business, Nations Funds.
The case stems from Spitzer's investigation of Canary Capital Partners, a multimillion-dollar hedge fund that agreed to pay $40 million to settle charges that it had improper trading arrangements with several mutual fund companies, including Bank of America. Canary has admitted no wrongdoing and is cooperating with the investigation.
At the news conference, Spitzer accused Sihpol of being "at the center of the relationship" between Canary and Bank of America.
Copyright © 2003 Associated Press. All rights reserved. This material may not be published, broadcast, rewritten, or redistributed.