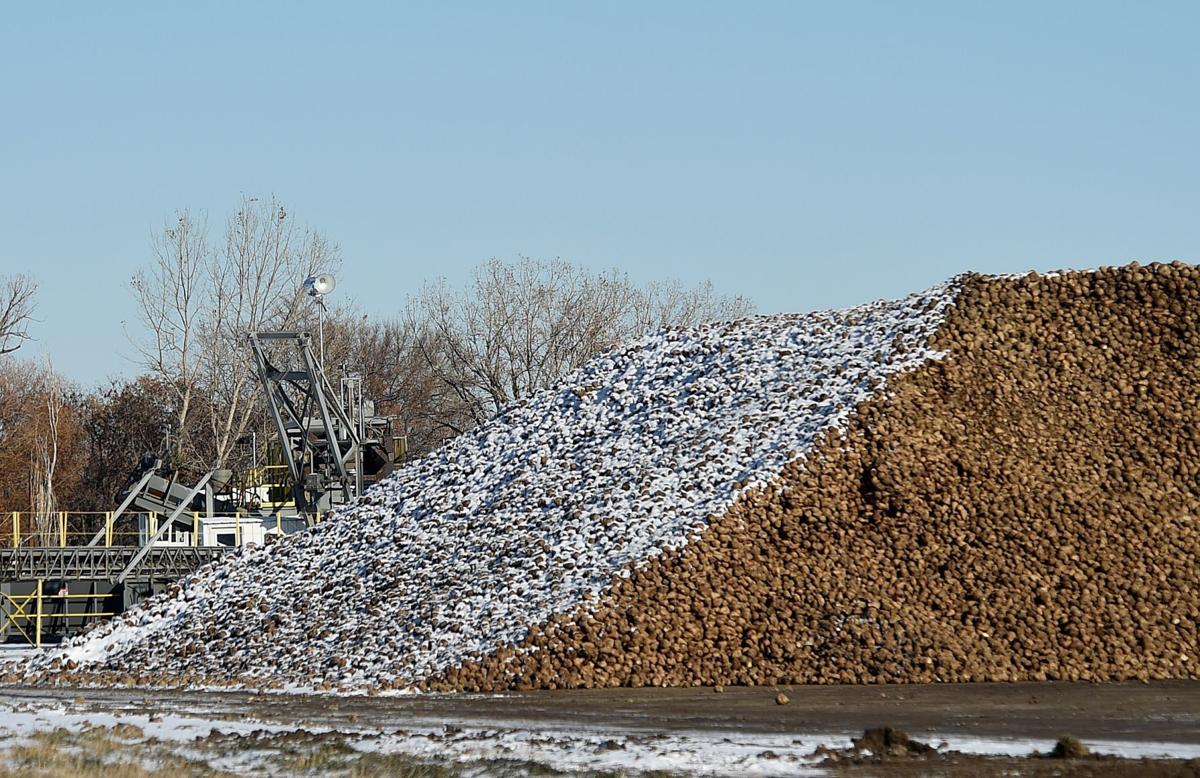 Sour weather conditions brought Montana's sugar beet harvest to an abrupt end in November with more than 1,000 acres going unharvested.
Sugar beets are a $100 million industry along the Yellowstone and Bighorn rivers where farmers pour on the water from June to August, and then turn off the tap allowing beets to accumulate sugar. This year, the weather didn't cooperate.
"It was too wet and too cold," said Jim Steinbeisser, who farms and ranches near Sidney. "We'd have a frigid night and then we'd have to give the beets time to heal, sometimes for two days."
Eventually there weren't enough days left to get the job done. The U.S. Department of Agriculture described the collapse this way: On Nov. 10 the state's sugar beets were only half harvested. A week later, the USDA reported the crop 99% done. Farmers probably did what they could to bring in another 20% or 30% of the crop during that final week, said John Sommers of USDA's National Agricultural Statistics Service. At the end of week they forfeited whatever was still in the ground.
Near Huntley, farmer Leroy Gable said the last few months of the growing season were brutal on beets. A violent hailstorm mowed down beet tops in August just as farmers hoped the plants' focus would be on making sugar, which is what happens as irrigation shuts down and the beets stop growing leaves.
The hailstorm that defoliated some beet fields prompted the plants to focus on producing new greens, not beet sugar. A wet September followed as Western Sugar Cooperative members began harvest, but the harvest was still on track as October began, which is what Randall Jobman told The Billings Gazette early last month.
By November, Western Sugar was done talking beets. The cooperative returned no calls placed over two weeks seeking information. October ended with a zero-degree day and there were 10 days when the low temperature was 26 degrees or cooler, a temperature range in which beets are damaged and need time to recover.
The cold was damaging, but there were a few breaks, Gable said. A 10-inch blanket of October snow insulated the beets from some of the cold weather.
In Sidney, farmers had been driven from their fields by up to 13 inches of rain that fell in September. Many were unable to make progress until the middle of October. By then, cold temperatures were damaging the beets.
Duane Peters, agriculture manager at Sidney Sugars, said farmers averaged about 32 tons of beets per acre with a sugar content of 17%. The numbers weren't bad, but the not all beets could be harvested.
"Various times in mid- to late October, the harvest was delayed due to lower overnight temps with frost on the beets," Peters said.
Don Steinbeisser said farmers have been asked to retrieve from the dump piles any beets that are too damaged for sugar making.
The USDA said Nov. 15 that the nation's sugar production declined to 572,000 short tons from the previous months because of weather challenges for beet and cane sugar farmers. The federal government plans to allow more foreign sugar into the country to meet demand.
The business news you need
With a weekly newsletter looking back at local history.